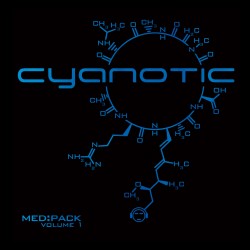 Cyanotic
MedPack Vol. 1
Glitch Mode Recordings
The ID:UD staff holds American coldwave outfit Cyanotic in pretty high regard. In addition to producing kick ass records like 2010's The Medication Generation and delivering crack live performances, I'm pretty sure frontman Sean Payne has watched the various entries in the Terminator franchise more times than Alex and I combined: no small feat. Anyway, the MedPack Vol. 1 EP has just been released as a sort of taster of the work that's being done in the band's new studio space, and indicates that more has changed in the Cyanotic camp than just the locale.
The phrase "MedPack" suggests material supplemental to The Medication Generation, and things start out accordingly with a more fuzzy and phased version of the brooding "Monochrome Skies" from that record. The EP quickly detours into the unexpected, though, and offers four almost entirely instrumental tracks which, taken in order, start out downtempo and grow progressively slower and more ambient.
Payne and co. have done a great job of keeping guitars and electronics in fluid balance with each other on their albums, and it's impressive how capably that juggling act carries over when they try their hand at new things (there have been mellower interstitial cuts on Cyanotic releases before, however they haven't ever felt as fully fleshed out as the compositions here). The drum stutters on "Hibernol" are all the more effective thanks to the track's slow and solid groove. The blend of breaks, horns and ambient washes on "Formless Memories" (Parts I & II) bring to mind FSOL's classic Dead Cities LP, or perhaps the overlooked industrial-minded dn'b of Witchman.
Comparisons aside, I'm intrigued to find out if the moves made on this EP are indicative of a new overall approach by Cyanotic. On one hand I'd like to hear more material in this vein, either on its own or in higher proportion with the band's classic coldwave steez. On the other, it'd be fascinating to see future MedPack missives striking out in some new, unforeseen direction; the band's certainly proved themselves adept at expanding their horizons.
MedPack Vol. 1 is available as a pay-what-you-want download directly from the band.
Cyanotic – Formless Memories [Part 1] by Glitch Mode Recordings