We don't necessarily run the tightest ship when it comes to what we consider to be within Our Thing's fuzzy borders, at least as far as what we cover, but there's plenty of stuff we listen to that you won't ever see us discuss on ID:UD. Mostly it's because it's stuff that's just plain outside what we set out to talk about genre-wise on the site (we love debating the merits of Ghostface's Supreme Clientele versus The Pretty Toney Album, but you'll never see us do it 'round here), sometimes it's a record that could fit in but it's already being extensively written about elsewhere, and occasionally it's because we just don't want to. You think it's easy picking apart every record you listen to, thinking hard about what synonym for "atmospheric" you're going to break out when you write your review at 3 a.m on a work night?
*ahem*
At any rate, as part of our Year End coverage we thought it would be fun to talk about some of the non-Goth/Industrial/WhatHaveYou records we were feeling this year. As with our list of the 10 Best Videos of the Year these aren't ordered, because if we have another showdown like the one where we hammered out the numerical rankings of our Top 25 (to be posted Wednesday thru Friday next week!) it'll turn into an episode of Cops, all tank tops, faces blurred as we're shoved into the backseat of a police cruiser, Intern Tobey crying in the corner and so on.
Without further ado, please enjoy this overview of a dozen of I Die: You Die's "Other" favourite records of the year!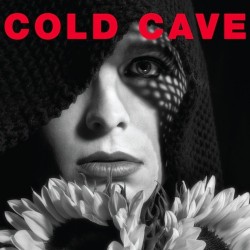 Cold Cave
Cherish The Light Years
Matador
Hoo-boy. Lead single "The Great Pan Is Dead" struck us…well, we'd say like Saul on the road to Damascus, but we were already Cold Cave converts by the time it descended to earth. Nothing could have prepared us for the onslaught of glory and thunder that was "Pan", though, and the remainder of Light Years made good on its promise of unabashed romanticism and gushing nostalgia. Flipping between distorted, on-the-nose dance tracks and new wave scorchers, Cherish The Light Years wore its heart on its sleeve like no other record this year and was all the stronger for it.
"The Great Pan Is Dead"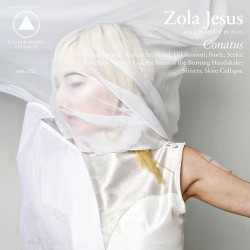 Zola Jesus
Conatus
Sacred Bones
Few artists have been done as much of a disservice by lazy critics in 2011 as Nika Roza Danilova. It's true that her specific blend of dark singer-songwriter tunes are informed by goth and industrial, but attempts by mainstream alternative journos to define her by those associations fail to encapsulate the wide, airy breadth of her work. Picking up where her excellent 2010 EPs Stridulum and Valusia left off, Conatus is another astonishing mixture of dark, bracing songs that juxtapose disarming vulnerability with a voice that seems impossibly powerful. Far more profound and intense than her 22 years would suggest, it's a gratifying album that reassures even as it unsettles, the work of a genuine artist still in the process of ascending.
"In Your Nature"

The unexpectedly complex, beautiful and inescapable Primary Colours topped each of our personal Best Of 2009 lists, leaving us wondering how these gaunt mop-tops could possibly measure up to its transcendent krautrock ambitions the next time out, and how much of its strength came from Geoff Barrow's ace production. Though not as stunning as its predecessor, Skying fares just fine on its own, taking an unexpected left turn into psych/pop meadows which owe a fair bit to Echo & The Bunnymen and The Psychedelic Furs. We liked The Horrors' initial incarnation as morbid, spazzy garage rockers just fine, but it's been a treat to see them glide into new territory with remarkable flair and comfort.
"I Can See Through You"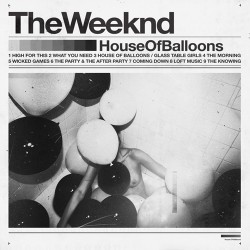 The Weeknd
House of Balloons
Self-Released
A free mixtape stronger than 99% of the albums released this year, House of Balloons heralded the arrival of a new breed of soul artist. Steeped in bravado and naked sexuality, Abel Tesfaye's debut shines, its self-released nature freeing it from the commercial considerations that have hobbled so many other modern artists drawing from the same traditions. Even nine months on, every song still feels as smooth and inviting as it did on the first listen, a testament to both Tesfaye's heady croon and ear for immediacy. No other record in 2011 is this sexy.
"The Morning"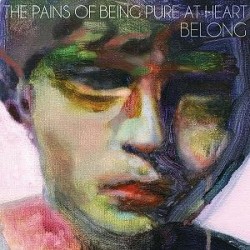 The Pains Of Being Pure At Heart
Belong
Slumberland
One might not have expected these gorgeous, cooing spooners to have cranked up the capital-r Rock fuzz and distortion as much as they did, but bringing Flood and Moulder (for real!) on board helped them ably navigate treacherous sophomore waters. Churning out near-perfect pop tunes by the handful, like "The Body" and "Heaven's Gonna Happen Now", didn't hurt this record's chances for 2011's ultimate summer record. As one thoroughly entertaining review put it, "if you can listen to Belong on a sunny day and not enjoy the experience, then you're a fundamentally unhappy person and the new Strokes record on repeat forever is the fate you deserve." Hear, hear.
"The Body"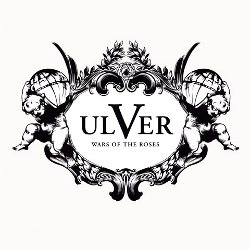 Ulver
Wars Of The Roses
Jester
Norway's foremost black metal exiles continue their exploration of ever more avant regions of rock. While not quite up to the standard of Blood Inside or Shadows Of The Sun (a tall order considering those records' rich and distinct casts), War Of The Roses delivers ornate compositions which can prompt prosaic chin-scratching as easily as they can deep, zoned out listens, depending on one's mood. Scorned by the kvlt and troo for forsaking their origins, scoffed at by critics for swearing fealty to no tradition, these wolves remain iconoclastic nomads.
"February MMX"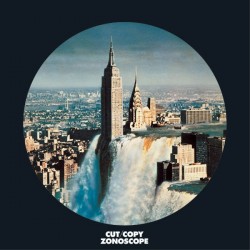 Cut Copy
Zonoscope
Modular Recordings
It's a damn shame that Zonoscope came out in the dead of winter in North America, because everything about its breathy, enveloping sound screams summer. Despite the misleading first glimpse that was the Beach Boys-esque by way of indie pop "Where I'm Going" (a song that takes on an entirely different and totally appropriate feel in the context of the record), Cut Copy further develop the slow builds and sparkling synthesized climaxes that have developed into their trademark. Less directly aimed at the dancefloor than previous efforts, the album ushers the listener into a warm season entirely contained within its running length.
"Need You Now"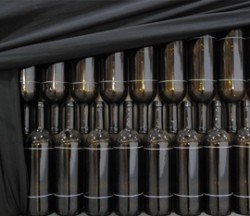 Wire
Red Barked Tree
Pink Flag
If previous outing Object 47 felt like a revisiting of The Ideal Copy on the other side of the buzzing fury of the Read & Burn series, then Red Barked Tree feels like a similarly informed return to A Bell Is a Cup… Until It Is Struck. Red Barked Tree dishes out every single iteration of the effortless pop experimentation Wire is famed for, and is stronger than its predecessor by a good measure. The closing title track is both the most loose and perhaps experimental track they've ever attempted, and reminds us of why it's so easy to love a band who make such a good show of looking more difficult than they ever actually are.
"Red Barked Trees"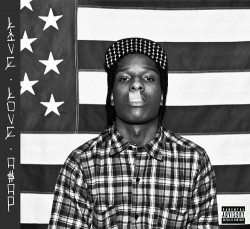 ASAP Rocky
LiveLoveA$AP
Self-Released
To be frank neither Rocky, nor any of the other MCs from Harlem's ASAP crew are the second coming of Nas on the mic, but few other 2011 rap records from NY (or anywhere else for that matter) are as compulsively listenable as LiveLoveA$AP. Riding on a gross of uniformly hazy and drugged out beats by a murderer's row of hungry young producers led by the deservedly hyped Clams Casino, Rocky may not be the cleverest or most technical rapper, but he knows how to use what he's got for maximum effect; a self-assured flow and enough hot lines to make songs like "Peso" and "Purple Swag" leftfield rap radio hits. Signing a $3 Million deal on it's strength, we can only hope that his major label debut is half as fun to listen to.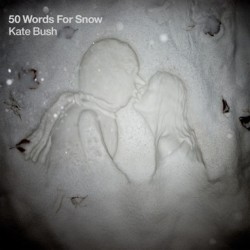 Kate Bush
50 Words for Snow
Fish People/EMI
The winter theme of Kate Bush's first proper LP in six years gave us pause, thinking it might produce a glib or flippant feel, but we needn't have worried: 50 Words is pop's greatest living female songwriter (take it up with us in the comments, punks) playing to her strengths. Aided by some top-notch drumming, the haunting, slowly-unfolding feel of these piano-based tracks (most eight or nine minutes in length) recalls Kate's other great conceptual gambit, the "Ninth Wave" second side of Hounds Of Love. A few minutes into the gorgeous and utterly bizarre "Misty", it's unmistakable: this woman's work is nowhere near complete. Cherish.
"Snowflake"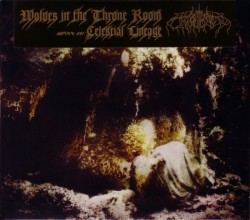 Wolves in the Throne Room
Celestial Lineage
Southern Lord
Unfairly tarnished by the connotations that come with being the black metal band for people who don't like black metal, Wolves in the Throne Room continue to be one of the shining lights of the USBM scene with their fourth, and strongest LP. Skewing back towards a lush full sound after the dry minimalism of 2009's Black Cascade, the brothers from deep rural Washington state continue to evoke the raw power of nature that informs their approach to metal and music on the whole. With a grasp of dynamics newly expanded to allow songs shorter than 10 minutes, Celestial Lineage is no less apocalyptic or monumental, a continuing tribute to their capacity to push their chosen mode into new forms, both graceful and beautiful.
"Astral Blood"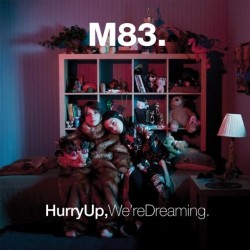 M83
Hurry Up, We're Dreaming
Naïve/Mute
A double album is a tricky affair, constantly in danger of collapsing under the weight of it's own ambitions, but no other band seems as suited to attempt it and succeed as France's glorious synth-rockers M83. Moving backwards from the wistful teen angst of Before the Dawn Heals Us and Saturdays = Youth into a realm of unpretentious childhood wonder without losing an ounce of his capacity for galaxy-sized song-craft, Anthony Gonzales (and featured collaborator/ID:UD's secret crush Morgan Kibby) reminds us once again on Hurry Up, We're Dreaming of the transcendent and transportive quality of the best music. While every M83 album feels special, there's something immense about an album this radiant and free of cynicism, a beautiful beacon that shines even brighter as the world grows ever darker around it, and us.
"Steve McQueen"