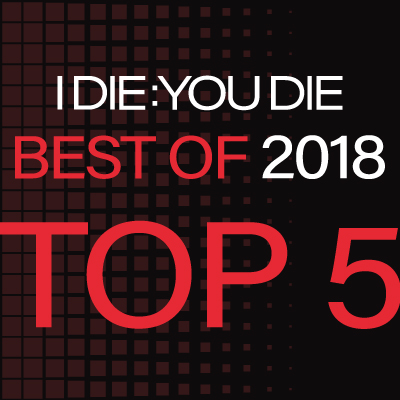 And so, another draws close to an end here at I Die: You Die. Yeah, we have a few podcasts left to record and release before midnight on the 31st, but our Top 5 records of the year really is the climax of everything we put work into over the course of a given year. Consequently it tends to be the part of these Year End ranking we agonize over the most, but this year everything fell into place without much debate or discussion. These felt like the top five I Die: You Die records of the year basically from the moment we started compiling our mutual lists and comparing them to each other. Tune in to We Have a Technical tomorrow for broader thoughts on the year that was and what went into our list, but that can wait 'til after the main event. If you're joining us in progress you can check out entries 25-16 here and 15-6 here, but without further ado, here's our Top 5 of 2018.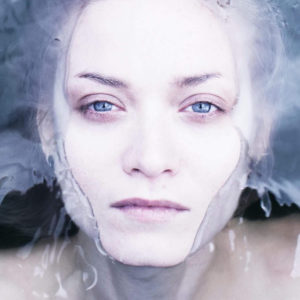 5. Zanias
Into the All
Candela Rising
We've learned to expect big, exciting things from Alison Lewis aka Zanias, both from her work with darkwavers Linea Aspera and electro-body act Keluar, but there's no way we could have predicted Into the All. Where her 2016 EP To The Core felt very in line with the techno-inflected work she releases via her tastemaking Fleisch label, her first proper LP as Zanias begins with a suite of beautiful and dramatic vocal and organic percussion numbers that have more in common with modern soundtrack work than they do anything you might here in your average club. It's a wild opening gambit that sets the tone for the rest of the LP, priming the listener for further explorations into moody electro ("Aletheia"), thick-voiced ritual invocations ("Thanatos") and nervy, austere synthpop ("Idoru"). Nothing seems off the table for Zanias, a feeling all the more impressive for the album's sonic unity, as field recordings, samples and rich, timbral synths flow together with a thrumming synergy. At the center of it all stands Zanias herself, projecting an energy through her voice both otherworldly and deeply personal. As vast as the landscapes it seeks to explore are, many of them seem to exist purely within her own mind and body, only visible when she paints them into existence us in via her striking voice. For all her many achievements, Into the All feels for all the world like the most pivotal point in Zanias' oeuvre to date; the exact moment we and everyone else realized the vastness she was capable of. Read our full review.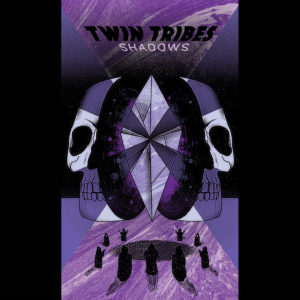 4. Twin Tribes
Shadows
self-released
Just about every time we're in preparation for our Year End coverage we find ourselves praising one album above all others in terms of "listenability". Y'know, those records that just seem to invariably find their way back onto your turntable or music app regardless of circumstances, and which are just far too easy to play again. Twin Tribes' debut wins that award for 2018, hands-down. From the record's arrival in January seemingly out of nowhere right until now it's never been far from hand, with its simple but reassuring and beckoning melodic combination of darkwave and post-punk offering ever-ready escape from the mundane. Despite its relatively straightforward delivery and minimal instrumentation, Shadows creates a fleshed-out nocturnal world replete with mystic forces and gothic ruins. That it does all this without the baroque excess of second wave goth, and uses simple chiming melodies and synth pads to build such a fully fledged aesthetic speaks to the quality of songwriting Luis Navarro and Joel Nino, Jr. bring to bear. Of course, influence spotting is dead simple with a record like this, but whether it's Concrete Blonde or The Cure that you'd care to cite at first blush, it can't be denied that it's the strength of the tunes themselves – be it the spritely come-hither bounce of the title track or the coolly lush "Tower Of Glass" – which make the lasting impression. Twin Tribes created some of the year's most infectious and intoxicating tunes, and made doing so look easy (and fashion-forward). Most bands would give their eyeteeth to have their debuts be so inviting; instead we suggest they follow our example and cue up Shadows one more time before the year's out. Read our full review.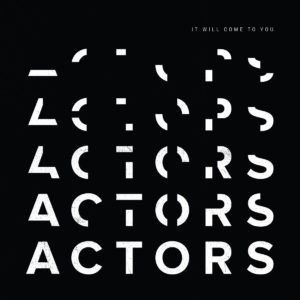 3. ACTORS
It Will Come To You
Artoffact
The word we most frequently used to describe Vancouver's ACTORS prior to the release of It Will Come To You was 'ready', as in 'ready for bigger things'. That prediction played out in 2018, with the quartet taking their addictive brand of post-punk to the global stage, and amassing a legion of fans and admirers in the process. The secret to their success is relatively simple: it's all in the songs. While we already knew stone dancefloor killers like the neon-soaked night drive of "Bury Me" and the synth-driven "Crystal" would get people's attention, it was the absolute consistency of the material across all ten tracks that kept It Will Come To You in rotation from the moment of its release. In the mood for something spooky but upbeat? ACTORS had you covered with "L'Appel Du Vide". Craving for a syrupy hook and a disco backbeat? Jason Corbett and company serve it up on "We Don't Have to Dance". You need something with retro-appeal and hints of coldwave peeking in from the edges? Peep "Face Meets Glass". It really did feel like the record with something for everybody, with many a hardened industrialist and cynical scenester won over in spite of themselves. Energizing and above-all compulsively relistenable, it put the scads of tired, derivative post-punk retread acts on notice: either rise to ACTORS' level or get left in the dust. It was their moment, and in the role of their lifetime they played the role to a tee.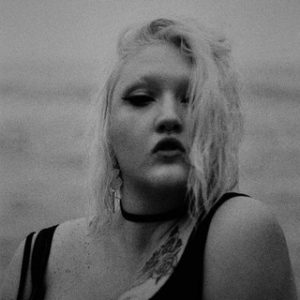 2. SRSQ
Unreality
Dais Records
The tragedy behind Them Are Us Too's end can't help but inform how anyone sitting down with Kennedy Ashlyn's solo debut as SRSQ. And indeed, her partnership with Cash Askew showed that Ashlyn's artistic instincts and soaring voice are uniquely equipped to communicate an excess of emotion, and grief is no exception. But while grief marks Unreality it doesn't wholly define it, and indeed the record's crushing human beauty comes from Ashlyn's attempts to identify and grasp each and every feeling and experience which seems to swirl around her with synesthetic intensity. The resulting music is nothing short of gorgeous, whether it involves giving in to the ecstatic rush of new love on "Cherish", begging for some reprieve from loss on "Procession", or attempting to find some sort of accord between grief and love in order to continue living, as on "Mixed Tide". The slowly blooming harmonic layers of that track are a perfect example of Ashlyn's talent for pairing her voice with enveloping synths which buoy the former up into the listener's stratosphere. Words like "airy" and "dreamy" have often been applied to Ashlyn's music, but as the title of Unreality perhaps points to, the instrumentation seems to be tailored to suit a world in which the line between dream and reality has become wholly blurred. Trying to find something to hold onto, something to hope for or work towards may be the source of Unreality's wounded heart, but it's also the pursuit which makes it a work of unparalleled beauty. Read our full review.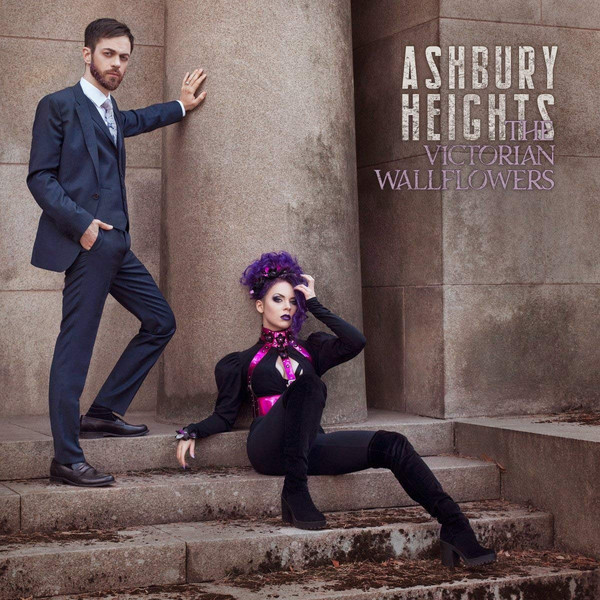 1. Ashbury Heights
The Victorian Wallflowers
Out Of Line
The strange intersections between synthpop and its goth and post-industrial cousins go as far back as one might care to trace the histories of those genres. Synthpop, electro-pop, or (often used with more derision) just "dance" or "pop" have been used as markers to attack or discredit any act or record perceived to be veering from the underground to flirt with more mainstream sounds. It happened with Mute Records, it happened with futurepop, it will happen again. Ashbury Heights have always avoided such skirmishes by being entirely up front about their interest in and talent for broader dancefloors and pop flavours, right from the start. They're a scene band with a scene audience on a scene label…who just happen to produce radio-ready pop with an admittedly dark and moody cast. They also have a habit of releasing some of the best records by any of the metrics we use to evaluate such things here at I Die: You Die, and The Victorian Wallflowers is no exception.
Where the project's 2015 release The Looking Glass Society felt in many ways like a nod to their earliest (and to be honest most "scene" recordings), The Victorian Wallflowers picks up the torch of their masterpiece 2010 LP Take Cair Paramour and carries it boldly forward. Finding its voice between Anders Hagström's distinctive songwriting, production up to par with modern pop standards, and a breakout vocal performance from Tea F. Thimé, it embodies every bit of potential Ashbury Heights have ever displayed.
Where songs like the uptempo electro-rock opener "Headlights" and radio-ready "Firebird" show off the Swedish duo's capacity for fast-moving arrangements and sticky, instantly hummable choruses, it's in the quirky charms unique to the band that the album makes its greatest mark. "If You're Shooting With the Left it Means the Right Side is Working" is a plodding mechanical ode to a dying factory town, its tempo and sonic palette paired with its subject matter. "Tomorrow is Dead to Me" latches onto a sing-songy vocal melody early that has a strange, vaudevillian air about it, an absolute contrast to the instrumental's side-chained, tweaky synths. And who else but them could go full Night-at-the-Roxbury NRG on "Waiting for the Fall" and still have it play out with such unrionic emotional resonance? The band is so perfectly themselves in every moment, right 'til the dying notes of the dual pomp-and-circumstance vocals of "Journey" fade away. It's Ashbury Heights, who else could it be?
It's that musical confidence in the band's own style (even when the songs themselves are rife with self-doubt and uncertainty) that holds The Victorian Wallflowers together. It's one thing to trot out "every song could be a single" cliches about the record, but when each of those songs underline the ambitions that Hagström has shown throughout the band's preceding releases the strength of the material begins to seem less a product of hard work or dumb luck than it does destiny. Ashbury Heights exist to make sublime dark pop music; The Victorian Wallflowers is both the proof and the result, and it's a record we're happy to cite as our favourite release of the year.
Read our original discussion of the record.
And that's it, folks! Again, we're keen to get your thoughts on any of the records we've included on our list or which you feel we've missed. We'll be closing things off on the podcast tomorrow, but as far as written coverage goes, we'll see you in the new year!