"I can't see how an artist can just do one thing, have one sound and just do the same thing every year."
Icelandic newcomers Legend have made an instantaneous impression upon us here at ID:UD HQ, and we're not the only ones. Artoffact honcho Jacek Kozlowski caught some of the homegrown buzz about the band's panoramic, high-drama synth debut Fearless while on a trip to Europe, and quickly licensed the self-released record for North American release. Since then, Legend have been earning nods from DJs and tastemakers on this side of the Atlantic, and are poised to make deeper inroads with clubgoers and fans of deep synth production alike. Fearless is now available digitally with a CD release due on Tuesday, and we'll have a full review of the album posted here then. In the meantime, we thought it'd be a good time to talk with frontman Krummi Bjorgvins about the band's origins, aesthetics, and plans to conquer North America.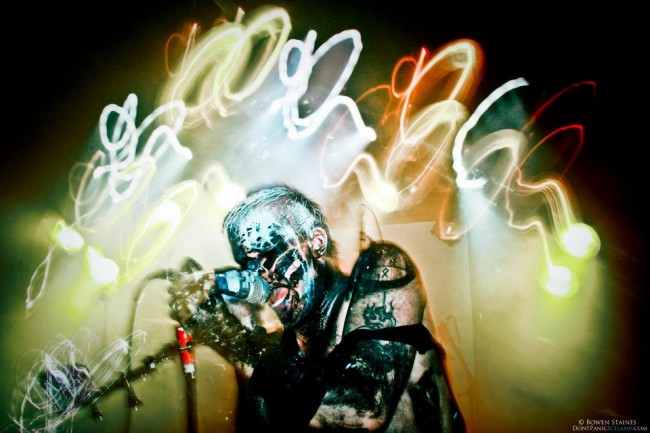 ID:UD: The first Legend song we heard was "Runaway Train," and in some ways it's the perfect microcosm of the album; it's big, and demands to be heard loud, and not confined to headphones or laptop speakers. Is that sort of expansive sound central to what you want to do with Legend? Was it something you knew you wanted to achieve with the project from the beginning?
Krummi: Yes, "Runaway Train" kind of sums up the record and the emotion that Legend wants to capture. We mixed the album ourselves so we were really spending a lot of time trying new things and seeing how far we could take the sound. I always want the music to be harder and more aggressive as Dóri [bandmate Halldór Björnsson – ed.] finds the middleground sometimes, and that's a great combination. We wanted the album to sound good anywhere.
ID:UD: Although it seems like you've gone out of your way to avoid marketing Legend as a "side-project," both members have been involved in a number of other bands and projects that on the surface have very little to do with the sound Legend has developed (from country to hardcore). Is Legend an outlet for ideas that don't fit in elsewhere in your careers?
Krummi: I guess it started out that way, but me and Dóri have been playing around with the idea of doing a project together for a long time. I used to play drums in his old band in the '90s so we have been secretly planning this for a long time. It was when we wrote our first song in 2010 that we kind of knew that it was time to make a record. I always have a lot of things going on to make ends meet. And if I don't create I get depressed, so it's normal for me to juggle few projects at the same time. I can't see how an artist can just do one thing, have one sound and just do the same thing every year. Makes no sense to me. We like to challenge ourselves and discover new avenues in sound, music and visuals.
ID:UD: While Legend is ostensibly an electronic music project, the focus of Fearless definitely seems to be on composition and songwriting. What does your process look like when it comes to creation? Where is the intersection between writing and working in studio?
Krummi: We worked day and night on those songs. We kind of do it together a lot but sometimes Dóri will have a synth line and I will write a vocal melody over that, then we will arrange the song together and write the lyrics together as well. We have this chemistry that we sometimes don't need to talk when we are writing music. Some kind of telepathy! Inspiration comes from everything around us. We tend to write about dark things and things that are happening in the world. We are not really a happy band creating happy music and art! But that doesn't mean that we are depressed or anything, we just don't like jumping around and being all smiles and pretending that everything in the world is "honky dory."
Dóri sends me a rough idea and I'll work on it a little bit at home and then go over to our studio where we play around with all kinds of ideas. The process is often very fluid and smooth. We record as we write the music.
ID:UD: Your video for "Sister" was made in collaboration with The Weird Girls Project, which aims to bring artists, fashion designers and musicians together to create media bridging the different disciplines. How did you get involved with Weird Girls? What importance do you place on the visual aesthetics of Legend as a project?
Krummi: I met Kitty (Weird Girls founder and mastermind) in England long time a go when I was touring with my hardcore band Mínus. She moved to Iceland a few years ago and we stayed in touch. I played her the song "Sister" and she really liked it, and immediately had an idea to incorporate the song into the Weird Girls performance art. She is a hard working person and does things with passion. We love to collaborate with that kind of artist. She included me in the video which she never really does, she only has her girls doing the performance in her videos, so it was pretty cool that she included me in the video. Makes it special.
The visual art for the band is very important and I try to find new things to incorporate into the band's visual plane. I'm always pushing the image and visuals for our live shows to the max and making it look like it's post apocalyptic, like after a nuclear war. [The band's Tumblr is well worth a look – ed.]
ID:UD: It seems like there's a lot of duality present on Fearless; it's a dark sounding album with bright highs in each song; there are organic instruments mixed in with the electronic sounds, and even more broadly it's a collaboration between two different creators. Is there a specific place that those dichotomies come from? How conscious were you of them when the album was being created?
Krummi: We were very conscious about it and we are kind of obsessed with the idea that good and evil lives in every human being. We both have different ways of approaching and writing music so I think that the dichotomies happen automatically. We are very different people which creates a powerful chemistry between us.
ID:UD: There's been a lot of excitement leading up to the release of the album in North America, although it's been available since April in Iceland. How has response been to the record? Do you think there's a difference in the way Icelandic and North American audiences receive this kind of material?
Krummi: The response to the album and the band here in Iceland has been terrific. We got amazing reviews and people are getting into it. But there is no scene here at home that can cater to this music. Everybody is pretty helpful in the music scene in Iceland and it's kind of like everybody relates to you. I think that North American audiences will get it much sooner that Icelandic people because they are more used to this kind of music. I think it depends on the individual! Everybody has their own way of experiencing art.
"Fearless" is available in North America via iTunes, the extended CD with bonus tracks drops next week on Artoffact.