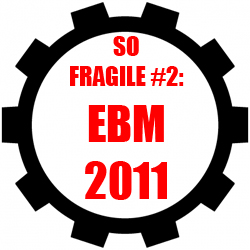 Very few tags are as misused as Electronic Body Music, EBM to its friends. Although you can easily trace the rise of futurepop, dark electro and aggrotech (do kids still use that word?) to the 80s hybrid of industrial aesthetics and dance beats, the label of EBM is dangerously close to becoming a meaningless catch-all for any kind of beat driven dark music with melodic elements. The conversation regarding what is or isn't real EBM is as fraught as the ol' "real goth music" chestnut; generally not worth engaging in, but not entirely without any kind of merit. There are several bands, old and new, that are interpreting the classic sounds pioneered by D.A.F., Nitzer Ebb and Front 242 some 25 plus years ago, today. Here's a subjective sampling of material we're interested in, some stridently adhering to the blueprint, and some pushing it into new territory while still cleaving close to the spirit of gutteral vocals and relentless punchy basslines. This is ID:UD's So Fragile Mixtape #2: EBM 2011. Work! Body! Work! Rhythm! Machine! Work!
Accessory, "Shout it Out"
Accessory ain't strictly EBM by any means, but this number from their 2011 album Underbeat sure does underline how influential the genre has been on Electro-Industrial as a whole. Listen to that bassline, the ridiculous "Dance Rock Stoned Fuck!" chant, that's straight Electronic Body Music cousin! (Check out the over-the-top video for nudity and butt-shaking. More like Electronic Booty Music amirite?)
The Pain Machinery, "Grinder (Mix 2)"
A reinterpretation of one of our favourite cuts from Surveillance Culture, found on remix disc Auto Surveillance. As minimal as the original, but structured around a woozy, hypnotic bassline.
Blitzmaschine, "Vorwaerts"
Note the slavish devotion to D.A.F. of the type that informs the "Anhalt" or "new oldschool" EBM scene. Hey, if you're gonna jack, jack from the best. We kid, Blitzmaschine, we kid.
Vomito Negro – "Slave Nation"
The somewhat understated title cut from the Belgian legends' recent EP. Like everything they do, dark as hell.
Portion Control – "Amnesia"
Man, do I love this song. A thick, grinding stomper from PC's 2010 release "Violently Alive". I can't help but think that my life would be a lot more exciting if I listened to Portion Control on a daily basis. 30 years in the game: still angry, still menacing.
Armageddon Dildos, "Bodyworker"
Although the Dildos often integrate guitars into their songs (a remnant of the era when plenty of euro bands were doing it for North American crossover potential, paging A Split Second) this cut off their 2011 record Unterground is straight dope for body fans.
Dupont, "Run for Protection"
When not drunkenly rambling about Prince to confused, sleepy Canadians (long story), Dupont make the kind of music that shows how much influence EBM has on electropop. Case in point, this track. As an aside, does anyone else wish And One still made music that sounds like this?
Prager Handgriff – "Im Westen nichts neues"
These Germans have been at it for a while, but 2011's Arbeit, Sport und Spiel might be their most well-rounded LP to date. They have a keen ear for harmonics but still keep the rhythm up front, just where it should be in EBM.
As always, we have purchased all the songs used in this mix, some digitally and some on good old fashioned compact discs. I Die: You Die encourages fans of music to support the artists that make it. If you're unfamiliar with our subject matter and want to know more, Out of Line put out a good wide ranging compilation last year, or you can check out EINE TASSE JÄGER a blog dedicated to new oldschool artists.