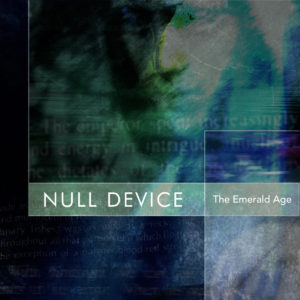 Null Device
The Emerald Age
Distortion Productions
2019's Line Of Sight brought into focus what a varied entity Null Device have become. As the Wisconsin act recently told us, while they still feel an affinity with their pure synthpop roots, they've become much more open to working with whatever sounds or styles strike their fancy. That open-ended approach to genre is still very much in play on The Emerald Age, but is also guided by some darker and heavier themes and sounds.
Lyrically, Null Device are taking up contemporary strife and difficulty, be it political or personal, much more directly than they generally have in their back catalog, and the chilly tone of many of The Emerald Age's arrangements fits to suit. But even when they're being sharp and uncompromising, Null Device don't stray too far from the emotional core of their music. Note how "(Not) Sorry" balances its blunt message about cutting off toxic relationships with a slowly winding dreampop guitar line, or the thoughtful harpsichord which punctuates the scraping beats of "Flags".
The danger with this sort of record of alternately angry and reflective record is that it that those feelings can overwhelm the songs themselves, overshadowing their pop appeal. Null Device have traditionally been very good at balancing their more thoughtful impulses with album and studiocraft, and that skillset comes in handy over the course of Emerald Age. The placement of "Snake Eyes", with its rolling drums and low-key menace before the fragile hopefulness of "Mayhem Into Ashes" is the kind of deliberate choice that helps both songs; the contrast between the intertwined emotions expressed in each song creates context and suggests the complexity of the feelings that built the album. Uncertainty and defiance are fertile lyrical bedfellows, and while they share space in the mid-tempo groove of "Unsafe and Sound" and the wistful piano-led closer "Misspent Youth", their resolution is never complete. If you can acknowledge and start the work of dealing with those messy emotions, you can also find some comfort. As Oehler sings at the close of the record, "If all I leave behind is love/It's enough for me to belong".
Maturity is often a coded way of saying unexciting when applied to an LP, a nice way of recognizing a record as being thoughtful while dodging a lack of immediacy. In the case of The Emerald Age the term is appropriate – Null Device approach the tumultuous and difficult emotions of life in 2022 in a deeply relatable and recognizable fashion, without sloganeering or easy answers. More than any individual hook or chorus, its the recognition that no, things aren't okay, and that the road to any kind of personal catharsis is long and perilous that holds The Emerald Age's appeal.