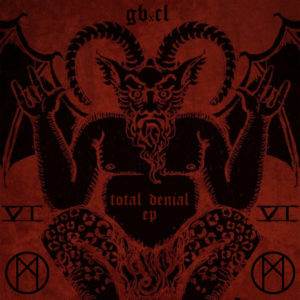 GBxCL
Total Denial
Still Distant Records
At this point there's no novelty to the idea of artists with backgrounds in hardcore or other electronic music styles producing industrial, although the 3-track release Total Denial from GBxCL does remind us that sometimes that background can be a big asset when it comes to making music in the modern industrial style. The workmanlike programming and raw production of these songs speaks to a DIY approach to getting things done with a minimum of fuss, the use of vocals specifically lends them a real musicality that is often missing from the techno-EBM crossover. "Tears" makes excellent use of peaky filtered synth chirps to liven up its high end, but its the low-key sing-songy vocal that imbues the track with it's sense of understated menace. Opener "Stop Pretending" goes a more muscled route, although the pumping rhythm track is pushed subtly to an edgier place by a distant sweeping maelstrom hidden behind the kicks and bassline. Finally, "War Box" goes pure dancefloor, slowly modulating its component synthlines in and out of focus in ways that intrigue the ear without completely demanding attention. It's a solid salvo from an act who seem to have no problems getting right to the point with each song in their so far brief but intriguing catalogue.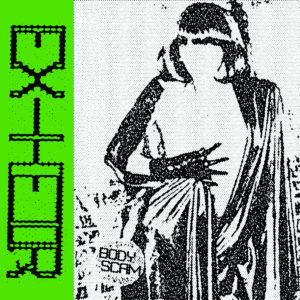 Ex-Heir
Body Scam
Body Musick
San Francisco's John Mal has been releasing a non-stop torrent of synthpunk and electro experimentation over the past few years, but it's only much more recently that Ex-Heir has crystallized into the spiky and slimy dark electro beast which rumbles across Body Scam. The free-roaming, lo-fi pedigree of the project can still be heard in Body Scam's decidedly loose approach to body music (and some Frankenhooker samples fit in nicely with the current mutant strain), but the amount of grime, gloom, and distortion to be found on the likes of "Paradox" suggests a solid familiarity with the Celtic Circle Productions catalog as much as anything. Later, the deeply submerged squelches of "Pretender" show how EBM and classic electro can end up in all sorts of sordid shenanigans if they bump into each other at the right sex club. Mean and nasty stuff with enough substance to carry the sordid aesthetic.