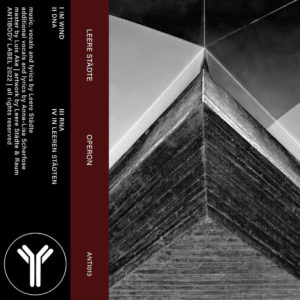 Leere Städte
Operon
Antibody
Leere Städte is Hannes Rief, a charter member of notoriously grim darkwave gloom-merchants Die Selektion, and even given that pedigree the project's debut EP Operant is an unnervingly spare outing. At only 4 tracks, there's still a distinct separation in the style of songs here; "DNA" and "RNA" conform to genre expectation with sharp-edged analogue synths and mid-tempo drums, Rief's sombre, matter of fact vocals and Anna-Lisa's stern teutonic singing hearkening back to any number of classic cold or minimal wave cuts. Alternately, opener "Im Wind" trades in ominous drones and synth tones that gradually drift against one another, the frequencies they co-occupy spiked with short bursts of static, with a melody only vaguely coalescing over its short runtime. Closer "In Leeren Städten" plays like "Im Wind" given structure, but then pumped up with extremely crunchy bass and drums, that only grow moreso as the track eventually culminates in a short sharp finale. It's none of it what you would call a good time listening experience, but there's certainly an appeal to the cold minimalism at play.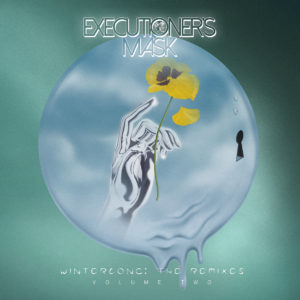 Executioner's Mask
Winterlong: The Remixes – Volume 2
self-released
Just about anything would have sounded chipper in comparison to 2020's Despair Anthems, but goth/noise rock band Executioner's Mask took an unexpected turn with the more psych-forward and swampy Winterlong earlier this year. Now, after a bonus set of remixes which found ways of carrying the Philly outfit's brand of miserablism to the dancefloor, a new suite of mixes digs in on the ambiance and noise left to hang about the corners of Winterlong's compositions. No Joy's take on "Two Vultures Fucking" is a surprisingly sunny approach to downtempo given the original track (and, let's face it, its title), while the densely filigreed crystalline glitch of Jeff Ziegler's remix of "Hart Island" pulls a twitching transcendence out of the doomed lope of the original. That more wistful read on the record ends up being this comp's larger mood, even taken God Is War and Luvencie's contributions into account. Some more traditionally dancefloor friendly remixes make their way onto the record, like Kiss Of The Whip's italo-inspired remix of "Sick In Heaven" or the bedroom synthpop approach to "Honey" taken by Seattle darkwavers Hallows, but given the woozy, gauzy haze which permeates the record as a whole, these feel like sunstroked bagatelles rather than mercenary plays for clubtime. As if all of this wasn't enough to indicate that Executioner's Mask had a softer side, frontman Jay Gambit is donating all proceeds from the comp to the foster cat nonprofit he volunteers for.