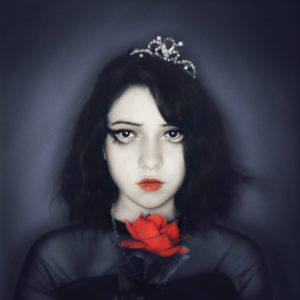 Vandal Moon
Queen of the Night
Starfield Music
There's been no shortage of club-friendly darkwave over the last few years, and in specific American acts have stepped to the forefront of the goth-leaning side of the style. While Californians Vandal Moon have been actively releasing music for almost a decade, the leap forward in the duo's production has been apparent since 2018's Wild Insane, with tasteful touches of neon-synthwave adding some extra sheen to their broody and dramatic material. While previous releases have been patchy in terms of songcraft, new LP Queen of the Night hits the right balance between memorable tunes, solid presentation and just the right amount of gothic excess in its delivery.
The level-up was apparent from the release of single "Sweet Disaster", and it remains a standout in the context of the album; it's hard to deny the instantly hummable chorus where vocalist Blake Voss' deep voice mirrors a sleek synth hook, all backed by a propulsive goth-rock drum machine thump. The simplicity of the track is a goodly part of its appeal – it's just a good, well-arranged tune recorded with just the right amount of excess to sell its swoony theatrics. There's no shortage of tunes you can say similar things about, with the mid-tempo "Young. Deadly Beautiful." and the slinky Johny Dynamite and The Bloodsuckers collab "Too High to Cry" as particularly solid examples.
There's also something to be said for the precise way the record uses trad-goth tropes effectively. The bass guitar intro, keening synths and piano arpeggios of the slowburning "Chemical Love" will certainly bring The Cure to mind, but are deployed tastefully, evoking the influence rather than imitating it. You get the same vibe on duet "Diamonds and Pearls", and again with some added second-wave guitar for flavour. These aren't deep-cut musical references by any means, but given how often bands fall flat on their faces when dipping into them, you have to commend Vandal Moon for knowing how to fit that distinctive sound into the record.
Queen of the Night is as solid an album as Vandal Moon have yet released, and one that shows growth in every area – the songwriting, production and general sensibility of the LP are all fully formed, with close attention paid to making those components serve one another. A big step forward from an act whose potential could just as easily gone to waste had they not put in the work, its a fine and enjoyable payoff for the effort put in.