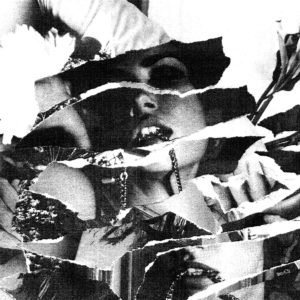 Forever Grey
Sympathy Garden
self-released
There was a thumbnail review of The Cure's "Primary" single in one of the British music weeklies which I've regularly thought about since seeing it collected in Ten Imaginary Years. I'm paraphrasing, but it praised the band for returning to a brisker and more melodic style after the minimal and dour sound of Seventeen Seconds, of course having no clue that "Primary" was a fake-out for the ethereal misery of Faith. Hearing "Cold Hand", Forever Grey's teaser single for Sympathy Garden, felt like a variation on that same confusion; sure, it was a heavy slab of goth-leaning darkwave, but was actually rather spritely and uptempo by the band's own grim standard, presaging how Sympathy Garden allows just the smallest glints of light into their tenebrous domain.
The LA by way of Michigan duo aren't quite cranking out EPs and singles at the same frenetic pace as they were when they started up some seven years ago, but they've traded quantity off for solid quality control, as well as a higher live profile. Gigging with the likes of Bootblacks, Nuovo Testamento, and Twin Tribes puts them in the company of acts with a decidedly less severe aesthetic than that which they set forth on Alabaster Chamber (discussed by us recently), and Sympathy Garden feels like an attempt to meet the broader darkwave audience halfway. The rich bass tone and toe-tapping beats of "Tragedy" has an inviting bounce, but that's quickly cooled off by Kevin Czarnik's deeper-than-the-grave vocals. The dynamic between the icy synths and kling-klangs of "Nothing Ever Changes" and its weary post-punk rhythm has a similar effect. Even when melodies are given focus, Forever Grey keep their arrangements stripped to the studs. "The Other Side" does a nice job of using some Leeds-ish goth rock guitar as the frame for an entrancing synth-focused nodder, but the paucity of instrumentation, bereft of layering or heavy post-production, paradoxically adds to the track's atmosphere.
Unlike, say, Qual, or any other number of projects who might lay claim to being the darkest of darkwave, Forever Grey hold to a stoic, fatalistic style of depression (forget happiness, we must imagine Sisyphus playing in a darkwave act) which never gives itself over to mania or hysterics. That stone-sober approach might give those accustomed to a more emotive style pause, but for those who appreciate some weight and heft in their listening, they remain one of the most rock solid acts in the game today. And with Sympathy Garden they've realized that even the most forlorn of goths can have a little melody, as a treat.