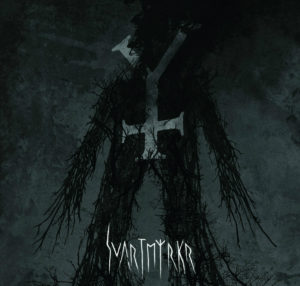 MZ.412
Svartmyrkyr
Cold Spring
Much like the old adage that you can't take a breath without inhaling some of the molecules with which Juilus Caesar gasped out "Et tu Brute?", you can't listen to ritual or martial industrial without at least hearing the indirect legacy of Henrik Nordvargr Björkk. We've written extensively about his innumerable projects since the inception of I Die: You Die, but the release of Svartmyrkr is especially notable amongst them, as it marks the first full LP from one of Björkk's first projects (yes, just as old as Pouppée Fabrikk), Mz.412, since 2006. Combining the still nascent black metal aesthetic with strident, growling noise from the power electronics and death industrial worlds, MZ.412's been a uniquely hoary beast for the past thirty years.
Svartmyrkyr certainly still conveys the moods sought after in classic MZ.412 releases – listen to a track like "Helblar" and you'll understand why the LP's title roughly translates to "black murk" – but the band certainly isn't standing pat, either. Björkk and his frequent collaborators Jouni Ollila (founding member of MZ.412, Pouppée Fabrikk, and…Mr. Jones Machine?) and Jonas Aneheim (of dark ambient outfit Beyond Sensory Experience) bring elements from their intervening releases to bear. Martial percussion, rare in all but the earliest MZ.412 material, comes to the fore, as do more ornate and ambitious song structures. A ritual industrial track, like "Öppna Helgrind" with its occult themes, wouldn't have been out of place before but it certainly wouldn't have been fleshed out with the echoing timpani and trembling washes of drone which fall from the sky while Björkk bellows stygian incantations. To wit, the messaging is still on point, it's only the methods which have been refined.
But of course, aesthetics do shape mood, and the somewhat more grand and bombastic scope of Svartmyrkyr can't help but influence one's reaction to it. More than the revolutionary, anti-religious rhetoric MZ.412 took from metal in their early days, it's the moments in which MZ.412 bask in their glory which leave a lasting impression. One could certainly take the lyrics of penultimate track "We Are Eternal" at face value – a missive from a Lovecraftian cosmic voyager – but by the end of the record it feels far more like a declaration from and concerning the band themselves. And the trio have every right to indulge in a little metaphysical braggadocio in the wake of Svartmyrkyr: it's a strong return to a sound and an ethos which they pioneered decades back, but isn't slavishly chained to the past.