It's the start of our Year End coverage here at I Die: You Die, and as has been our custom we're kicking the week off by checking in with a host of friends of the site to find out what records they've had on repeat! Do some quick catching up with what various tastemakers from across the scene(s) are endorsing, and check back tomorrow for the first ten records of our traditional Year End list.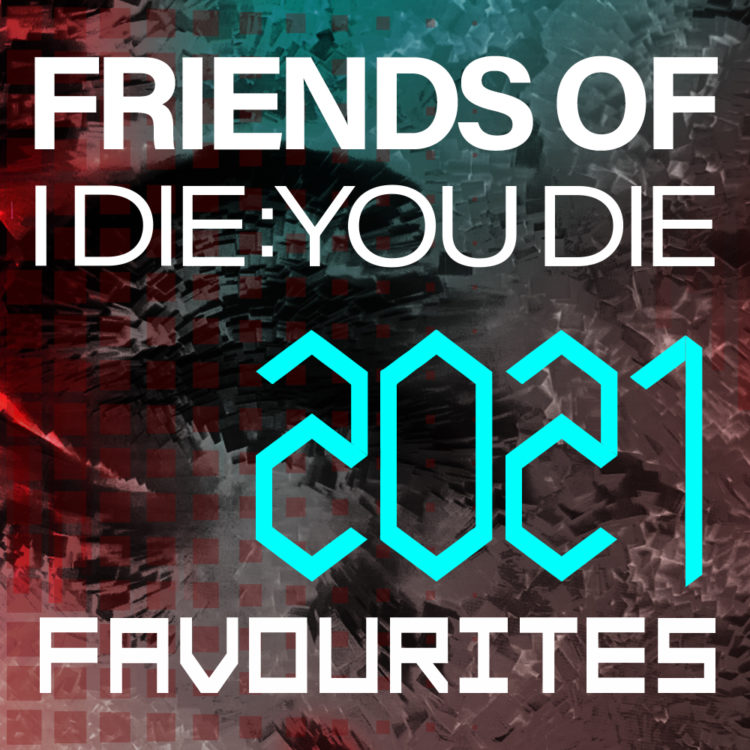 Andi Harriman, producer, author of Some Wear Leather, Some Wear Lace
Brixx – Conversion Therapy
That tenuous balance between the ominous and the hopeful is always compelling — and Brixx's EP, Conversion Therapy, is exactly that. The Australian producer has mastered the delicacies of dance music: with a steady, precise rhythm and ferocious EBM basslines, her tracks are forceful, but only just so. Conversion Therapy values both lightness and strength in its composition, hearkening back to the purity of techno (with a new beat influence) at the turn of the 1990s. From the cinematic synth swells of "Shock of the New" to the melancholic brutality of "Metamorphosis" with vocals by Black Dahlia, Brixx's EP is dance floor ready from beginning to end.

DJ :EYG:
Ghost Twin – Love Songs For End Times
Ghost Twin's Love Songs for End Times is my pick for best album of 2021. Standout songs include "Babes in the Woods," an anthem for weekend camping trips, "Become Control," a song-long spoiler for Star Trek Discovery season two, and "Give Me More," which features the line "I'm too dumb to know when it's time to give up and go home." That text resonates with me on a deeply personal level. Ghost Twin put a fantastic amount of multimedia art into this album, releasing high production videos for many of the tracks and a beer named after "Blue Sunshine," an upbeat track about apocalypse survivors having one good night. "We Are the Damned" is a pure electro-goth masterpiece complete with hot synths and an invocation of the god of Tuesdays. Ghost Twin are amazing and absolutely worth a listen or 20.

Trever Aeon, Pro-Wrestler
Actors – Acts Of Worship
Hands down my album of the year is Actors' Acts Of Worship. They took darkwave, postpunk, and new wave and smashed them into this incredible set of mind blowing songs without fail. And it wasn't an easy choice to make because the entire goth umbrella (and industrial) had some amazing releases this year but sonically Acts Of Worship hit every cylinder for me. I love that they added more of Shannon's hypnotizing vocals to combine with Jason's, making it all the more sweet. There's dance floor ready tracks, tracks that mess with your emotions and as an overall package it forces you to replay it over and over (like I have since it dropped in October!).

Mildred Strange of History Lessons for Misanthropes
V▲LH▲LL – Neversleep
I will admit that it took me a moment to listen to Neversleep, the new offering from V▲LH▲LL. When I really love a band, I always worry that new albums won't live up to their previous body of work. But I should never question the ability of V▲LH▲LL to deliver because they bring it every time. There is a sweet, dream-like quality to Mary's voice, like she's singing us lullabies. Until you listen to the lyrics, and hear Martin's vocals, which are unsettling and distorted, and it becomes clear that they aren't lulling us into a safe dream. I've lovingly referred to V▲LH▲LL for years as "nightmare tunes", and Neversleep is exactly that. Sure, Mary's vocals are dream-like, but that dream is filled with unimaginable horrors. But horrors I can't get enough of.

Shannon Hemmett of ACTORS, Leathers, Tattoo Artist
Pixel Grip – ARENA
Packed full of dark dancefloor jams and dirty words, Pixel Grip's ARENA is my pick for favourite album of 2021. My bandmate and I were listening to it at full volume in the car recently and we were singing/dancing in our seats so hard that the girl in the car next to us was head-banging, flashing devil horns, and laughing at our antics. Spin it now!

Danesha Artis, writer
unitcode:machine – Themes For A Collapsing Empire
In a year where everyone is pretending that everything is some form of normal, it's super easy to miss things. One of those things happens to be me being late to the party regarding unitcode:machine. Better late than never though. This album definitely gets you moving with poppy melodies; but it thoroughly reminds you of why you're in this genre. "Silence The Noise" is a perfect example of the two elements working in harmony. It's honestly rare for me to immediately replay an album right after listening to it, but this here? I can guarantee that you'll be doing the same. I'm honestly glad I caved to peer pressure on this one.

Eric Gottesman of Everything Goes Cold, like 8 million other bands
genCAB – Altar Of Progress
The post-industrial releases we talk about lately often come from acts with one foot in some other culture or musical tradition. Even EBM acts like Multiple Man and Chrome Corpse feel starkly removed from the insular, absurd, and sometimes terrible "scene" side of industrial music that I identified with in my youth. It's hard to draw a clear line from Hocico to HEALTH. With that in mind, I'm really taken with 'Altar of Progress", the new single by genCAB. It feels like a long-overdue proper follow-up to their 2008 full-length, II Transmuter, an old favorite of mine that lies squarely within our semi-private musical island. While genCAB did release another single in 2016 and a one-off cover track this past October, "Altar of Progress" is the first release since the album that recaptures the magic of possibility from a point in time when the future of post-industrial music seemed weirdly undefined. I've missed the lush electronics, processed vocals, and chopped up waveforms that were a mainstay of the genre for so long, but now often occupy the dullest corners of Bandcamp. genCAB has taken those tools into 2021 and created something that still feels vibrant, which I really needed this year.

Evilyn13, DJ, model
Actors – Acts of Worship
If there is one album to worship this year, it's the release "Acts of Worship" from Vancouver post-punk band ACTORS. Each single on this album is solid enough to stand on its own, but as a collection, it makes the album a go-to for your repeat playlist. "Love U More", "Cold Eyes" and "Like Suicide" are dark and danceable, forming the perfect soundtrack for swooning in the dark corners of the club. Acts of Worship reminds us all that there is beauty in darkness.

DJ Melting Girl, Death Guild & Nightshift
Zanias – Unearthed
It was really hard to pick one album this year. There were so many amazing releases but I kept coming back to Zanias. Her album Unearthed is something I kept listening to on repeat. Every track on her second full-length album shows off her beautiful, haunting voice and driving electro beats. As a DJ I always listen to a record to find the dance floor banger. There are a few on this one but my favorite is "Unseen". I don't always listen to an album from beginning to end but this is one where you should definitely do that.

Brant Showers of SØLVE, ∆AIMON, Bestial Mouths
Witch Fever – Reincarnate
There have certainly been more sophisticated releases this year than the recent Reincarnate EP from Manchester's Witch Fever – but 2021 has been especially hard for myself (and many others) – so frankly, sophisticated doesn't fucking cut it. Witch Fever's confrontational voice against male-gaze objectification, hypocritical religious systems, and all around sexist bullshit is definitely one that I can rally behind. Reincarnate is a straight-forward, visceral gut-punch of an EP, packed with Sabbath-riffs and pure piss-off attitude from a band that has entirely won me over. It may be a bit juvenile in some ways, but there's something incredibly exciting in the youthful confidence this quartet exudes, and gives me some much needed hope for the future. Reincarnate is out now on Rough Trade.

Rheanna Fancypants, art streamer, I Die: You Die graphic designer
Devours – Escape From Planet Devours
Part of what kept the phenomenal Escape From Planet Devours on repeat all year was how much range is in it. I find that a lot of artists I enjoy excel in a small niche. Some do gloom, others create party bangers, and some are masters at expressing the romance and tragedy of life as an immortal vampire (if you don't know, ask Bruce. They're his fave). But this whole album is a trip with no filler. Upbeat dance, quiet introspection, manic toe tappers, poppy chiptune, and emotional ballads all coexist seamlessly and shine. I've also been lucky to see Devours twice now, and the impression I've been left with is of someone who is passionate about their creativity and self expression. Try as I might, I've never been able to separate art from artist, and in this case that's a good thing, because it's impossible for me not to be taken in by Devours' sincerity. And on a final note, I'd like to use this platform to formally apologize to my friends, family, mail carrier, etc, who at this point are probably sick of me asking 'have you listened to Devours yet?'

Thanks to all our friends for contributing! See you tomorrow for 25-16 of our annual Best Of.