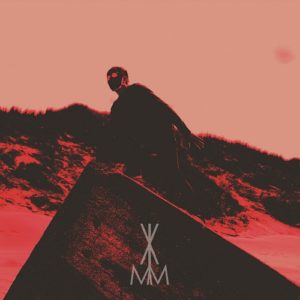 Vlimmer
Nebenkörper
Blackjack Illuminist Records
Vlimmer appeared on our radar a few years ago with the Angststand EP, a beguiling combination of darkwave and martial elements. Unbeknownst to us at the time, the one-man German act was in the midst of an audacious cycle of eighteen (!) numerically titled EPs, from which Angststand was a brief detour. With that herculean task completed, Alexander Leonard Donat has taken nearly a year to recharge and record Nebenkörper, an LP which reminds us of the strange and heady combination of sounds and moods which first drew us to Vlimmer.
While nominally sitting somewhere on the darkwave/post-punk spectrum, like the best of Donat's work Nebenkörper's defining features are its energies and emotions rather than genres. Fraught and despairing yet also defiant, Donat's voice careens through the nightmarish "Fensteraus" and the elegiac "Minusgesicht" with verve and passion, and even if the German lyrics are passing you by, the sense of wounded anxiety won't.
Acting as a counterpoint to that vocal directness is the incredible detail and shading pressed into nearly every second of Nebenkörper's arrangements, sometimes the musical equivalent of one of Nick Blinko's horror vacui illustrations, sometimes that of a Doré engraving. "Mutem" recalls And Also The Trees at their most baroque and gothic, but also shows off the same interest in modern pop production which has given recent Scandinavian synthpop and darkwave such an edge. The claustrophobic vocal layering and doomy bass of "I.P.A." might risk the whole track being stuck in a grey quagmire where it not for the frantic percussion – half acoustic hand drum mania and half machine-gun programming – which explosively propels the track. "Kartenwarten" just about the only track which fits the "bleaker version of shoegaze" press copy pitch for Vlimmer.
But as much as it can be fun to get lost in the details of each of the record's finely detailed arrangements, their rich and sweeping presentation invariably ends up taking over while one is spinning Nebenkörper. Mean, substantive, and beautiful, it's proof that the "dark post-punk" tag doesn't have to necessitate rehashing forty year old tropes, but can be used to create elaborate and strange new forms. Recommended.