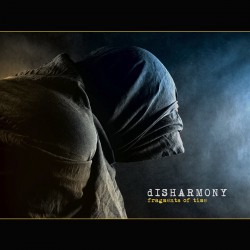 dISHARMONY
Fragments of Time
Aliens Productions
Like its predecessor Room 78, dISHARMONY's 2016 album Fragments of Time showcases an IDM inflected sound, although with this release they've also gone deep on their dark electro roots. Similar to how Individual Totem and Autoclav1.1 have approached that particular blend of ideas, the Slovakian duo of Lord Sauron and Ryby find a likeness in how each genre approaches space and movement, rendering emotional songs from simple melodies and reverbs.
The dark electro influence is most felt on the album's vocal tracks, especially in the particular kind of processed growling that is employed. Opener "Memories of Light" and "Memorized Skin" benefit greatly from the effects heavy treatment of the human voice, contrasting with vocal samples and the wistful melodies that bubble up between each song's jerking rhythm track. Aside from those songs and "Spectre", the use of vocals ends up being more of a production element than a focus, popping up on "In The Eye" and "Kyriah" in supporting spots to each song's instrumental elements.
The universal melancholy and spacey mood of Fragments of Time ends up being the source of the record's strength, and its shortcoming. While every song from the skittering half-time title track to the rubbery outer space choral number "Moonstone" features deeply considered sound design and arrangement decisions, the record does start to feel staid. It's that lack of variety that that makes some of the songs hard to recollect after hearing them; not because they aren't good, but because they're geared around the same kind of build and emotional release as the tracks that surround them. The breakcore of late album track "Behind the Door" is welcome not just for its variation in style, but feeling.
Even given some inertia in the mood of the LP, it's hard to find fault with the way that dISHARMONY weave their sounds together on a technical level. The modern sounding production has a great deal to be said for it, especially in how the impactful drums are programmed, splashing clouds of digital dust around each impactful hit. Especially in some of the brief interlude songs like "Re-Forms" and "Empty – Forms" you get to hear some intriguing directions those studio chops can be put towards, little worlds that remain to be explored as dISHARMONY push forward.