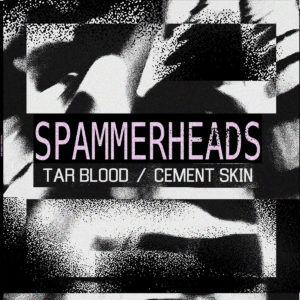 Spammerheads
Tar Blood/Cement Skin
SOIL
Spanish duo Spammerheads have been around for a few years, plying a minimal version of older school body music that falls into the atmospheric end of the genre (think Vomito Negro or the Klinik's more straightforward moments). New release for SOIL Tar Blood/Cement Skin departs from their earlier release with its greater emphasis on vocals, imbuing the tunes with some swagger that matches their mechanized swing. Opener "Until the Damage's Done" uses bursts of reverbed and filtered noise to accent its low-key funky bassline, all elements except drums occasionally dropping away to allow space for repeated, layered chants to meld more closely with the music. "Until the Damage's Done" takes that template and pushes and pulls the vocal delivery closer to rock delivery, recollecting Douglas McCarthy's bluesier moments. "Driving Nowhere" dials back the intensity slightly so that squelchy synths and fuzzy bass can establish their groove, eventually dissolving into long, spaced out drones, an appropriate intro to the instrumental "Noir de Blanc". Closing with the tongue-in-cheek thump and bounce of "Dear Hangover", it's an EP that finds that middle ground between classic EBM's rhythmic urgency and its natural capacity as a canvas for vocal charisma.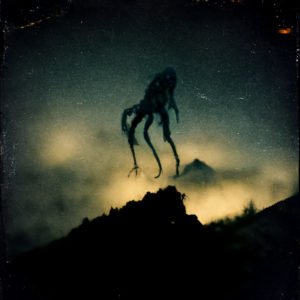 Randal Collier-Ford
Conversations With A Poisoned Mind
self-released
Randal Collier-Ford has been a longtime favourite at ID:UD HQ for a number of reasons, including his ability to rapidly rarify and alter the course of his work while still producing such a volume of quality material that no stone feels left unturned and no step in his journey seems rushed. That means that an archival record like this one, releasing tracks from 2012 for the first time, is a stark reminder of just how much Ford's approach to dark electronics and dark ambient have changed. Written during a period of poor mental health and meant to prompt reflections on Collier-Ford's relationships with himself and others, these seven surprisingly bright and kosmische-styled tracks will likely convey lighter and more hopeful messages to outside listeners. The plaintive and ascending synth leads which skip across the martial beat of "I Want To Be Okay / I'm So Sorry" suggest a collab between Fuck Buttons and Tangerine Dream. While some of the record's wubbier bass sounds are starting to show their age some ten years on, others have fared far better. The wormy but subtly harmonic pulse of "Defeatism / I'm Right Here" hints at an alternate timeline in which Collier-Ford turned down the alley of technoid and downtempo at some point in his early years rather than that of dark ambient. While not as developed or masterfully executed as his later, more directly atmospheric works would become, this is a welcome reminder of just how inspired Collier-Ford has been for more than a decade.