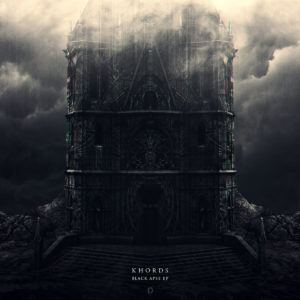 Khords
Black Apse
Onset Audio
Distinctly dark yet firmly originating from the realm of bass music, French producer Khords' new EP finds some spiritual connection with our customary beat via a less-traveled path. Pieces like "Desc Crest" and "Motherless" frame bass music breaks and pulses against dark, moody pads which should appeal to dark ambient listeners. There's serious studio-craft and arrangement in play – offsetting a fumbling, distorted drone on opener "Essence Mind (Ethereal Version)" with a shockingly clear choral passage is a nice bit of bait and switch. The overarching crossing of relatively zippy breaks and passages with well-crafted textures and ambiance avoids the usual adjectives which come into play when bass ventures into industrial or dark ambient climes. There's nothing "abyssal" or "oppressive" about Black Apse. It might be cavernous or imposing, but the sense of fluid movement maintained across the four tracks galvanizes the mind even as subtler sounds glimmer in the darkened corners. Enjoyable stuff.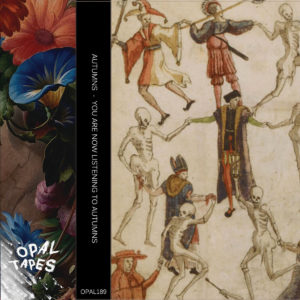 Autumns
You Are Now Listening To Autumns
Opal
While the copy accompanying the release of Autumns' latest EP proclaims that the new material is inspired by Irish folklore, one might be hard pressed to figure that out in listening to it. Indeed, the music on You Are Now Listening To Autumns is a straight EBM affair, albeit one with a great deal of punky energy delivered in an appealingly minimal fashion. Tracks like the opener "Alex, Can You Take the Bass Out" and "Doire Dog Race" are all shouted vocals (courtesy of Caolán Austin) and project mastermind Christian T's thudding percussion, cycling basslines and reverbed out synth textures, aggression and energy mixed with an unearthly and eerie ambience. "In a Plastic Box" amps that up further, mixing in more and more variations in percussion as the bass synth gradually grows more feverish, the song's apparent danceability scuttled by arhythmic stabs of noise and surprise attack toms and cymbals coming from each side of the stereo spectrum. Lest you think Autumns' is all bang and clatter there's also the minimal synth of "Old Ireland", where a ghostly saxophone haunts a creepy mix of ticky drums and a simple buzzing synthline, emphasizing the project's capacity for texture amongst the beats.