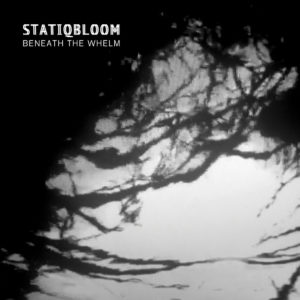 Statiqbloom
Beneath the Whelm
Metropolis Records
Each release from Statiqbloom has shown a new facet of Fade Kainer's darkly shimmering project. From Mask Visions Poison's nihilistic recasting of classic dark electo sounds to Blue Moon Blood's psychedelic electro-industrial to the full-time addition of second member Denman Anderson on Asphyxia's constricting force, Statiqbloom has managed to evolve without ever breaking from the core aesthetic which made it so compelling initially. Third full LP Beneath The Whelm continues that tradition, simultaneously bringing a sparse frailty to Statiqbloom's themes and arrangements, while paradoxically adding more grime and murk after these tracks have been whittled to the bone.
While Asphyxia (and much of the Statiqbloom back catalog) excelled by delivering raging bile and venom both musically and lyrically, Beneath The Whelm centers on a weary and oppressed mood. The lyrics and dusty delivery of "Restless" bring the unique parallels between Springsteen's Nebraska and Suicide to mind: "These headlights drive / Bring me through the night…I'm touching infinity / Just to hold you close to me…I need some death just to feel alive." Similar feelings are conjured musically, as through the isolated and vulnerable synth melody allowed to sit by itself in the middle of "Ghost Deep", or the unexpected use of amen breaks in "Buried", which seem to connote the metaphysical dreck weighing on Kainer's soul rather than the more traditional explosive energy the sample often signals.
None of which is to suggest that this is a record devoid of aggression – the album's focus on skeletal arrangements allows for some remarkably hostile moments. "The Second Coming" pits thudding kick and flat tom patterns against crushing synth textures and an excoriating guest vocal from Mayhem's Atilla Csihar. "Black Lava" slows to mid-tempo, using degraded delays and reverbs to create a miasma of bass and textural synth sounds for a particularly Dirk Ivens-esque vocal from Kainer to cut through. The contrast between the record's antagonistic and sorrowful aspects provides some of its most compelling moments; penultimate track "Still Here" manages both buzzing and choking synthlines and toxic pads a Kainer at his most mournful, intoning the track's title as though he's using his last ounce of strength to do so. That the album's final track "Last Song" is a somber and beautiful instrumental only adds to the funereal mood.
The strange contrast in Beneath the Whelm lies in it being simultaneously Statiqbloom's least accessible record from a musical standpoint while also showing the band at its most emotionally relatable. Then again it might not be a contradiction at all; by stripping away musically to the barest outlaw dark electro, the LP provides the perfect canvas for Kainer to reveal a vulnerable side we've never been privy to in the past. That this record should come so quickly on the heels of its predecessor with so many changes in approach is notable, that it manages to make that transformation feel emotionally honest and even necessary is remarkable. Recommended.