As it often does when you get older, our birthday rolled on by without us even noticing. Yep, this past weekend I Die: You Die turned eight, and without intending to we observed this anniversary well within our idiom: by watching old industrial videos and DJing, along with healthy amounts of pro wrestling and beer. Whether you've been here with us for all eight years or just hopped on thanks to some spicy takes on that Pitchfork list, we couldn't be more happy to have you along with us. Thanks for checking us out – now let's get you set for the rest of the week with some new tunes.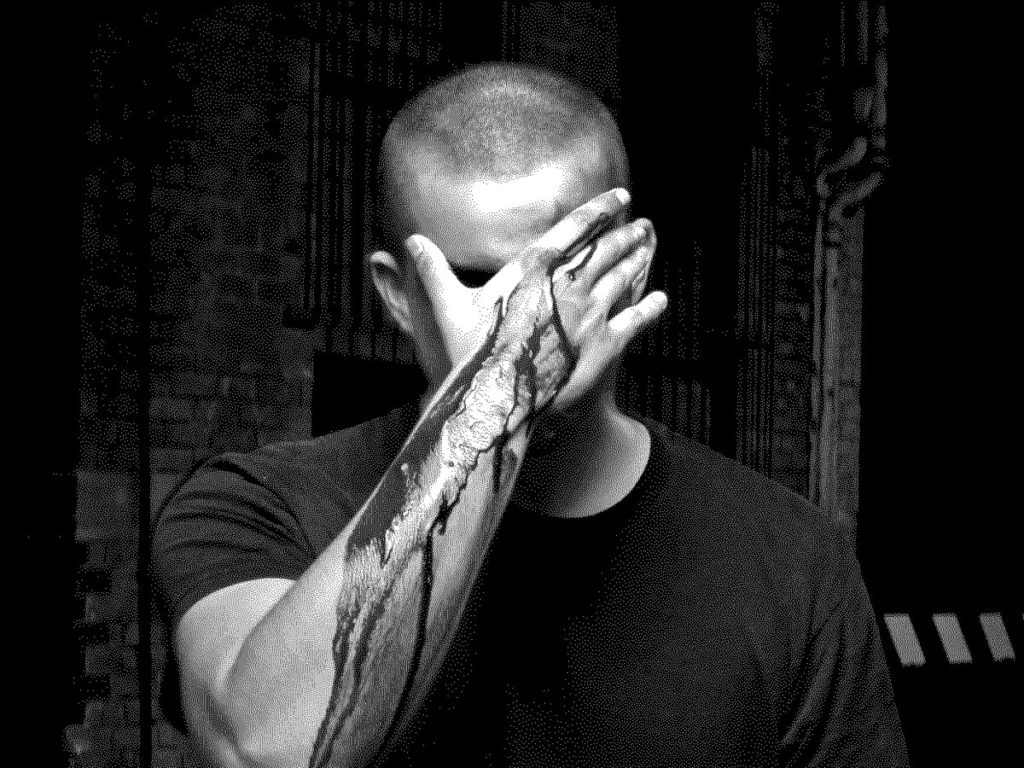 Neuroticfish, "Fluchtreflex (Helix remix)"
The song "Fluchtreflex" was one of the most classically futurepop numbers on Neuroticfish's pensive 2018 record Antidoron. That makes it a pretty natural choice for the trad remix single format, and for our money it's this unique take on the track by Mari Kattman and Tom Shear's Helix project that really shines on the four track release. The mixes by Aesthetische and Cryo are both good, but the version embedded below builds a fascinating dub intro section up into a stirring half-time chorus, complete with added vocals and guitar. Great stuff from everyone involved.

D/SIR, "Black Cat"
It's been over three years since we had a full release from LA's witchy D/SIR, though the duo of Emily Steigerwald and Hex Wolves have certainly kept themselves busy in the interim. From a first glance at All That Was Left, their new full-length on Basic Unit, a lot's changed, with a heavy amount of classic atmospheric synthpop being brought into the fold, though there's still plenty of the uneasy wooziness that marked their early work. Watch this space for a full review, and check out the undeniable pulse of this number.

Bestial Mouths, "Faceless (Bleeding Beauty Mix)"
While we wait for new music from the powerful Bestial Mouths, we'll be tiding ourselves over with this excellent new remix of their track "Faceless". Put out as a fundraiser in support of the embattled Planned Parenthood, we're feeling the amped up percussion and rhythms (important aspects of the most recent BM material) that are distinct from the version that appeared on their 2016 album Heartless. If you haven't taken the time to get to know them yet, start here and work your way backwards; Lynette Cerezo and company are one of the most powerful modern darkwave acts going.

Andi, "AOV"
Shouts out to friend of the site Andi Harriman who has a new comp out, the second in a series celebrating her monthly Synthicide party. Along with Andi herself, the comp features tracks by Cervello Elettronico, Upsetter, Tronik Youth amongst others, embodying the progressive industrial, EBM and techno styles that have are the New York event's trademarks.

Uniform & The Body, "Penance"
When outfits as studied in the ways of noise as Uniform and The Body talk (as they have in the past) about working pop elements into their typically uncompromising walls of drone, pain, and catharsis, we tend to imagine that their sense of what pop sounds like differs from the average punter's. But we'll be damned if the twinkling synths on the first track to be heard from the collaboration's second LP, Everything That Dies Someday Comes Back don't have some Japanese Whispers-era Cure to them. As for the rest, well, they're not skimping on the noise. Also, we can't help but be curious as to how the title's Springsteen reference might play out across the full LP…

Lorn, "Blink"
Look, a project which navigates through as varied waters as Lorn does with such aplomb doesn't necessarily need any signal boosting from the likes of us, but Marcos Ortega's work continues to fascinate us. In addition to his god-tier sound design, Ortega moves between industrial and dark ambient textures and sounds pushing the envelope of bass music in a wholly organic and arresting way. Factor in that his new release Drown The Traitor Within continues to eschew traditional song structures (or lengths), and you have an auteur whose work plenty of post-industrialists should be tracking more closely.