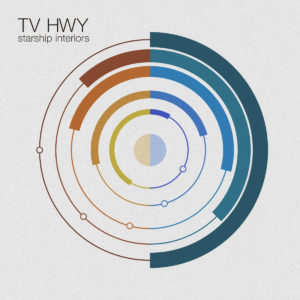 TV HWY
Starship Interiors
self-released
While pretty distinct from his work in post-industrial act Dead When I Found Her, Michael Arthur Holloway's newest outlet TV HWY isn't so distant from DWIFH in terms of the moods and ideas it conjures. Very much a classic IDM record in structure and form, the music on Starship Interiors takes Holloway's capacity for layered production and intricate programming to its natural conclusion. There's a pleasing musicality to a number like "Slip Carrier", whose sliding filtered bass and intricate drums allow for rich timbral passages to develop, alternating between busy sequences and softer, movement-filled pads. "Hyperion" sets itself up rhythmically with syncopated drums that modulate gradually to match the rubbery synths that bounce into the mix later. You can here some of Holloway's arrangement and sonic placement tendencies on the moody "Beta Cruiser", a song that sets out out minor key melody and accents it with twitchy percussion that seems to float above the rest of the song, setting the stage for an entirely distinct number to emerge from between in each element midway through. Very much a classic IDM record in terms of how it's put together, Starship Interiors gives a broad window into Michael Arthur Holloway the composer, unobscured by genre convention. Like his excellent dark jazz release Guilt Noir from a few years ago it offers an entirely new and unexpected – but not unwelcome – perspective into his musical worldview.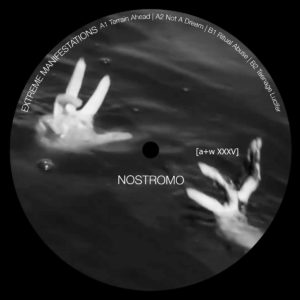 Nostromo
Extreme Manifestations
aufnahme + wiedergabe
You certainly can't accuse Emad Dabiri of resting on his laurels. Whether as his main project SARIN or in one of his many collaborative ventures, whether for his own X-IMG label or moonlighting for the likes of aufnahme + wiedergabe, the Canadian expat's making the most of his move to Germany. The latest example? The second EP from Nostromo, his still newly-formed collaboration with Unhuman, AKA Greek producer Manos Simotas (whose work regular readers might have encountered through mixes for SARIN and an appearance on the Konfabulation comp). Without breaking from the rubbery and strict dark techno which one would expect from the duo, Nostromo strikes a somewhat more strident, minimal tone which opts for even tension rather than outright aggression. There's very little in the way of mist or atmosphere around the stripped-down beats of "Not A Dream", and while "Terrain Ahead" and "Teenage Lucifer" have plenty of throwback sampling fun, they too rest on rocksteady grooves. "Ritual Abuse" is a slightly more jolting affair, with a higher BPM and plenty of EBM clang and clatter, but the philosophy of steady pulses without super showy builds endures. Dabiri and pals have this style on lock right now, and it's a treat to watch the slight variances they're able to make within it.