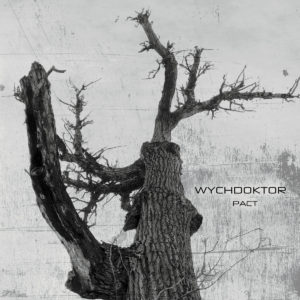 Wychdoktor
Pact
self-released
The overarching mood and sound of Ottawa producer Wychdoktor arrived more or less fully formed upon the project's emergence some six years ago. A stormy mix of rhythmic-by-way-of-tribal noise and dark ambient were blended together on Ritual, and ever since then Wychdoktor releases have consisted of more than solid efforts in both directions, sometimes tipping the balance more in one than the other, or, as in the case of 2017's Inferno, enlisting the like-minded to assemble a stygian concept record. However, it's been a fair while since the last proper standalone Wychdoktor LP, Hexen was released, and so the rather hefty reintroduction new LP Pact makes of the project's strengths is well-timed.
Whether you're reacquainting yourself or checking out the project for the first time, Pact does a good job of putting across what's worked well for Wychdoktor in the past early on. Between the scorched programming which blazes over the concrete rhythm of the title track and the simple but effective minor lead which presides over the echoing thumps of "The Flesh Is Weak", Wychdoktor's combo of musical aggression and atmosphere, as well as the project's metaphysical and occult themes, get over well. But Pact shows that the time between it and Hexen hasn't been spent idling, and offers a number of new shadowy tricks which bear out its rather long run-time. Sampling the witches' sabbath from The Witch on "Forked Tongue" might seem an obvious move, but it's blended so seamlessly with the record's own soundscape that you could be mistaken for not recognizing it. Perhaps more importantly Pact showcases how Wychdoktor's talent for rhythmic arrangement extends well beyond rhythmic noise as such. "Through Darkness" is an interesting break from both noise and pure ambiance, instead seeming to connote the clattering operation of some pre-industrial engine, half iron and half wood.
This isn't to suggest that Pact needs to reinvent the wheel in order to stand out. Stand-out pre-release cut "Suffocation" is about as down the pipe as tribal/rhythmic noise gets, pressing all manner of grinds, side-chained bass, and sickly pads into the service of an utterly hypnotic and oppressive beat. The former super-structural elements weave and shift but the undeniable grind underneath it all remains. On the flip side, a doomy echoing piece like "A Dull Blade" isn't all that different on paper from Wychdoktor's previous ambient works, but the arrangement and dread-filled pacing drawn out between the different elements feel more artful than they would have been a couple of releases back.
Wychdoktor will always have a special place in our dark hearts here at the ID:UD HQ, and not just because we enjoy watching Canadian bands develop from the ground up. There's always been both immediacy and depth to how the project approaches its style and themes of choice, and has offered great club fare alongside more ruminative pieces. Pact doesn't stray too far from what endeared us to Wychdoktor, but it does show that there's plenty more great stuff still to come, both from within and just without its traditional borders.