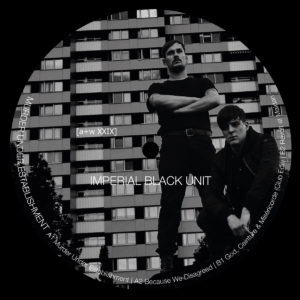 Imperial Black Unit
Murder Under Establishment
aufnahme + wiedergabe
We liked Imperial Black Unit's last EP for aufnahme + wiedergabe a great deal: their balance between new school techno-flavoured EBM and early 90s dark electro had a special appeal that set them apart from acts working along similar lines. Their newest for a+w goes deeper on the throwback side of their sound, with a four track release that feels akin to Dirk Ivens' Dive or gritty, early Suicide Commando, albeit with thick, modern production values. That's especially evident on the opening title track, where a simple, grinding bassline is driven by thudding, crackling kicks and snares with little to no other adornment aside from a deeply distorted vocal. "Maidan" works from a similar template but ads mournful and foreboding pads, their simplicity contrasting with the increasingly busy percussion underneath. Especially notable is what happens when the formula gets amped up on "God, Ceinture & Miséricorde (Club Mix)"; where the original version (included here as a bonus track) feels of a piece with the other material, the club edit adds layers of distortion and saturation that transform it into what industrial heads would recognize as a rhythmic noise track. Drawing that line, whether consciously or not, is what makes Murder Under Establishment and Imperial Black Unit stand out: in a pillaged genre, these cats are digging in deeper than the surface and finding rich veins to work through.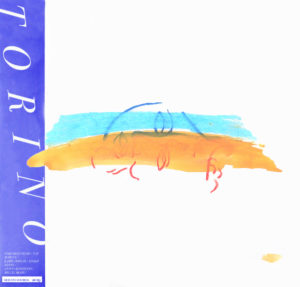 Soho Rezanejad
Torino
Silicone Records
The combination of provocative but well-grounded songwriting and sheer vocal talent and charisma which was displayed on Soho Rezanejad's Six Archetypes proved to be an inescapable force to us last year. Even though the record only vaguely touched upon the sorts of sounds and genre markers we commonly cover at ID:UD, we couldn't help but be drawn back to it. Follow-up release Torino is strikingly different, not only for its ambient and impressionist soundscapes, but also for its reticence to give Rezanejad's still-hypnotic vocals much of a share of the spotlight. That the release is actually the musical accompaniment to a short film by Kamil Dossar goes a long way to explain this and the record's sonic palette. Lush strings and pianos slip overtop one another in a way which would seem maritime even without the added ambient ocean-side sampling (mid-period Piano Magic comes to mind at points). References to the mystic visions of Hildegard of Bingen are woven in alongside Rezanejad's voice, often trilling and cooing the title of the record with bird-like loft. One could likely develop a dozen interpretations of the relationship between Anahita and Torino, the two 'angels' who are explored in the film (one of whom is portrayed by Rezanejad herself), but even without the film Torino feels like a fully realized and satisfying work, and one which shows that we're still only beginning to get a glimpse of what Rezanejad is capable of.