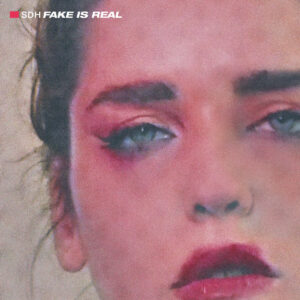 SDH
Fake Is Real
Avant! Records
We're now several years into a full-bore explosion of club-driven darkwave which has been taking over dancefloors and headphones on both sides of the Atlantic. And while that's resulted in a higher profile for both the genre and many of its practitioners, a certain sameness has begun to creep in. While the new record from Barcelona's SDH (the full Semiotics Department of Heteronyms name now officially nested within the acronym) finds them dishing out exactly the sort of club heaters DJs and crowds alike are constantly craving, that comes with a certain trade-off.
If you've been keeping tabs on how Andrea Pérez and Sergi Alejandre have been honing a cleaner production style and the attack of their beats over the last couple of years, much of Fake Is Real will feel like a logical next step to you. Thumping tracks like "Our Fear" and "Greedy" carry forward the rhythmic intensity of recent work like "Maybe A Body", bringing house programming and orch hits into the mix which is undercut by a sly, almost conversational tone of vocal delivery from Andrea Pérez. Pérez adopts a restless lounge lizard persona for most of the record, both bored with the artifice of the nightlife environs much of Fake Is Real is concerned with, yet unable to conceive of anything (a tension to which the title is perhaps a reference).
That sense of direct, club-friendly accessibility begins to wear thin despite Fake Is Real's short run time, in part due to individual tracks' similarity with other acts as well as the rest of the record. The bounce of "Balance" (not to mention its more trance adjacent programming) holds to the continental style of darkwave we've heard plied from the likes of Minuit Machine and Black Nail Cabaret over the past several years, while the proximity of "Greedy" and a number of other tunes to the by now very familiar Boy Harsher template can't be ignored. The laid back lope of "Hollowed Out", the sole track here to hold some of the ghostly mystery which SDH wove so well in their early work, is sorely missed on the rest of the record.
Having tracked SDH since their 2018 debut single "Tell Them", on the one hand it's heartening to see their star rise and for them to be able to move so comfortably within the current club milieu. And yet it's hard to not think back to their early releases and note the subtler and more softer moments in them which are almost entirely absent in Fake Is Real. As a pure of the moment club record Fake Is Real has a lot to recommend it, but doesn't endure far past last call.