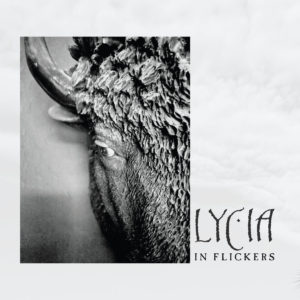 Lycia
In Flickers
Projekt Records
Lycia's late career renaissance has been a real pleasure to track, especially when each release still feels so unexpected and fresh. While the band's long-established blend of post-rock, shoegaze and darkwave is always recognizable, each venture out of the gate for Mike VanPortfleet and Tara Vanflower (joined on their latest by longtime on/off collaborators David Galas and John Fair) has an invigorating newness that few projects of their vintage can manage. Now returning to Projekt Records for the first time since 2002, the band have released In Flickers, a record that once again changes our understanding of who Lycia are, and who they can be when they so choose.
Central to the record are two numbers, "A Failure" and "Mist", which fall strangely in line with broader trends in modern darkwave. The former number has a bubbling synth bassline that is almost jarringly spritely in the context of the band's signature textured reverbs and guitar filigree, moving the song along with an uncommon energy. "Mist" emphasizes simple drum programming and VanPortfleet and Vanflower's distinctive dual vocals, a rhythmic heartbeat that compliments the song's delicate guitar lines as they weave their way through the song's arrangement of synths and delays. Lycia are no strangers to uptempo rhythms (often in the service of more crushing and monolithic sounds), but this is the first time they've ever felt lively and kinetic in this way.
Those songs aside, there are other renovations in to the Arizona act's approach to be found on In Flickers. Check out the fuzzy electric bassline that forms the basis of "Rewrite", transforming what could have been one of Lycia's occasional sojourns through eastern-tinged darkwave into a massive slab of grinding post-rock. Subtler still is the way closer "Autumn in Winter" uses warm synth and organ sounds to counterpoint the song's frosty atmosphere, giving it a bright and sanguine feel. Fans of the band's classic sound should still find plenty to enjoy here – standout "The Path" is a gentle and forlorn strummy elegy that could have been plucked from any of their classic LPs – but the real meat of the record is in the new wrinkles they explore.
In thinking about Lycia it's interesting to consider how they became a definitive American darkwave act without ever standing still creatively for any length of time, their early century hiatus notwithstanding. That push forwards is their greatest asset, and In Flickers is further evidence that the book on them and their legacy isn't just open, it's still being written.