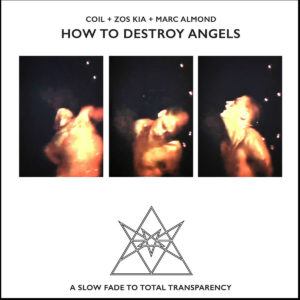 Coil + Zos Kia + Marc Almond
How To Destroy Angels
Cold Spring
What is it?
Coil's catalog forms the sort of labyrinthine archive of which Jorge Luis Borges could only dream. Now with both members long gone and a slew of reissues emerging – some seemingly more supported by Peter Christopherson and John Balance's wishes than others – the questions of canonicity which have always surrounded the band's work are cross-hatched with conundrums of authorship and posthumous compiling. Cold Spring's new pressing of How To Destroy Angels can only further muddle matters in a fashion I'd like to imagine John and Sleazy having a laugh at. Firstly, no, this is not a reissue of How To Destroy Angels, the band's first proper release, issued in 1984. Secondly, as the credits indicate, this isn't even a Coil release at all, but rather a documentation of a live collaborative performance piece (pull up a chair, this may take a minute).
In August of 1983, Balance and John Gosling (of Zos Kia and Psychic TV) performed "A Slow Fade To Total Transparency", a live ritual in which the duo wound themselves in wire, poked at each other with needles, and thrashed about in the sort of piss, glass, and blood play which had famously earned their progenitors in COUM Transmissions the rank of "wreckers of civilization" seven years earlier. The performance was scored by a tape of drones, clangs, and electronic caterwaul composed by Christopherson, Balance, and Gosling. Overtop this, Marc Almond (live and in London's Air Gallery alongside the pair of performers) read aloud a poetic screed, a Celine-esque venting of spleen in an ex's direction. (For those keeping score, yes, Almond had already had a number one smash in the form of "Tainted Love" two years previous – we're talking Marc and the Mambas/getting high with Foetus on Suicide era Almond.) This record, then, is an audio documentation of that performance; functionally, the audio track of the video recording of the performance released as part of the Colour Sound Oblivion box.
What's on it?
Cold Spring notes that the audio on this release (which does look rather fetching on red and black splatter vinyl) has been remastered, but given that the source material is the handheld video tape recorder which would have captured the show, the chances of any new subtleties in the backing musical score coming out are slim. Indeed, very little of that piece apart from its higher frequencies ever comes across, with much of it lost in tape hiss and mic hum. Instead, although likely being the product of the fascination with all things adjacent to Coil, the real focus of the recording becomes Almond's voice. Despite maintaining the same register for twenty-odd minutes, Almond and his caustic imagery never lose their impact. The odd thrash or grunt or clatter from Balance and Gosling which makes it onto the tape seems all the more eerie for its ambiguity free of video.
The B-side of the record contains a remix of "How To Destroy Angels" produced by Zos Kia affiliate Jim Whelan which bears much more in common with the 1984 How To Destroy Angels release, and a live Zos Kia performance from later on in 1983, featuring the soupy din out of which Coil qua Coil would eventually emerge.
Who should buy it?
Coil obsessives will likely already be familiar with the source material of "A Slow Fade To Total Transparency", and so the question of this How To Destroy Angel's value likely rests upon to what extent having this audio version of the existing video footage matters to said obsessives, how much they are interested in the Zos Kia era of Balance's career, or how much appeal Marc Almond holds for them. That isn't meant to be glib or snippy; Almond's always been a multi-faceted yet grimy jewel, and hearing him in such a sustained state of agitation and free of irony or archness is a rarity, and points to his kinship with the broader Coil collective despite his prior pop success. Apart from that other shade of Almond, though, How To Destroy Angels functions primarily as an imperfect document of Coil's rough first attempts, years before their best work.