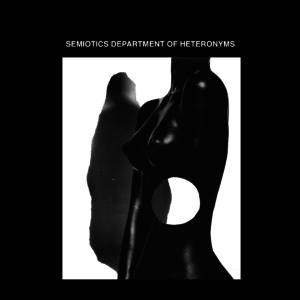 Semiotics Department of Heteronyms
self-titled
AVANT!
The stage couldn't have been better set for the first full-length from Barcelona's Semiotics Department of Heteronyms. Their debut single instantly conveyed the mood and style Andrea P. Latorre and Sergi Algiz, members of experimental post-punk outfit Wind Atlas, were seeking to convey: subtle arrangements and simple melodies which deftly bring together synthpop, darkwave, and minimal synth to mysterious and intoxicating ends. The follow-up LP makes good on the promise of that single and introduces SDH as an act capable of serving up club scorchers as well as gorgeous soothers.
Time and again, the seeming simplicity of SDH's delivery is revealed to be a feint, with subtle tensions emerging throughout the record, often via Latorre's vocals. The oddly muted and immediate chimes of "She Uncovers Before Me" sound something like an overly ambitious doorbell. That sounds like a knock (no pun intended), but the way Latorre's vocals bob and weave around that core melody, at times defiant, at times retreating, lends a sense of drama to the refrain. Slight shifts in arrangement are used to similar effect: the over-processed, submerged string-like programming which comes in mid-way through "I Mean" cuts short Latorre's halting self-evaluative monologue, pulling the listener out of druggy introspection and onto a druggy darkwave dancefloor.
The absence of "Abandon", by far and away the best tune on the duo's pre-LP "Tell Them" single, is an initial strike against the record, but given the latter's economical eight-track construction it perhaps makes sense. That track's bright synthpop arrangement provided contrast for Latorre's wary vocals, a self-contained study in the sort of tension SDH play with, is enacted in long form between dreamy opener "Your Right Hand", the tart punch of "Guilty And Gutted", and the LP's aching conclusion with slow-dance torch number "Static Moment".
The current crop of excellent European dark synth music continues to impress, and with SDH the lines between darkwave, minimal wave, and the like are again blurred (we're perhaps reminded of why for years all prefixes were abandoned for the sake of the more catholic "wave" moniker). Just a couple of weeks back we were praising Ash Code for bringing a similar set of influences together, but the resulting slink and snarl of SDH feels wholly different. Plaintive and treacherous by turns, SDH bring a wealth of psychodrama and melody to their debut.