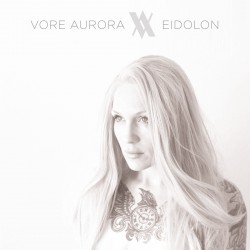 Vore Aurora
Eidolon
self-released
Bay Area duo Vore Aurora's debut has come just at the right time. Stand alone tracks have been appearing on their Bandcamp for a couple of years, but the full unveiling of their sound comes at a point where darkwave's popularity and presence seems to be on the rise, and the smokey pads and wary vocals which make up much of Eidolon fit in quite well with that milieu. That's not to say that Vore Aurora feel rote or generic, just the opposite: the time leading up to the LP's release has been spent crafting a distinct sound which has immediate appeal but plenty of personality as well.
Soft and enveloping synths make up the bulk of Vore Aurora's presentation – sometimes shifting in slow ebbs and flows, sometimes sharply serving melodies – along with vocals from A'Lizzabeth Barrett. The band's blend of sounds bears the influence of classic acts but feels salient to the waves of new dark synth acts we're tracking, a versatility reflected in its parallel club and nighttime headphone appeals. The icy minimalism of "Lunar Distance" carries something of vintage Kirlian Camera, but with a more modern and downtempo execution. And as atmospheric and brooding as things can get, there's often a crispness to the swing and arrangement of numbers which reaches well beyond darkwave's misty shores. The sharp rhythmic work of "Hollow Point" brings to mind the integration of breaks into electro-industrial Haujobb achieved on Polarity, for instance.
If the album's synths lend Vore Aurora their flexibility, Barrett's vocals sell their commitment. Stoic and even-keeled, she's often singing from a position of vigilance and experience. The source of the anxiety which pervades "Slate" isn't ever made quite apparent, but Barrett's circular intonation and fractured images sell the gravity of things. Eidolon is given a clear sense of direction and purpose through Barrett's earthy and forceful tones.
The crop of darkwave that's marked early 2018 doesn't necessarily come with a unified ethos or spin on the style. It could simply be chalked up to younger acts recognizing the range of possibilities and styles the genre can link to. If that's the case, Vore Aurora are ahead of the game with Eidolon, which features a confident sense of self and identity alongside a strong clutch of tunes.