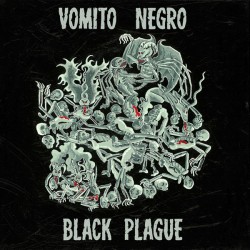 Vomito Negro
Black Plague
Scanner
The release of Black Plague, the fourth LP from Belgium's Vomito Negro since their reactivation in 2010, was pushed back some months "to re-record some songs […]in order to remain that typical Vomito Negro sound," in the band's own words. With this many years in the game, Gin Devo and recent collaborator Sven Kadanza are well aware of the dark EBM act's longstanding legacy with fans, and have endeavored to integrate slight variations on recent records like Death Sun and Fall Of An Empire without tarnishing that legacy. Black Plague follows in that path with plenty of thrills new and old, though is occasionally hamstrung by its own formula.
The mix of atmosphere and beat we've come to expect from new era VM greets us with the opening jab-uppercut combo of "Constantine's Death" and "Inside Your Brain". The former gives us slow, metallic rhythms dragging themselves along a cellar floor, while the latter spews fiery paranoia and anxiety overtop a classic slugging mid-tempo EBM rhythm arrangement. From there on out, a third element's added to that dynamic in the form of a classic techno influence in, amongst other moments, the shuffle happening beneath the kick of the title track, and closing track "Unleash My Demons" which recalls the fusing of acid to Klinik-like minimalism done by the likes of The Pain Machinery and Pure Ground.
Each of these elements are well within Devo and Kadanza's wheelhouse, and they execute them with the sense of vitriol and malady the band and records' monikers indicate. But midway through the record a sense of torpor creeps in; it's tough to distinguish the neighboring "Sister Voodoo" and "Pagan Epitaphs" from one another, both going back to the opening track's slow hypnosis. The same could be said for "Thorn", "Bone Cutter", and "Hungry Cannibals", which are all solid EBM numbers in the classic Vomito Negro vein, but in sequence they lose the punch they should have.
There's nothing at all wrong with any of the individual tracks on Black Plague. In fact, taken track by track it could be argued to be the strongest collection of numbers Devo's assembled since rebooting Vomito Negro. It's only in their close proximity to one another that the constancy of the record's individual pieces becomes a liability, albeit one die-hards will likely forgive. The old-school appeal of Vomito Negro is enduring and well-served here, but in trying to preserve "that typical Vomito Negro sound", the band may have limited Black Plague as an album.