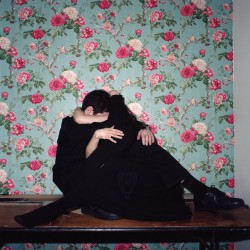 Ghost Twin
Plastic Heart
Artoffact
Winnipeg's Ghost Twin impressed us right out of the gate when their debut EP Here We Are In The Night brought us a swath of pagan-minded darkwave a couple of years back. On the one hand, Karen and Jaimz Asmundson courted the esoteric, issuing limited VHS tapes including reworkings of Coil; on the other, the snappiness of the tunes on Night had an immediacy which couldn't be denied. On their first full-length, that dichotomy is writ large in an entertaining fashion.
Musically, Ghost Twin hone in on a mode of darkwave which ruled the roost around the turn of the millennium. Illumina, Faithful Dawn, and Diva Destruction would be ideal points of comparison were it not for a couple of tics which make Ghost Twin simultaneously more of the current clime and a more classic act. They've underscored the debt darkwave always owed to pure synthpop, stripping guitars almost entirely out of things (though pulling them back out for live gigs), but the heavy pulse of tunes like the title cut underscores a connection to modern synthwave interests. More intriguing to an unreconstructed goth like myself are the way Karen and Jaimz weave their vocals in, trading the spotlight, sometimes harmonizing, but often letting Karen's keening soprano flit over the arrangements. Here, Faith And The Muse seem like a more apt analogy.
The themes the couple take up for their sound find them reaching to sources far older than their musical influences. "Mystic Sabbath", appearing in slightly revamped fashion after debuting on the EP, offers up a riotous ode to living deliciously which Black Phillip'd approve of. "Into Oblivion" is of a more somber cast, but takes the classical concept of the momento mori to its hedonistic conclusion and entreats the listener to drink and celebrate…while they can. Even when Ghost Twin wander away from pure Bacchanalia there's something decadent and seductive about their attention to the worldly. Closer "Transfigured Heart" takes a Hyusmans-like tack, blending description of an ornate trinket that's been secreted away with an account of the emotions it's capable of evoking. It's the sort of lavish exercise in imagery Siouxsie would often indulge in, here offering a slightly sentimental but still wholly sensual coda.
Walking the line between contemplation and indulgence is difficult in any genre of music, but Ghost Twin pull that balancing act off by selecting an aesthetic which can serve multiple masters. They have a clear sense of how their toolkit can be employed to produce the moods and themes they're pursuing, and Plastic Heart is, resultingly, a mature and self-aware debut. Good stuff.