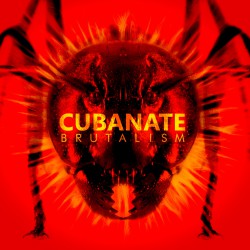 Cubanate
Brutalism
Armalyte Industries
Cubanate were far from the most successful act to surface during industrial rock's brief 1990s moment in the sun, but few bands burned as brightly or intensely. Anchored by producer/programmer/vocalist Marc Heal and guitarist Phil Barry, the heady mix of pre-electronica UK techno and speedily executed riffs that made up their first three records for Dynamica (a sub-label of nineties industrial label Machinery) retains much of its power today. New compilation Brutalism seeks to bring the best songs of that era back into print, complete with sleek new remasters which underline how spartan and violent the Cubanate catalogue remains.
Arranged chronologically, the fourteen song compilation doesn't take long to get in gear. The songs from debut LP Antimatter establish the project's bonafides in short order, welding muscular drum and synth programming to a guitar chug that remains specific to Barry's arsenal, with greasy Motorhead riffs chopped up by hand to match each song's mechanical heart. By the time "Body Burn" rolls through around track four the personality and power of the band is in full effect, complete with one of Heal's most unhinged, voice-destroying performances. Nothing is left on the table in its execution.
The songs from Cyberia that fill out the middle of Brutalism benefit the most from its excellent remastering. Where "Hatesong" or "Oxyacetylene" have never sounded anything less than devastating over a club system, the mix adds definition, especially to bass synths and individual drum hits, amplifying their impact. The cymbals on "Industry" have never sounded this razor-sharp, nor the layers of guitar on "Skeletal" this monolithic. Heal's voice is especially well-presented, allowing some of the body and nuance of his performances to shine through distinctly in each shouted or sneered syllable.
The five songs that represent third LP Barbarossa do a reasonably good job of showing the band's growing interest in dynamics. Beyond fan favourites like the album's title track and "Vortech I" you have the the loping percussion loops and vocal-doubling guitar lines of "Joy" and the hypnotic march of "Why Are You Here?", both of which dial down the ferocity and allow their respective grooves to do the heavy lifting. Closer "Lord of the Flies" is still a beast more than two decades on, it's inexorable build giving way to a raging climax with Heal in full on cult leader mode, his demand to "Rejoice!" as frisson-worthy as ever.
Brutalism is about as good a hits/retrospective package as you're likely to come across in 2017. While the records it compiles aren't complete rarities, it presents them in a new technical light, and supplements them with a couple rarities, with early demo track "Autonomy" and the EP exclusive "Angel Dust" both appearing. There's a genuine lack of cynicism to the package, an attempt to provide some new value to fans who already know the material, and to provide an easy point of entry to those who have yet to be initiated into the Cubanate's following. Some representation from the drum n' bass influenced fourth album Interference would have been cool ("Horsetrader" has been an unexpected highlight of recent shows), but that's about the only real criticism you could level at the release. As a concise document of their history, and an accompaniment to the band's recent reactivation as a live entity, it is absolutely essential. Highly recommended.