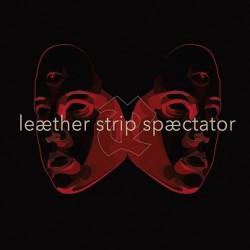 Leaether Strip
Spæctator
Rustblade
Anyone who's been following Claus Larsen on social media or tracking the numerous off-the-cuff covers and standalone tracks he'll spontaneously release on Bandcamp knows how up front he is about his life, beliefs and passions, and that he has no compunctions about referring plainly to them in his lyrics. The further away we get from dark electro landmarks like Solitary Confinement and Underneath The Laughter and the more Larsen is recognized as a legit post-industrial legend, the more comfortable he is being utterly direct on record, and the more we as listeners feel as though we're getting a real picture of the man behind the music. The sort of stripped-down poetics some songwriters head towards later in their careers can make for meandering and indulgent fare at times, but on Spæctator (the seventeenth Leaether Strip LP by my admittedly imperfect count) Larsen's bringing all of his dark electro skills to muster in order to offer up a varied set of observations on life, love, and death without ever forsaking the ear for rhythm and melody upon which he built his reputation.
Musically, what impresses me most about Spæctator is the way Larsen's using ostensibly softer elements from his palette to build compositions which feel as moody, dark, and yes, as heavy as his more outwardly aggressive records. "Down" augments a plaintive but far-off synth wail with some extra pads as the track progresses, ratcheting up the drama. The title track uses an X-Files-style spooky whistle, but cements things with the thudding weight of the chorus. Its menace derives entirely from its slow pace and the patient restraint Larsen's fatalistic scopophiliac carries throughout the track. It feels markedly closer to the film noir drama of so much of the classic new wave and synthpop which Larsen often acknowledges as an influence than any post-industrial per se, but also entirely in keeping with the darkest side of Larsen's work which has been present since day one.
Thematically, Larsen keeps his heart on his sleeve throughout Spæctator. "White As Chalk" addressed the blur of conflicting emotions he feels watching his estranged mother die. Working class anger is taken up and waved proudly on "Same Old Shit". And as for his account of a lustful tryst (Fantasy? Reminiscence? Somewhere in between?) with the titular industrial legend in "Luc Van Acker"? Well, that's probably best experienced firsthand; I certainly can't do it justice. That honesty – be it about regret, rage, or lust – has become Larsen's calling card, and he's wedded it wonderfully on Spæctator with a suite of tunes which reflect his lengthy musical history.