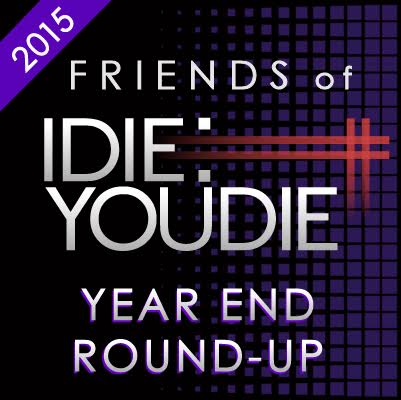 Welcome to the home stretch. As is our custom, we're getting our Year End coverage kicked off by asking some friends of the site (musicians, DJs, writers, promoters, and other all around decent and knowledgeable folk) to share a few words about albums they've enjoyed this year. Not necessarily their favourites, mind you, but any record which they find themselves returning to and having something to speak about. We love learning what our friends are passionate about, and not just because it saves us from having to write a Monday post (really). We almost invariably find a handful of records at the liminal points of Our Thing which we might have overlooked, and more often than not there are a couple of records from squarely within our purview we found we've given short shrift to. This year's selections are no exception. Thanks very much to everyone who contributed, and take the opportunity to check out some records you might otherwise have passed by before we start the countdown tomorrow.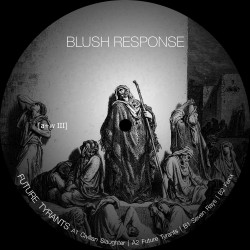 DJ Marc Church of Produckt313 Detroit
2015 – a great year for music and hard to pick a favorite amongst so many exceptional releases. Here's a quick spotlight on a deserving release. Blush Response released an ep Future Tyrants on the always impressive aufnahme + wiedergabe label. Since relocating to Berlin, Joey Blush's music has shifted from a pop-structured Nine Inch Nails vibe to a dark techno monster. Future Tyrants shows an exploratory progression of style without losing the past EBM and industrial influences. It's an authentic and modern sound, still dance friendly but equally as experimental. Most exciting about this adventurous and commanding shift is that Blush is one of the few "Our Thing" artists who's made the significant transition to another side that your typical industrial-ebm head may not be familiar with. Future Tyrants becomes a gateway record for fans to hopefully explore alongside a plethora of similar-minded techno-industrial artists like Silent Servant, Headless Horseman, Phase Fatale and many more. Recently signed to Ant-Zen, look for an album Reshaper in Spring, a 12" on Violet Poison's Velono Viola label, another 12" of body music for a+f "Body Architect", a collaborative project call AVM and more mixes. The din of industrial is changing, and its face is Blush Response.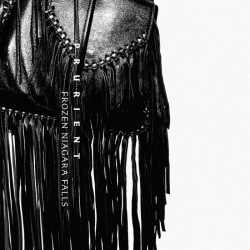 Alex Reed of Seeming, author of Assimilate
There exist fans of industrial music's most purist noise who want nothing to do with any substyle touched by club beats, melody, or emotional range. Such dismissiveness repels socially, but simultaneously allures with its envy-inducing seeming of the ideological hardcore. Seethe no more, I say to the noise elitists, beat-hungry club kids, and brooding goths: Prurient's LP Frozen Niagara Falls has come to unite the divided tribes. Dominick Fernow has been making noise since the late 1990s, but this record is at last his "break." His supremely modern noise invokes the metallic skidding of failed hard drives amplified a thousandfold. Individual frequencies emerge solo from the stony grind and sing mournful and melting until they reverberate into half-bodied moans. Every now and then a beat emerges—laboriously pounding drums, a Leeb-esque hi-hat loop suspended over taut bubbling textures frozen in granular synthesis. But there is no dancing here, and there are no songs (unless you're the sort who calls "Screaming Slave" a catchy tune). Fernow has taken all the ingredients of canonic industrial (with, yes, just a hint of goth), but reconfigured them into something barely recognizable, as if molding his record on post-rock's relation to rock. Terrifying, petulant, loud, soft, vast, and needling, Frozen Niagara Falls is my record of 2015.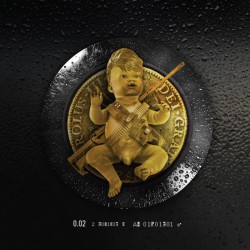 Matt Fanale of Caustic
Most of my favorite albums stem from me thinking "How the hell did they DO that?" I love artists that create works with such a unique, complete vision that I know literally nobody could replicate that sound or vibe without being a sad mockery of the original work. GoFight's sophomore release Napalm Baby is one of those albums. Jim Marcus and Co crafted a hard, groove laden dance masterpiece this time around. Napalm Baby is sexual, spiritual, and political, sometimes all in one track, but mostly it's just a goddamn good time to listen to. Tracks bounce with chunky drums, sputtering and soaring saw leads, bitchin' basslines, and hooky lyrics galore. Oh, and those patented Jim Marcus vocals? Jim's vocal harmonies almost piss me off at how gorgeous they are. The energy of this album never fails to simply make me happy.
If forced to pick a favorite track to introduce people with I'd have to go with "Gay on the Dancefloor", it epitomizes everything I've already mentioned, plus a huge chorus that you'll have stuck in your head for weeks. Nobody else could make this except GoFight, and I'm so glad they did.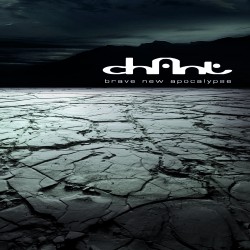 Rodney Linderman of The Dead Milkmen
Picking the best album of the year is not an easy task, as 2015 was to music what 1849 was to prospecting (coincidently, mule rentals were up 400% in both years). If this year's wealth of great songs didn't make you feel like a teenager again, nothing will – so put down the goddamn bath salts.
As with chainsaw-juggling and snake-handling, the best Rock 'n' Roll songs appear effortless at first glance, no matter how brilliant the musicianship is. And the best Rock 'n' Roll albums have a live feel (and make you want to make you kill authority figures). Going by that criteria, the winner is… Chant's Brave New Apocalypse.
"Adoration" is a textbook example of great Rock 'n' Roll songwriting, and "Dead Muse" has been playing on constant repeat in my head since July. Ten listens in, and Brave New Apocalypse still sound fresh.
2015 Alphabetic Mixtape
Ashbury Heights, "Phantasmagoria"; Beauty Queen Autopsy, "Good Giving Game"; Caustic, "Fuck in a Suit"; Chant, "Adoration"; Cocksure, "Porno Drones"; Dead When I Found Her, "Threadbare"; Deathproof, "Shitlist"; Ego Likeness, "New Legion"; Go Fight, "Rocket"; The Gothsicles (feat. Angelspit), "This Club is Closed"; High-Functioning Flesh, "Afterbirth"; IAMX, "No Maker Made Me"; iVardensphere, "Stygian (iszoloscope Remix)"; Killing Joke, "I Am The Virus"; Lindemann. "Skills in Pills"; Mindless Faith, "The Fluffer"; Primitive Race, "So Strange"; Shiv-R, "Of the Machine (Aclyum Remix)"; The Flesh, "The Light"; The Prodigy, "The Day is My enemy"; Velvet Acid Christ, "Christ Whore (God Module Remix)"; XP8, "XP8 is Dead".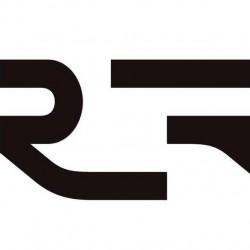 Sophie Richardoz, Friend of I Die: You Die
Earlier this year, co-founder of Raster-Noton Carsten Nicolai released the third installment of what should be a five-parter, and I can't get tired of it.
Shifting from austere glitchy segments to grandiose ambient movements, Xerox Vol. 3 is by far the most intense Alva Noto album to date. It has quickly become my go-to record for any time I want to relax or feel better: I put headphones on and just let the waves of emotion flood me. It is breathtakingly beautiful, very compelling and soothing at the same time. Instead of letting my mind wander, it seems to always pull my mind back to focus on the sounds (which, believe me, can be a true blessing).
It's difficult to explain why Alva Noto speaks to me on a whole other level than many other similar-minded projects (especially from the Raster-Noton label)… There is something about the sound design that hits a particular sweet spot. The production is sheer perfection, and I think this series of albums can be very approachable for those who are not already familiar with minimal ambient electronica.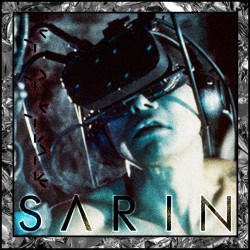 DJ Andi Harriman, author of Some Leather, Some Wear Lace
This year brought the revival of EBM and industrial. There's no denying that many electronic artists began adopting these terms to label their own tracks, which – more often than not – didn't match the definitions of our beloved genres. As a traditionalist, I am always listening for the old school cues such as perfect sample placement, killer basslines and an earth-shattering kick drum. The Berlin-based producer SARIN has all these elements in his second album titled Psychic Stress.
It was love at first listen when I came across the track "Total War" with its heavy delay that was reminiscent of early Front Line Assembly. Other tracks conjure up the ghosts of early Leaether Strip, Bigod20 and even Cybersonik, the early 90s hard techno project of Richie Hawtin. As an album, the overall aesthetic (including the album cover) makes me hopeful for the future of our so-called EBM and industrial scene, keeping it fresh and exciting while maintaining the original values of the genre's pioneers.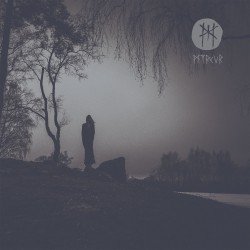 Vlad McNeally of Kallisti Design
While vaguely keeping on the topic of "Our Thing", I'm going to run here with a dark horse pick – Myrkur's debut, M. On the surface, this Danish one-woman project is pigeonholed as 'black metal', but that's as accurate as trying to attach Chelsea Wolfe to the same label. Heck, it's produced by Kristofer Rygg of Ulver, a band known for wildly shirking genre expectations. It's still an honest tag at times, and while there's definitely a couple moments where those juggernaut double bass drums and crazy lo-fi guitars and garage session shrieks drive that through, mostly M is a work that would be at home amongst neofolk pianos, brooding occult metal, and its ethereal hues certainly give anything on 4AD or Projekt Records a run for its money. I'd also like to give a shout out to HEALTH for pulling a similar trick with their hard electronics, but it would be a shame if ID:UD's more goth-friendly readers overlooked this walloping debut just because of the metal facet of Myrkur's diverse sound.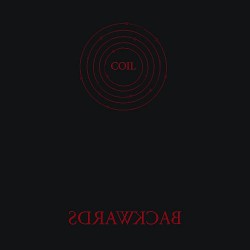 Kathleen Chausse of Heathen Harvest
It's been a interesting year to be a Coil fan. This year marks the 5th anniversary of Peter Christopher's death, the release of Backwards, Drew McDowell's first solo album, a new Thighpaulsandra album, and the beginning of the reissues of past Coil albums including demos and unreleased material.
Backwards is an album that was shelved for 23 years. It was intended to be released on Nothing Records and was recorded in Trent Reznor's studios. This album interests me because it features unreleased and original versions of tracks featured one of the most influential albums of my life, Ape of Naples.
It's interesting to hear the ideas they were exploring for the tracks which was remixed to form New Backwards and Ape of Naples. Track highlights include a version of "Heaven's Blade" that sounds like a mix between Kate Bush & Jack Dangers. In the tracks "Fire of the Green Dragon" and "Be Careful What You Wish For", there's moments where it sounds like Trent Reznor and Coil influenced each other and some of that play that comes through. I found it a nice touch to end this album the way Ape of Naples started, hearing "Fire of the Mind" put in a different context is interesting with a almost tribal Muslimgauze sound. I would recommend this album as something to compliment The New Backwards and Ape of Naples.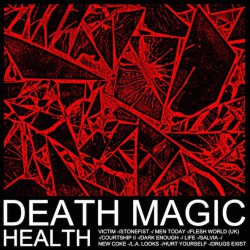 Eric Gottesman of Everything Goes Cold
My all-time favorite band, Babyland, broke up back in 2009. Dan Gatto's solo follow-up, Continues, has been pretty slow in releases, but Dan posted an emphatic suggestion to check out HEALTH right before their new album, Death Magic, dropped in August. I might not have checked them out otherwise- their earlier work is eclectic to say the least, leaping around between noise-rock jams, minimalist disco, and a host of other stuff I wouldn't usually go out of my way for. On Death Magic it all comes together perfectly.
HEALTH freely strings together elements of trap, indie rock, and synthpop with heavy distorted percussion and tribal drum interludes. The description makes it sound like a mess, but it isn't- Death Magic is a monster of songwriting and sonic manipulation. It's industrial (or post-industrial) music that has at long last been totally freed of its own trappings.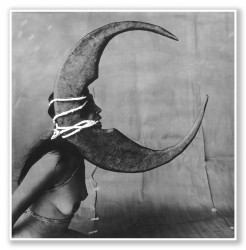 Michael Kurt of [product] and Talking to Ghosts
This album, which came out in April, has been one that I listen to about every two weeks. It is just one of those albums that sunk deep into my consciousness and I find it very comforting at this point. It is hard for me to find black metal that I go back to this regularly, but there is a perfect blend of atmospheric/Cascadian and traditional black metal that I believe Ghost Bath spent a lot of time crafting. Tracks like "Golden Number," which is the first full track after an intro, I get stuck on and listen to over and over again because there are so many passages that weave their way through the songs. I can really feel the emotional intention of these tracks; whether it is within the structure or the silence, each element is intricately placed and fits the tone of the entire album.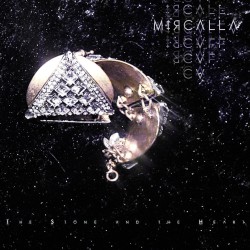 Wes Mueller of reakt[ion] and Talking to Ghosts
Traditionally, you hear new music from an artist every year or two, and with that you often hear leaps in style. With M‡яc▲ll▲, you have this interesting, constantly evolving flow; you hear what the artist is trying out as they're trying it.
2015 has been an amazing example of that. M‡яc▲ll▲ has 4 releases this year and each one is an iteration on the one before. With The Stone and the Heart, M‡яc▲ll▲ gives us some trap and giallo infused tracks. Then in Movement the trap gives way to EBM influenced synth lines while the giallo holds strong. We also get something we have never heard from M‡яc▲ll▲ before; we get vocals.
In M‡яc▲ll▲'s next release, Thє Λrmy of Ξmpty, the feel has morphed into something between EBM and synthpop, and the vocals have carried over from Movement. Finally, last month we got Earthshine + Impervious. Again we hear how the sound has these little evolutions; the feel has moved back to giallo while still maintaining hints of the previous experiments, and the vocals have faded away.
M‡яc▲ll▲'s pace of releases provides a wonderful sense of their evolution and experimentation. It's something we aren't used to from musicians – the creative process is hidden away behind longform releases. Maybe it doesn't need to be. Maybe more artists should let us into their process and see how they evolve and change.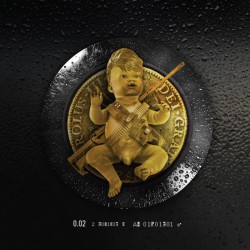 Scott Fox of iVardensphere
Any album that is energetic, catchy, well produced, soulful, thumping, simultaneously lighthearted and dark, sex-positive, life-positive, scene-positive, positively positive, funky as all hell with a live and let live, political without being preachy, rock the party, wake the fuck up, stand the fuck up, hook up and fuck because it's awesome mentality, which makes me dance around the kitchen smiling and singing along (badly) with a pancake spatula in my fist raised over my head as I sign to 'the man' that I will not be oppressed, I will not be told that who I am is not good enough, and it is most certainly not too loud, is a solid album in my books.
Like a blast of fresh air to a scene that's been in the same sweaty club for years, Napalm Baby is a much appreciated release that, for many reasons, is going to be in steady rotation on my playlists for years to come. They made an album that makes me feel better just by listening to it. That is the stuff that classic albums are made of. This album is a rocket…get out of her way!
Thanks to all our friends for their contributions, tune in tomorrow for the beginnings of our Top 25 of the year!