Welcome to day two of our mad dash to get a few more reviews in before year end coverage begins next week. These are all albums we had hoped to cover in some capacity before the reality of release schedules and our own time constraints conspired to keep us away from them, presented here in capsule form in the interests of getting them out the door before annum's end.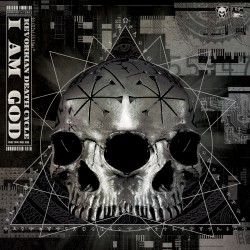 Kevorkian Death Cycle
I Am God
Negative Gain Productions
American industrialists Kevorkian Death Cycle have been doing some pretty interesting stuff since reactivating a few years back. Where comeback record God Am I added hints of European flavour to the group's mix of electronics and rock, 2015's I Am God goes even further afield, occasionally bordering on darkwave and even neofolk. The record has a few chugging stompers ("Prey to God" and the title track) but the majority of the tracks are marked by a reflective melancholy, tempering the sneering anger that has driven previous outings. Sometimes worn on the sleeve as on the lowkey ballad "Tempest II", that reflective mood also works itself subtly into the more aggressive numbers, gifting "Distorted Religion"'s chorus with additional depth and emotional scope. When KDC allow themselves to get swept away by feeling on the sweeping "Raven's Fly" and "I Have No Time" the effect is palpable, dynamic and brimming with a reinvented vitality to match their polished production and programming. Maturity isn't and shouldn't necessarily be the goal of any long-running band, but it's nice to hear an act shoot for it and end up advancing their approach (and appeal) in the process.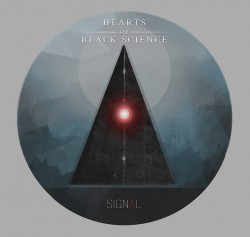 Hearts of Black Science
Signal
Progress Productions
The never-ending stream of sweet melodic synth music native to Sweden runs strong in Hearts of Black Science, their third album (and first for Progress Productions) Signal arriving replete with catchy choruses and smart pop songwriting. What differentiates the duo are the smart application of twinkling dreamwave guitars and post-punk bass, and the voice of vocalist Daniel Änghede. That latter factor is especially notable: Änghede does plaintive yet powerful with the best of them, and when he leans in -as on the excellent "Icon"- the effect is positively arresting. It's a fine match for the album's distant guitar sound, weaving between arpeggiated synthlines on opener "Faces" and adding appropriate shimmer to king-size ballad "Waiting". In many ways the band feel like a 2015 incarnation of the dark side of the new romantic equation, especially when they enlist female vocals to give "Unfolding" and "Wolves at the Border" additional grandeur, as befits each song's measured pace. For all the eighties touchstones that come to mind when listening to the album, it's still far from a throwback: when Hearts of Black Science open up on the "Until Morning" they sound absolutely in step with our current understanding of how rock instrumentation and electronics can't blend into a seamless twinkling whole.

Chicago's oft-overlooked Kill Memory Crash might have suffered from blending electro, industrial, and rock sounds a bit too thoroughly. The project's idiosyncrasies bumped against traditional structures and tropes in each of those styles, perhaps never giving listeners of those genres enough space to get comfy while still making them aware that this was, in some way, "their" stuff. KMC's Adam Killing's new solo venture borrows from just as diverse a set of sounds (new wave, minimal synth, and post-punk at first blush), but sophomore record Kolektique gets over on the basis of a unified and pervasive atmosphere. Cool and smooth throughout, the record maintains an impassive, picturesque pose whether it's trading in shimmering pulses which recall Cosmetics ("Fallen"), keeping things clipped and minimal ("Magnus") or even treading into acid house on closer "Votiva". The icy detachment in mood bleeds over into instrumentation: it's tough to tell whether the coolly strummed bassline on "Forest Floors" is sequenced, sampled, or played on a live bass, but such differences feel academic given the restraint with which it and so many other elements of Kolektique are treated. That hushed restraint may keep much of the record from being immediate floor killers or personal anthems, but fans of everything from classic minimal wave to the claustrophobic moodiness In Death It Ends has been mining so well should find a lot to love here.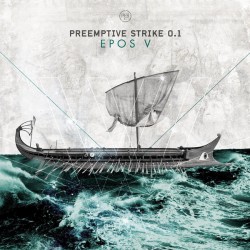 PreEmptive Strike 0.1
EPOS V
Infacted
Some days, folks, we're just not in the mood for subtlety. Some days the idea of listening to a Greek aggrotech record (replete with lyra and buzuki passages) is just infinitely more appealing than spinning another disc of our usual sad bastard fare. On those days, folks, we're very thankful for PreEmptive Strike 0.1. Things on the trio's fifth LP start off with a cover of Swedish power metallers' Sabaton's "Coat Of Arms", a tribute to Greece's victories over Mussolini's invading forces in World War II, and EPOS V only gets crazier from there. While its predecessor T.A.L.O.S. was content with just giving over a couple of tracks to Jason and the Argonaut's titular metallic foe, on this outing we're getting a retelling of just about every stop on the quest for the golden fleece. High concept aside, what keeps EPOS V a fun listen is its ability to mix bouncy rhythms and spritely melodies in with aggrotech's more familiar elements (growly vocals, bricked-out percussion). PreEmptive Strike 0.1 have played around with metal collabs in the past and those elements are integrated well enough again here, but for our money it's the commitment to not relying on played out, screeching aggrotech leads and instead bringing plenty of warmer synth sounds that point to "friendlier" genres (for lack of a better word) which pays off. That Syrian were recruited to contribute an italodisco mix to round things off comes as no surprise, then, and serves as a nice enough olive branch being extended over the Greco-Italian border some seventy-five years later.