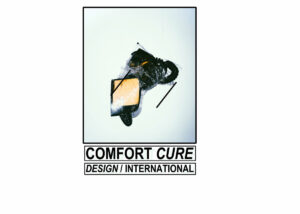 Comfort Cure
Design International
DKA Records
Comfort Cure's Design International follows fast on the heels of April's Not My Taste, and follows in that EP's highlighting of the Detroit act's rapid evolution. Drawing deeply from both the menace of midwest electro and modern iterations of the classic body music style, the one-man project has honed in on a rubbery, hard-hitting sound that maximizes impact. Especially compared to the band's earliest tracks from just last year, the drums on these songs hit harder, and the bass and synth programming have become laceration sharp, quickly outlining the shape of each track without dilly-dallying or time wasting. "Fight and Steal" is basically laid out in two notes during it's intro, by the time the elastic bassline and reverbed vocals kick in you'll already have been inducted into its percussion heavy groove. Similarly, the deep bass slide that introduces "Beat It" preps the listener for its queasy mix of delayed and tightly packed programming, elements that are jammed together in a way that would feel efficient if it weren't also so uneasy. The video for lead track "Last Thing" serves as something of a visual metaphor; its screechy sirens and thudding kicks mirrored by the video's subject, who is dancing, or having some kind of fit, or possibly (probably?) both. Sick and bracing stuff from an act we expect more good things from going forward.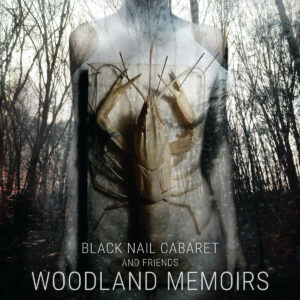 Black Nail Cabaret & Friends
Woodland Memoirs
Dependent
At a time when the smooth style of darkwave they've had on lock for years is perhaps at its height of international popularity, Black Nail Cabaret releasing a record of acoustic/rock instrumentation takes on their back catalog is an unexpected move, but Woodland Memoirs does a solid job of reframing BNC. At one level, Woodland Memoirs puts the most distinctive element of Black Nail Cabaret, Emese's vocals, right in the spotlight where they belong. But thankfully, it doesn't come off as an "MTV Unplugged"-style stripping down of the band's songs to the studs, but rather feels like a suite of ground-up re-imaginings of cuts both old and new, some reworked to the point of being unrecognizable. The "Cabaret" in the project's name has never felt as accurate; the smokey drum arrangements, and warm and proximal distorted guitar suggest an archetypal jazz lounge in film noir as on the versions of "Sister Sister" and "No Gold". But more than anything it's the roaring and flailing saxophone of Márton Barják which shoots the album through with a vein of new energy, ratcheting the new version of "The Critical Cult Of Dora" into a spidery but stomping gothic horrorshow, and lending a weary earthiness to "My Casual God", which feels far more approachable here than it did in its original showstopping incarnation.