Hey gang! From the looks of things the first I Die: You Die t-shirts are starting to arrive in people's mailboxes, and while ours aren't here yet the photos we've seen look pretty solid. So…yay? I guess we'll tentatively call the site's first merch efforts a success. Anyway, we've got a fresh site-related project to announce: we'll be celebrating ID:UD's fourth anniversary by DJing a show on Friday, June 26th by local acts Flowers & Fire and Animal Bodies. We'll be spinning tunes new and old by bands discussed on the site and podcast at the Hindenburg, our ancestral home for well over a decade. If you'll be in town that weekend, this'll be a great chance to see two fantastic examples of Vancouver's new dark wave of acts, along with us two knuckleheads. Come out and stomp and swoon avec nous! On to this week's Tracks…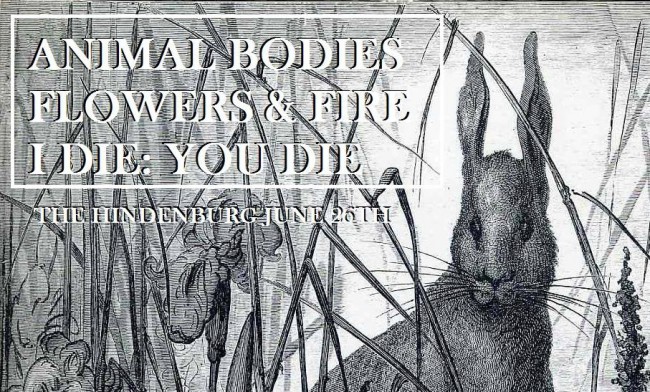 EkoBrottsMyndigheten, "Haben Sie Bier?"
Unsure if this recently released track from one of our fave Swedish body music outfits is actually new or a something from the archives. But hey, it doesn't matter too much to us: we've been rocking EkoBrotts' Alla Tiders Bodykalas steadily for years, making any material we haven't heard from them welcome to our ears. EBM about beer is about as ID:UD a thing as you're gonna find, so you know it was a shoe in for Tracks inclusion. Now can we get a new LP soon, please?

Qual, "Spit On Me"
If there's one fault with celebrated coldwave duo Lebanon Hanover, surely it's that they're too cheery. Alright, maybe that's not remotely accurate, but it might certainly feel so after perusing the new side project of vocalist William Maybelline. Via the fine folks at Cvlt Nation, here's a sample of the sort of smothering bleakness offered on the project's debut on AVANT!. Ideal for those nights in when you've managed to misplace both your Swans and Sopor Aeternus records.

Displacer, "Knight Rider Theme"
Knight Rider: a shadowy flight into the dangerous world of a man who does not exist! Toronto IDM boss Michael Morton busts a very cool remix/cover of the theme to the classic 80s action TV series that is at least 200 times better than the bullshit song they used for Knight Rider 2000 TV movie in the early 90s. God that sucked. Anyway, this was apparently going to be on a Crime League TV theme compilation that may now never come out, but maybe if everyone lets Michael know they want to hear it, it could still happen…

Stendeck, "Tonight is Forever"
It's been four years since Stendeck's last full length Scintilla was released, making the recently announced follow-up Folgor that much more anticipated. Very much in the lush IDM sound many associate with label Tympanik Audio, the first track we've heard suggests that the Swiss-based artist hasn't missed a step when it comes to mood, texture and atmosphere. Very excited to hear what the rest of the record sounds like. Pre-orders are up over at Bandcamp if you're so inclined.

Yingthi, "Unfamiliarize"
Another shot of bedroom-produced sample-happy wackiness from Minneapolis' Yingthi. An alien stranded on earth writing music for comfort and to mourn what it has lost is pretty high concept stuff, but the oddly solemn and processional mood that often sits underneath the surface skittering and cut-up style of Yingthi's tracks (such as this one from forthcoming LP Beyond The Threshold) cinches things.

Phil Western, "Endless"
Finally, the first new material from Phil Western since his recent health scare alights upon many of the touchstones we've come to love about the man's solo work. Some bright ARP gurgles, some krautrock, some house, but perhaps most important that open, wistful mood that's part nostalgia and part homesickness. Glad to have a Vancouver original back in action.