After the success of last month's column, we asked Sharon if she'd consider doing 199X as a semi-regular feature here on I Die: You Die. She graciously agreed, and thus you have another opportunity to bask in the accumulated knowledge of one of Our Thing's great scholars of the obscure. Jack in, turn on, burn out, it's time to visit the year 199X!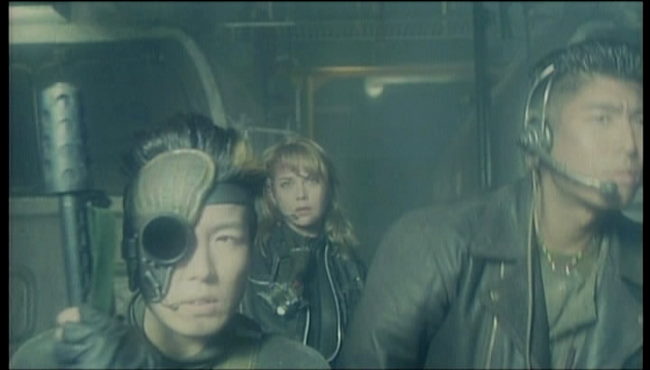 After my first contribution to 199X, Bruce and Alex suggested that, perhaps, I might continue writing these columns. I reminded them, once again, that crack is wack. Yet again, they insisted. So here we are. Again.
Absent Minded "Killer"

Many years ago I was driving in a car with my ex. "I need to know more about Celtic Circle Productions," I announced. (He was far more knowledgeable about CCP than me.) "Let's just do this alphabetically," I said, "starting with Absent Minded. What do they sound like?" Well. He let me know in no uncertain terms I started in a good place. As it turns out, I'm not sure we ever got to letter B. Absent Minded is another one of those projects that appears to have popped up for one album and then disappeared into the sands of time. This track, which they chose as their single, is easily their finest moment. Right out of the gate this song is like a barrage of synthetic buzzsaws. Nothing on the album comes close to capturing the intensity here, but no matter. This track alone is worthy of the price of admission.
DRP "Brainhunter"

Remember that EBM band from Japan that released an album on Body Records in 1990. No? You're not alone. I first stumbled on this act on the Somewhere in the Skeleton compilation and was surprised to discover some credible EBM coming from the land of the rising sun. A bit of amateur rawness permeates their only release, Electro Brain 586, but there are gems to be found. Like this one. They were clearly bred on a diet of Front Line Assembly and Nitzer Ebb, and their influences show, but they're enjoyable nonetheless.
Violet Arcana "In the Scene of the Mind"

In the '90s, before the Internet subsumed all media to become the go-to resource for everything, we did crazy things like, you know, read magazines. I discovered Violet Arcana's In the Scene of the Mind based on a review in Permission Magazine which described it as "tender, seraphic techno" To which I said to myself, "I have no idea what that means, but I need to get that disc immediately." What's interesting about Violet Arcana—other than the fact that I would not categorize their sound whatsoever as "seraphic techno"—is the relative scarcity of their output. Only two self-released albums and an EP on Zoth Ommog. The eponymous track from their 1994 debut captures the essence of their magic: a beautiful mélange of whispered vocals, forlorn melodies, and atmospheric dalliances. More than 20 years later and this track still feels as fresh as ever to me.
So that's it for this month. I'll continue writing these as long as people want it. Let me know in the comments if I'm not boring you.