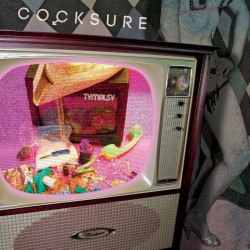 Cocksure
T.V.M.A.L.S.V.
Metropolis Records
Wax Trax's presence looms large over North America's perception of industrial music. Look no further than the average press write-up for rivet it-bands like Youth Code and 3 TEETH; scarcely a single music writer can avoid linking them to the famed Chicago label that defined a specific branch of the genre for a generation of 120 Minutes watchers and college radio listeners. Tied into the recent reactivation of Wax Trax as an entity releasing music comes Cocksure, and although their debut T.V.M.A.L.S.V. comes to us under the auspices of Metropolis Records (incidentally the second most definitive America label for this sort of thing), the project from Chris Connelly and Jason Novak makes clear it's allegiance to WT's musical legacy.
As their name suggests, the band is more or less positioned as a continuation of WT's debauched house band The Revolting Cocks, in spirit if nothing else (the official version of RevCo has released numerous albums over the last decade or so, but it's unclear whether they're a going concern at the present moment). Chris Connelly is as qualified as anyone to embody that association, his presence as a Cock in the golden Beers, Steers & Queers era makes him pretty integral to the band's story. And while the music on T.V.M.A.L.S.V. draws equally from Jason Novak's work in industrial rock stalwarts Acumen Nation and as genre-bending samplemangler DJ? Acrucrack, it's Connelly who makes the connection between Cocksure and the Cocks projects across a couple decades. Check the sleazy electric bass driven vibe of "Drug-a-Bug", and the militarized funk of "Cocks Ripped to the Giddy Tits", either of which could have appeared on Linger Ficken' Good, Chris playing up his smart-man's-dirtbag persona as if the last 20-odd years never happened.
This isn't a throwback record though, if anything it's a very au-courant electro-rock affair injected with the filth of yesteryear. "Sillikon Suckaz" bridges the two facets nicely with Connelly firing off rapid uh-huh couplets while a deep subbass riff rumbles and some detuned synths of modern vintage fire off overhead. Similarly, the 8 bit blitzes and 4/4 kicks that ornament "Ah Don't Eat Meat, Bitch!" are distinctly current, products of Novak's studio wizardry and skill at bashing rock riffs, samples and synths together. Weirdly enough the one number that positively screams out pastiche isn't an homage at all, "Alpha Male Bling" is more than anything a Meat Beat Manifesto jam, all Dangers-esque dub breaks and half-rapped delivery.
God only knows what the uninitiated might make of something like T.V.M.A.L.S.V., all questions of pedigree aside it's a pretty strange affair. There wouldn't be much sense in playing it safe though, and in a time when industrial rock is having some kind of minor resurgence, it's good to hear something so unapologetic about it's own oddball nature. Connelly is smart and articulate enough to play the part of elder statesman if he wanted, so it's interesting to hear him go the weird uncle route instead, swatting away suggestions of cashing in on Wax Trax and his own history with hyper-flailing arms. Cocksure is a lot of things, but it ain't predictable in spite of the stuff that comes attached to it. Welcome back Chris, we missed you.