Bonjour nos trésors! It's been a ludicrous couple of weeks for shows here in Vancouver over the last couple of weeks, capped off with a fantastic set from Wolves in the Throne Room just this past evening. While our ID:UD duties often keep us from being quite as up to date on our other pet genres as we'd like (we usually spend about two weeks in December trying to catch up on all the metal, rap and other records we don't generally have time for), we do like ourselves some of that old Cascadian black metal as a palette cleanser before diving back into the ocean of new releases we are constantly struggling to stay abreast of. No complaints here though, we'll always take a glut over a famine when it comes to new music in Our Thing.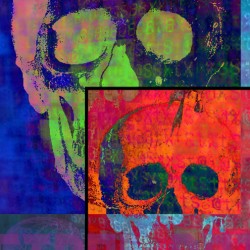 DSTR, "Into the Deepest Dark 2014 (Demoversion)"
A little teaser from DSTR as the Daniel Myer fronted project apparently gears up for a new album release, their first since changing their name from Destroid. This is actually a much older track from the Future Prophecies era, given a smooth new coat of paint and a distinctly more regal air by virtue of some of the most serious production chops in the game. Not many artists can get us excited with a demo of an outtake of a rerecording, but that's just how good DM and company are. More news of the new album as it becomes available!

Tannhauser Gate, "Face To Face"
The techno/industrial sweepstakes are a crazy scrum right now, with few to no rules and less honour. Until (and if?) the dust settles everything's fair play, including turnabout: South African true-schoolers Tannhauser Gate cop a page from Gessaffelstein's "Pursuit" for a pure synth-bass body workout. We're still keen to hear a follow-up from these cats after their groove-heavy demo tape.

Zex Model, "Scorn"
More grinding nastiness from Russia's Zex Model, whose aesthetic gets more and more seriously grimy with each passing release. Pulled from a pretty neat tape compilation of similarly gritty electronics released by Kansas' X.O. Skeleton Musick, this track has everything we look for in one of Paul Von Aphid's productions: nightmare vocals, classic industrial grooves and enough dirt in the mix to keep it dangerous. If that sounds appealing and you didn't peep last year's Mind Slaughter, you'll likely want to rectify that; it's not like this dude is getting any less beastly with the passage of time.

Double Eyelid, "Diamond Cutter"
The line between goth and glam grows ever more academic as the former blurs into the latter as history accelerates forward. Bolan, Prick, The Horatii…how do we delineate? Toronto's Double Eyelid don't even bother trying, offering a new full-length of sassy bass and gloomy croak.

V▲LH▲LL, "Ɖ0Ɯƞ Iƞ ƚhę ƜǪoƉƽ (Wychdoktor Remix)"
This'll be the third time we've featured some variation on V▲LH▲LL's "Ɖ0Ɯƞ Iƞ ƚhę ƜǪoƉƽ", what can we say, it's the gift that keeps on giving (us nightmares). This time we've got a pleasingly noisy take from Ottawa's Wychdoktor that cuts up the sample the track's chorus was originally built around and fills the space with the thick atmospherics characteristic of his own productions. Peep the PWYW EP on Bandcamp, which also features mixes from Ceremonial Dagger and M‡яc▲ll▲.

EkoBrottsMyndigheten, "Bodybuilding (Eddie Meduza cover)"
And finally, on a completely unrelated note: our SwEBM bros in EkoBrotts didn't have to let us know that their first tune in a donkey's age was a cover. Hell, if this had just gone up as is we'd have taken it to be straight up anhalt anthem to doing reps and spotting one's Birmingham 6 tee-clad comrades. But their honesty's brought Eddie Meduza to our attention, a man who…certainly seems to have been a character in his own right. Oh, Sweden: how you beguile us.