It's been a full year since we received a missive from Matt Pathogen, and what a peaceful year that was. But with such strong representation of his hometown Chicago at this year's Terminus, we couldn't resist the urge to drag Matt out of bed retirement for the sake of getting some field work on perhaps that most storied of North American cities in the history of industrial, and what their exports will be bringing across the border in three weeks' time. Matt's polled the bands in question for some self-description and has offered up his own context, so let's pass the digital quill to him.
Hey, folks! It's been awhile since I've submitted a feature to the site, but Bruce and Alex held me hostage at Aftermath and made me reenact the Russian roulette scene from The Deer Hunter until I promised to write something new. So, here we go. Let's talk Terminus, kids.
You'll have to excuse us over here in the Windy City if we sound like a bit of a broken record these days in regards to Chicago's role in industrial music. Ours is a legacy with plenty of baggage behind it, as our dear readers are likely aware of; the fabled rise and fall of Wax Trax! Records, the US' groundbreaking premier label for industrial music, is a legacy that has been attached to our fair city for decades, one we have both cherished and labored beneath. We as a community existed in a kind of tense but steady state for the period between the label's being shuttered after being acquired by TVT Records and the beginning of the 2010s; we saw many of our bands break up, our concert and club attendance dwindle, and our familiar venues either close or move on to greener musical pastures. Now, all of a sudden we're back in the saddle, with Cold Waves III just around the corner, Wax Trax! relaunching under the supervision of founder Jim Nash's daughter Julia, and the club and show circuit fleshing out noticeably. It's good to be back!
Time to switch gears: Terminus Festival's humble beginnings in 2012 flew under the radar for many people outside of the Alberta scene, but served to open the possibility of a multi-day industrial-oriented music festival in the western half of North America, a market that was used to hoofing it either to Quebec or clear across the ocean if they wanted to take part in such an event. The Terminus crew did not seem to be satisfied with stopping there, as evinced by the festival's 2013 iteration delivering an enormous and, frankly, unexpected punch. The dance-card was stacked with scene heavyweights such as Combichrist and Assemblage 23, but also dove deep into the miasma of up-and-coming bands and pulled out an extremely well-curated lineup of surprise audience favorites.
Some personal highlights (and I emphasize the word "some," as I'd drown my word count if I went through all of them): The critically lauded Comaduster quite literally dove into the venue and onto the stage from fresh off the road, blasted out a heavy, engaging set, and then disappeared into the night shortly thereafter, owing to personal obligations; Ontario's Defence Mechanism was joined onstage by Left Spine Down's Kaine Delay for a rousing cover of Information Society's "Pure Energy" that had the entire audience singing along; and, of course, the crushing, stage-stealing performance from Iceland's Legend, whose debut album was so strongly received that they had a lot to live up to, yet still managed to exceed expectations by far. Terminus 2013 was a major coup in its ability to handily deliver familiar fan favorites while also drilling down into the highly artistic groundswell of new acts coming to the surface of the genre.
What do Chicago and Calgary have to do with each other? Well, you combine the two and you get Chicalgary, and that's exactly what Terminus is doing for 2014! Nestled within a lineup of surprising headliners such as In Strict Confidence and Covenant and a host of acts that anyone who claims loyalty to industrial needs to be watching such as Author and Punisher and 3TEETH, Terminus has also managed to bring much of the creative core of Chicago's contemporary industrial scene together, punching in with five highly active banner-bearing acts. Let's meet the family!
DIE WARZAU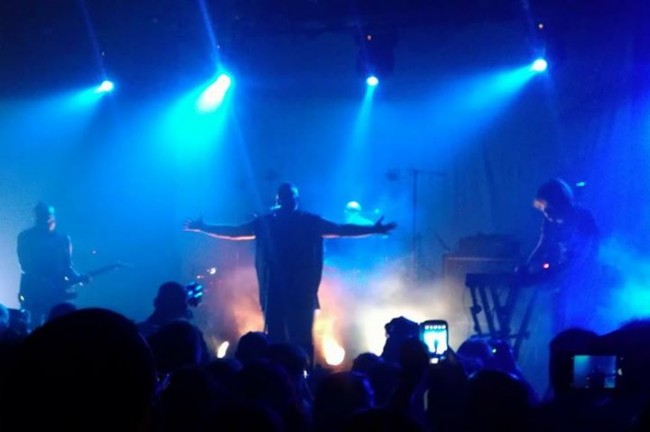 Few bands embody the classic Chicago industrial experience as impressively as Die Warzau, which has been a fixture in the underground music scene since the release of their classic critical favorite debut album, Disco Rigido, in 1989. Sophomore album Big Electric Metal Bass Face found the band signed to powerhouse label Atlantic, with 1994's Engine finding its home on Wax Trax! during its period of curation under TVT Records. Die Warzau has experienced more than its fair share of comebacks to critical and popular acclaim, including much talked about performance at Chicago's Cold Waves II festival in 2013. Live, the band skirts the chasm between music and performance art, with a visceral, quasi-tribal visual aesthetic crossed with the band's delivery of an inimitable fusion of grinding industrial rock and head-bobbing funk beats.
Fun Facts About Die Warzau, as provided by honcho Jim Marcus:
-They were signed to Fiction Records after an explosive show where it was erroneously reported that the live percussionist and turntablist Mel Hammond had been killed. Mel is still alive and is still spinning. He was just brought to the hospital after the show, not the morgue.
-Their first shows at Medusa's, a legendary Chicago venue long since closed, included very little music and were mostly performance noise and art effects.
-Most of the drums and percussion for Disco Rigido were found in the alley behind the recording studio, including the dumpsters and cans that were played as the drum kit for the song "Man is Meat."
-Artists like Chris Vrenna, Mars Williams, Chris Hall, and Xmas Smits ended up playing on more songs than they had originally played on because they were sometimes asked to record and overdub loops of themselves that could be used later and were stored in a library.
-All the drums and percussion noises on their EP Land of the Free were built using monophonic analog synths along with noises from keychains recorded in the control room at the studio.
DEAD ON TV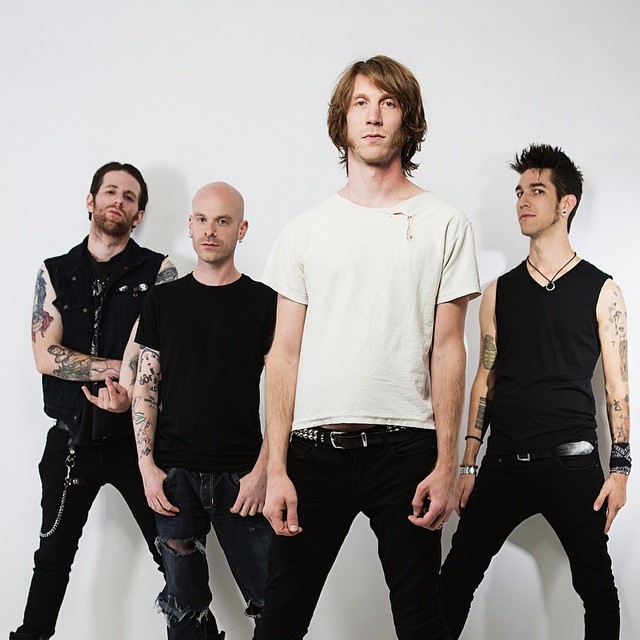 Dead On TV is like a buddy cop movie gone horribly wrong, and the result is as hilariously over the top and chaotic as you could possibly want. Part hard-and-fast punk rock, part synth-laden punch in the trunks, the band has been tearing ass all over the Midwest of late, playing a wide range of shows encompassing every venue from dingy punk bars to open-air festivals in the middle of Michigan's Upper Peninsula territory. Dead On TV has always felt like a bit of an oddity, bouncing between blasting audiences at small Chicago industrial shows to playing headliner gigs at Los Angeles' famous Viper Room, but they've always been quick to embrace the almost Dadaist absurdity of their existence. Fueled by frontman Dan Evans' deep and abiding love for the age of American industrial when the stars seemed like truly dangerous people you'd likely not want to meet in a dark alley, Dead On TV has become a strangely vital element of Chicago's industrial community.
"Hi, we're Dead on TV and I'm not really sure what we're doing here. We play punk rock with synthesizers, like The Dead Boys having unprotected bathroom sex with Devo. This project started when I, Dan, and my heterosexual life partner Chris were playing in big production, computer dependent industrial bands. We wanted to play stripped down music that was dangerous and unpredictable. Don't get me wrong, we attempt to play to a click, but it just doesn't matter. We came up in an age of industrial music where the bands and the music they played were dangerous, legitimately scary, or at least extremely weird. The music had clever, catchy songs, with a message draped in black humor or an earnest deadpan sincerity. We wanted to capture the danger of a Ministry show in 1998 or a Stooges show where you feared for your safety but the beauty was all in the catharsis. Our lineup is Vince McAley on drums, who also plays in gofight and Die Warzau with me, Mike Bradberry, who plays the bass/synth and also helps in gofight from time to time and our guitar player, Corey Devlin, who we found in an alley. You can expect to see analog synths played loud through amps, Vince hitting the drums as hard as he can, partial nudity, shredding guitar solos, and lots of shit talking when we play. The more chaos the better." – Dan Evans, professional half-nudist
CYANOTIC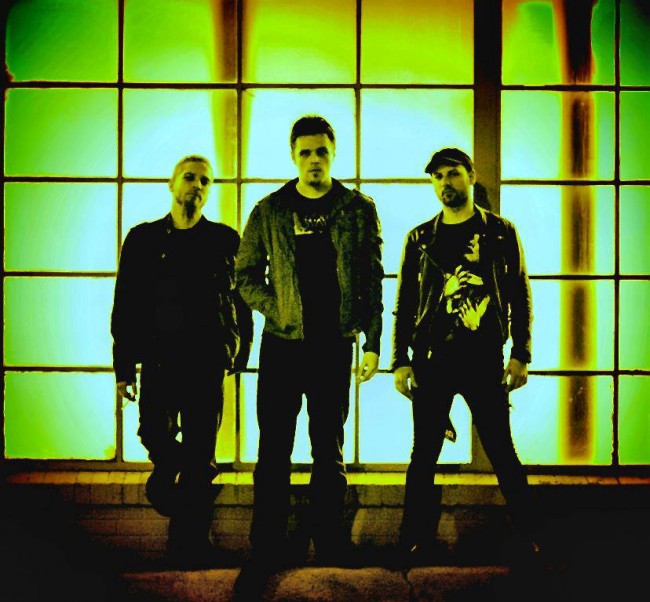 In a world where much of industrial music has become driven by a kind of overwrought futuristic aesthetic, just a few bands have stuck ardently to an '80s-esque cyberpunk ethos. Acts such as Left Spine Down, Rabbit Junk and Chicago's own Cyanotic are the clearest pillars of the modern iteration of the classic machine rock sound of venerable favorites such as Chemlab and Sister Machine Gun. Cyanotic, will be joined at Terminus by Rabbit Junk, has long since been and and remain one of the most active Chicago industrial acts, with frontman Sean Payne doing plenty of double-duty outside of the band, joining DJ? Acucrack to fill the space left by dearly departed former member, Jamie Duffy. Being the main man behind the Glitch Mode label and a primary mover of Bit Riot Records, Payne has also been experimenting with the cross-section of industrial and rap with a new act Robohop, as well as clocking in appearances as a guest DJ around Chicago's bustling industrial scene.
"Cyanotic and Rabbit Junk will be sharing the stage, playing a retrospective mix of favorites spanning the past decade of the Glitch Mode Recordings label. The Cyanotic/ Rabbit Junk (CyaJunk) mega set will be featuring Cyanotic's Sean Payne [vocals/keys] and Chris Hryniewiecki [guitars] with special guests Rabbit Junk JP Anderson [vocals/keys] and newcomer Nadia G. [vocals/keys]. The final day of Terminus kicks off the first of their three international summer festival dates and will be the only North American appearance. Glitch Mode Squad assemble!" – Sean Payne, secret robot
GO FIGHT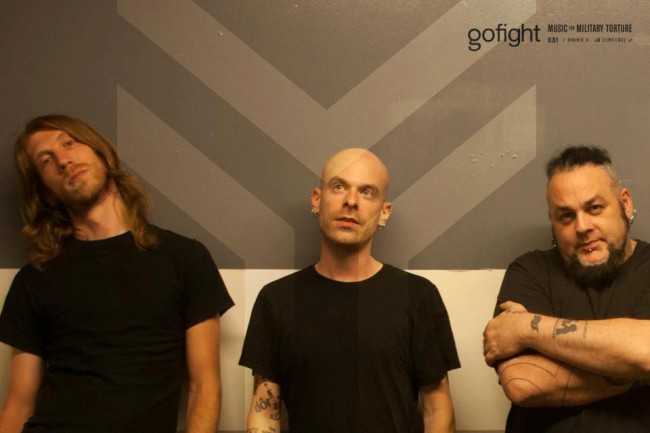 Back in about 2010, Die Warzau's Jim Marcus erupted back on the Chicago industrial scene after years of silence with a flurry of guest DJ appearances, which built up to the launch of his new band Go Fight to much acclaim. The visionary multi-instrumentalist (and typography legend, oddly enough) returned to active duty with a splash, with the 2012 debut Music For Military Torture, released on the band's own Pulseblack label, hit the top ten of numerous music review sites for their year-end best-of roundups. Their music is not for the faint of heart, with lyrical content delving into subjects as diverse as sexuality and gender politics, military imprisonment, and the invasion of organized religion and corporate power in daily life. The band's live performances have become a hot commodity around the Midwest, with the band traveling extensively as well as playing plenty of home games with other Chicago acts such as electro-rockers I:Scintilla, industrial metallists Czar, and in mid-June, will be playing the official relaunch event of Wax Trax! Records at the release party for Cocksure, a collaboration between Revolting Cocks' Chris Connolly and Acumen Nation's Jason Novak. If one band has been the standard-bearer for the rebirth of Chicago as an industrial mecca, it is likely these cats.
"Go Fight is an electroscuzz band operating out of Chicago, the former murder capital of the world. Founded in 2013, the ongoing release rate of the band mirrors closely the decline in murders per capita in that city and may be compelling proof of the power of the band to spread peace and self-awareness to those without an intimate understanding of the relationship between correlation and causation. The band is anti-war and pro-sex with a limited dynamic range and a fascination with high volume noise. They are to the industrial music world what jello dog fighting would be to professional sporting if that sport existed.
A note from the band: One day, there will be Zombies. They will reach out with fetid hands and lift themselves out of mush-filled muddy graves and seek out the rich smell of brains. And everyone will say 'I fucking told you so' because they don't make hundreds of movies about shit that can't ever happen. It's inevitable. It's like the collapse of an old porch or grandma 'iron lung' dying this week. Her nickname is 'iron lung' for crap's sake. She's not a long term good bet. The world will be fucked. The money you save today, not buying music you love, will be worthless, not even good to light on fire to keep your feet warm. Spend that shit now.
Message for Canada: "Thank you for listening and we look forward to being inside you, Love, Go Fight." – Jim Marcus, cult of personality leader
MEND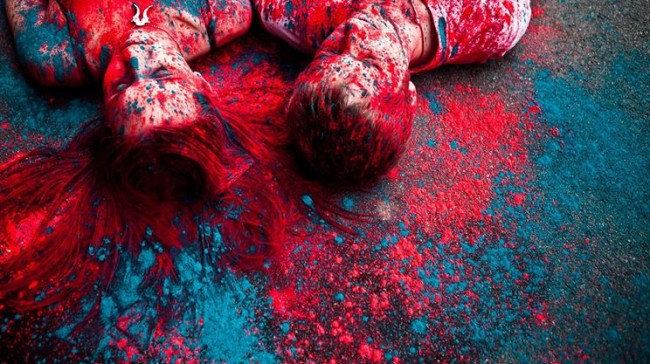 Finally, we come to MEND, a project that has become the critic's choice of bands floating through the atmosphere of Chicago's industrial scene, with their debut album Vanishing Point dropping like a bomb after years of hype and anticipation. Stylistically the band is a huge departure from the storming, in-your-face attitude that the rest of the Chicago contingent brings to the table. Instead they offer highly-tuned soundscapes that glide effortlessly across numerous genres, often within the same song, a trait that owes much to members Kassi Cork and Max Glascott's experiences and influences from genres as wide-ranging as classical, IDM and electronica. Recently, the band eschewed the typical label-oriented approach to music releases and instead chose to self-release Vanishing Point over Bandcamp, leading to their charting high into the top eight electronic albums upon their debut. For their live shows, they've maintained a strict methodology of playing as much live as they can, while a much-storied visual element has been in production for quite some time, being prepared for its debut at Terminus.
"Greetings humans – we are MEND. We are very excited to be added to Terminus. (Unless it is somehow related to Terminus from Walking Dead…It's not, right?) We have been friends and music collaborators since Max exploded a ketchup packet all over my belongings at our high school lunch table. We both kind of come from different backgrounds musically, but this is part of what makes us work well together. Our sound is kind of hard to pigeonhole, and we think that is a good thing. Our music often gets described as IDM, so let's just go with that – and reviewers have described us as 'the perfect soundtrack to dancing by moonlight in zero gravity,' 'serene and pensive,' and 'a lushly cosmic experience.'  Our live show is me (Kassi) on synths or whatever else I can get my hands on, and Max on guitars, synths and lots of awesomely weird audio tweaking. Max also wants to cook everyone a meal while we are playing, I think that is setting the bar a little too high, so no promises on this one. We be playing some tracks off our new album Vanishing Point and this will be the roll-out of our new audio reactive visual display that I can only really describe as watching an abstract sci-fi video game. Come with an open mind, maybe attempt to dance (we won't judge you) and allow us to melt your faces of while possibly preparing you an empanada." – Kassi Cork, homeless alien
That's a wrap, folks! For my part, I'm extraordinarily excited for Terminus. Last year I hurled epithets at a passing freight train at four in the morning while senior site editor Alex Kennedy looked on in shame and embarrassment, and I'm pumped to share all of these idiotic adventures and more with my beloved hometown crew. See ya in Alberta, suckers!