"This night is about Jamie Duffy and the connection we all had to him. He is a conduit for one of the most special things I have ever had the honor of experiencing."
The North American industrial scene lost one of its most beloved members and hardest workers when Jamie Duffy passed away in June. A concert dedicated to honouring his memory and raising funds for his family, Cold Waves, was swiftly organized, and featured an all-star cast of musicians and bands from and associated with Jamie's hometown, Chicago. Like many of his fellow Chicagoans, our own Matt Pathogen was at Cold Waves, and offers his reflections.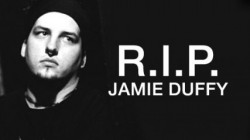 Since Jamie Duffy's passing in June of this year, so much eloquent prose and insightful, emotional reflection has been written about his impact on American industrial music, as well as Chicago's music scene as a whole, that it feels like a positively herculean task to come up with anything new to say about him. That a megalithic show that jumped out of a bygone era to honor his name should be proof enough that a great, great many people loved him and were shattered to hear he had taken his own life. Out of the ashes of this tragedy, however, came one hell of a phoenix: a unifying event that forever memorialized his memory and influence, packed a sold-out venue full of screaming friends and fans, and brought together many of Jamie's old partners in crime, some for the first time in many, many years.

Let's talk about who Jamie was for a moment. For many people, his influence on their lives is certainly found in his involvement in one of the seminal American coldwave acts, Acumen Nation, and its deranged offshoot, DJ? Acucrack. From there, however, you can branch out to trace his career through nearly two solid decades of musical output. Writing and producing for bands that spanned a wide range of styles, not just our own personal favorite, Jamie's work can be found on acts such as industrial heavyweights Sister Machine Gun and Chemlab to artists as far afield as legendary rapper Method Man. In addition to this, he was also regarded as one of the hardest-working live sound engineers in Chicago, managing the sound board at major music venues such as the Metro, the House of Blues, and the Cubby Bear almost every night of the week. Entirely based on his professionalism during his time at the Cubby Bear, shortly after his death a slew of bands (not a single one of them being an industrial band, mind you) he had run sound for at that venue put together their own
benefit concert
to celebrate his work and to donate to a charitable foundation set up in his name.
That, ultimately, is Jamie's enduring legacy: A man who ate, breathed, walked, talked and lived music so comprehensively, his loss is felt across all manner of strata. This was the impression even for those of us with an admittedly limited set of interactions with him; for me, most of the time when I ran into Jamie, it was after he'd spent all night behind the mixing board at Cubby Bear and had swung by Chicago's local goth/industrial haunt to unwind with a strong drink and some conversation. Even under those circumstances, you couldn't help but understand that music was Jamie's true love, as conversation sidled easily throughout all manner of subjects therein. He struck me as a member of the old guard of musicians, someone committed to quality over quantity, whose main goal was doing it right. When he heard a friend's show had a questionable soundperson, he was known to volunteer to do it himself, or if he couldn't, to send over a colleague he knew he could trust to make his friends sound their very best. That kind of selflessness and commitment to quality results is something we should all cherish.
When it came time for Jamie's closest friends to pay their respects to his memory, the resultant brainstorming eventually took shape as a monster of a concert. In one night, Chicago's Bottom Lounge was going to play host to a full thirteen bands, the lineup being a cross-section of arguably the most influential and symbolic era of American industrial movement. Echoing back to the Wax Trax! Retrospectacle of 2011, many key members of the Revolting Cocks were banding together again to pound out classic industrial rock. Jared Louche of Chemlab flew in from England for what he called the last show under that name, orchestrating a mad scheme to fill the stage with as many guitarists as possible. The Clay People returned from retirement, with frontman Daniel Neet saying on the event's Facebook page that Jamie's passing had prompted him to reform the band fully, not just for one show. Coldwave legends 16volt, The Final Cut and Hate Dept. returned to Chicago to join hometown heroes The Damage Manual, GoFight, I:Scintilla and Cyanotic onstage. Jamie's longtime collaborator Jason Novak brought Acumen Nation and his own project, Czar, to the stage, along with industrial rock supergroup Iron Lung Corp. The only truly responsible way to define such a lineup is as truly epic.
With such an enormous lineup chewing through a scant seven hours of stage time, there was some confusion and concern that the show would inevitably go off the rails. However, when the day finally came after months of anxious waiting, it's literally shocking how smoothly it went. The efficiency with which the organizers managed to conduct the proceedings was in itself a remarkable tribute to Jamie's professionalism as a stage manager. I believe the final count was that the show went about thirty minutes longer than it was supposed to, which, all told, is nothing compared to the monumental achievement of making a show the likes of this happen at all, let alone efficiently. To top that off, this was a sold-out show. The Bottom Lounge is not a small venue; encompassing 20,000 square feet of real estate near the heart of Chicago (not to mention hosting quite a tidy selection of fine ales and lagers if I do say so myself), it's a prime concert venue that can hold something like 700 people. By the time the doors opened, the venue had plastered signs on the front stating in no uncertain terms that tickets were no longer available.
Under the circumstances, you'd probably be justified in expecting such a large crowd at an event formed for such a dire reason to be tense. However, the sense of camaraderie emanating from the stage throughout the night easily translated to an identical state in the crowd. The sheer amount of good cheer abounding was palpable throughout the event as old and new friends from around the world gathered together and enjoyed the show. I know of very little negative activity that occurred throughout the night; this was a time of celebration, even in the face of the tragedy that begot it.
That isn't to say that sorrow wasn't to be found. The mood backstage was an uplifting one, though certainly tinged with a distinct sense of loss. Many of the artists present had not collaborated for years, sometimes not even spoken for as long. Listening to the performers catch up and reminisce backstage and speak with them about the night, one couldn't help but acquire a sense of Jamie's personality that was unattainable for most of us. People who he had played shows with and worked with many years ago told a tale of an Icarus-like character, a man haunted by success at a young age. Jamie was in the studio working with Acumen Nation at the very beginning of his twenties, an accomplishment that started a flurry of collaborations that helped to define one of the most important eras in industrial music. To hear old tourmates speak of those times, one gets the impression that so many experiences at such a formative age weighed heavily on him. Be that as it may, they could all agree on one thing: He would be missed. I spoke to some of his friends and collaborators about what Jamie's passing and the Cold Waves show meant to them.
"From the start I felt very strongly that this was something important to do, to confirm to Jamie what he meant to all of us. The entire time I've wished he was here, but throughout this whole thing, I've realized he has been here the entire time, helping us."
– Jason Novak of Acumen Nation
"Tonight is an awareness that we're family. We lost a family member. His absence is making us stronger. That strength affirms our love for him."
– Steven Siebold of Hate Dept.
"There's a part of me that feels like this is the beginning of something, but is afraid it's an end. I love these people and I wonder when I'll see them again, before they scatter like dandelion seeds. If it were my decision, as old as I am, it would be a beginning."
– Jim Marcus of GoFight
"This night is about a unity and community that is full of love and compassion. This night is about brotherhood and the unrecognized impact of a generation of musicians. This night is about Jamie Duffy and the connection we all had to him. He is a conduit for one of the most special things I have ever had the honor of experiencing."
– Eric Powell of 16volt
"Tonight is about why we stay alive. The music, this scene, the incredible bonds we have because of all of this just reinforces the importance of remembering why life is worth living. It just sucks that the reason we're all here is because a good friend and a great man forgot."
– Matt Fanale of Caustic
Of course, no article on a concert would be worth a shake if it didn't also speak of the performances themselves. What can I even say about it, though? How can you properly give service to the sheer thrill of a whole gaggle of industrial's storied elders thrashing out their back catalog like a bullwhip across an adoring crowd? The entire show was one beautiful moment after another; walking into a thoroughly crowded music hall to discover Hate Dept. spewing a riotous, scene-stealing performance and finding that they were simply setting the evening's standards is a pretty fantastic experience. If you were at the Wax Trax! Retrospectacle last year, you'll have some idea of what went down. Only some, though. Imagine that experience on steroids and you're getting there. Some personal highlights were Jamie's old bandmates jumping onstage as Iron Lung Corp. and bashing out their rendition of Nitzer Ebb's Murderous, Chemlab inviting a storm of friends and fans onstage at the end of their raucous set to belt out Summer of Hate, and the thoroughly stunning performance closing the night out as a horde of musicians took the stage to hammer out a machine rock rendition of Foreigner's "Jukebox Hero". How the hell do you top that?
There is no question that the Cold Waves show was a complete success. It honored the memory of someone who sacrificed much of himself in the pursuit of a job well done and an unquestionable devotion to music as a concept and as a lifestyle. It brought people to Chicago he had worked with many years past and fomented a sense of community that had not graced this city since the days of his greatest personal success. There's no way you can lose sight of the fact that a great man and a true believer is gone, and that cannot be anything but a tragedy. Yet if there's any way I can think of to honor the memory of someone of Jamie's passion and caliber, this show was definitively it.
Here's to a good man's legend, and here's to hoping we can all live up to his standards.