"…Buried in patch cables and running mad scientist control voltage experiments."
Scott Fox has been busy. Since the release of his tribal industrial project iVardensphere's debut record Scatterface in 2009, he's been going full tilt, putting out a ton of remixes, recording 2010's follow-up LP Bloodwater, and touring extensively with bandmate Chris Lacroix, opening for scene heavyweights Combichrist and Aesthetic Perfection amongst others. In 2011 he expanded the group's line-up to include Yann Faussurier and Frederic Scarfone (of Izoloscope and Memmaker) and on Novermber 9th North America's largest industrial label Metropolis will release APOK, which features contributions from old and new band members and groups as diverse as This Morn' Omina, Caustic and God Module. Just after the birth of his first son Bjorn, we spoke to Scott about the road, the nature of collaboration, and how to get ahead in industrial.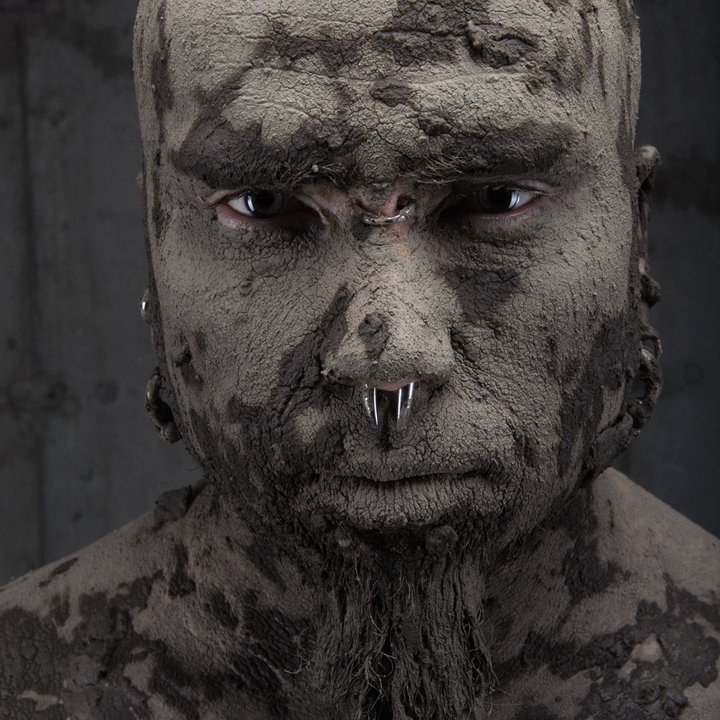 ID:UD: Your first album came out two years ago, and since then you've released a remix disc, another LP, and have done plenty of collaborations with other artists. How did you get this much done in two years? How does creating three LPs in such a short space of time affect the evolution of your sound?
Scott: It all stems from living, breathing and eating this shit, ha-ha! Scatterface was written on a real learning curve. I had never really intended on releasing half the songs that were on it, to be honest. Synthetic got a copy of those songs and before I knew it I had a disc released. I knew I wanted to do something different for the second real released which would mean spending more time nailing down my 'sound' so we put out a remix CD of Scatterface in the meantime. Finally, Bloodwater was ready to go. It sounded how I wanted it to sound and I was pretty damn proud in releasing it.
APOK was originally conceived as an EP. Knowing that I didn't want vocals to be a primary aspect of iVardensphere, I still wanted to experiment with singers. I figured I'd release a 4-5 song EP and that would be that. After getting started on it, Synthetic told me that they had been talking with Metropolis and wanted to know if I could turn this into a full length. It took a ridiculous amount of effort to get this CD ready in time but here it is.
As for the evolution of our sound, it's hard to say. I've constantly struggled with what our sound would be. Electronic? Tribal? Noise? After saying to hell with limiting iVs to one acoustic theme, we found our sound in the variety we embrace.


ID:UD: Your new album, APOK, is coming out on Metropolis. Why did you want to go with Metro this time out?
Scott: As a Canadian band it can be a very difficult thing to get into the American music market. Neither Scatterface nor Bloodwater were sold in American stores.If you were an American buying an iVardensphere cd, it was either downloaded or picked up at one of our shows. Metropolis really gets us to a much larger market than what we've got now. Musically, Metro had absolutely nothing to with the writing or production of APOK. Zero impact on the music and reaching a much larger audience…That is a label/musician relationship I can get behind!
"The faces change but the big boots, fake hair, stompy dance floor moves and corsets stay the same."
ID:UD: You've toured a lot over the past few years. How has your incessant road schedule impacted the sound of the band? Does thinking of how a song will function live affect your writing process?
Scott: Ah yes…the road. It's been my life for the last couple of years. The road does one thing really well…it gets in the way of writing. Being on tour inspires some people but I find it breaks up my groove. I'm either in production mode or tour mode, rarely both. When I write, I do a lot on my modular synthesizers. This means being buried in patch cables and running mad scientist control voltage experiments. Sitting on a bus with a pile of other guys isn't really good to that form of creativity. On the flipside, the road does inspire you to jump back into production once the tour is over. You come home with loads of ideas so post-tour writing can be very fruitful.
ID:UD: You've toured deeply in both Canada and the US. What's your take on the scene in the parts of Canada you've been to?
Scott: No two scenes are the same yet they are all in the same family. From my experiences, Vancouver thrives on musical variety on the dance floor. Montreal loves unending slamming club attack. Edmonton has a strong noise community and has multiple weekly industrial club nights. Every city responds differently to us, too, ha-ha. In the end, there are lots of the big reliable club songs that you hear in every single club on every night of the tour no matter what city you're in, Canada or the US. The faces change but the big boots, fake hair, stompy dance floor moves and corsets stay the same.
ID:UD: You were a DJ for years before you started recording. Do you write with the dance floor in mind?
Scott: I can't say it hasn't influenced me. There are plenty of times I try to picture how the song will do in the clubs. Realistically, as a DJ I've spent so much time trying to feel out what the crowd wants or needs to really get moving. Every DJ looks out to the crowd and thinks, "OK…what can I play now that will really make the room go ape-shit?" That club mentality is a part of me now. That is far from the only influence, though. I also listen to a lot of ambient, noise, experimental, metal and trip-hop among other things. Listen to the song "Myopic" (on APOK) and you'll hear that it is written and structured like a metal song. All of those chunky synths and basslines might as well be guitars. One thing that has stuck with me for years is what Sebastian Komor told me when I was still getting my feet wet. He said, "It's all about the groove." I took that advice seriously and today the core groove of the song is still what I'm working on long before I know what the kick or any other aspect of the song will sound like.
ID:UD:
Yann and Frederic from Izoloscope and Memmaker have joined iVardensphere. Did that start with them working with you in a live capacity and then evolve from there?

Scott:
It was quite the opposite, actually. Of those two, Yann was the first to join up. I'd been an Iszoloscope fan for years before, so my appreciation for his skills was already finely tuned. After I got to know him I found that we really gelled. After we traded remixes I started to think about collaborations. I asked Yann to do some extra production on a song from
Bloodwater
. He ended up doing some work on "A Sign Of Things To Come". I thought the result was fantastic. Now he's a part of the iVs heartbeat. Fred came along much more recently but in a similar fashion. Fred had
done a remix of "Bonedance"
for the remix CD as well and it sounded fantastic.
[said mix is indeed fantastic and has been a staple in ID:UD's DJ sets for a while – ed.]
After getting to know Fred I found him to be a great human being with some great skills to match. THEN came the touring with Yann. It was a great time from start to finish. The current line up in iVardensphere is what I would call a dream team.
ID:UD: What impact have the new guys had on the recording process and the sound of the new album?
Scott: It was backstage at Kinetik 4 where I asked Fred about doing some orchestration for a song I had rolling around in my head. I described how I wanted the song to flow as well as having an ethnic vibe and so on. A few weeks went by and Fred returned with this epic sounding piece called "Sutekh". I did some more production afterwards but it marked the first time I did not do the bulk of the work on an iVardensphere track. It was a strange feeling but the song totally held its own and is now the opening track on APOK.
The song "Chasing the Dragon" was one of the first songs I did a number of years ago. The original production on it, to be honest, was not very good. I dabbled at touching it up but for the most part, the song remained the same. I handed the song to Fred so that he could do some further work and, to my initial shock, he rewrote most of it! I really liked parts of it but there were a couple of aspects that freaked me out. Acoustic drum rolls?!?! WTF?!? I even told Fred that we had to take them out. Luckily he fought to keep them because the song is amazing and to take them out would have been a crime. I learned quite a bit about myself, and how to work creatively with others, during that exchange.
Yann worked with me on the songs "Myopic" and "Devils". We had been playing the chunky last half of "Myopic" live on the Monsters/Rammstein tour and it had received incredible response. I sent the demo work I did on "Myopic" to Yann after we returned home and he redid the entire first half, keeping only the core groove but with all new sounds as well as adding his trademark percussion distortion. "Myopic" ended up being a powerhouse track that we're both very happy with.
Chris and I had worked together on two previous tracks ("Nuke the Site from Orbit" & "The Source of Uncertainty"). On APOK he worked with me on some elements of "Here Lies Lily Brant". Chris didn't get too deep into the production on APOK as he's been working hard on his own project, Virtual Terrorist. VT is now doing live shows and making some good headway. If you ever get the chance to see VT live, do it! I'm proud of him.
"Rest is for the weak!"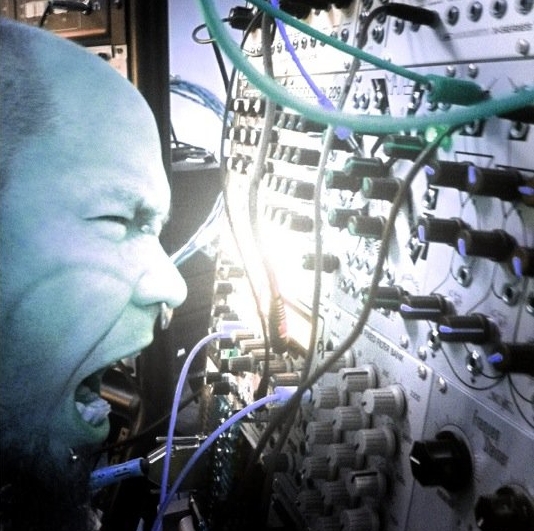 ID:UD: There are a bunch of other artists you've collaborated with on APOK, some who work in a similar vein as you, like This Morn' Omina, and others from different schools, like God Module. How did you decide who you wanted to work with and how did you arrange those collaborations?
Scott: Arranging everything was the easy part; it's all about the power of asking. The This Morn' Omina collaboration came about differently than I had expected. I asked Mika for a remix trade. He returned by saying that he would rather do co-writing with me. I was a little surprised but I was happy to be working with another one of my idols. We set about working on two tracks. He provided me with the basics for something TMO had started but didn't go anywhere with, while he asked for all the stem tracks for the song "Ancients" from Bloodwater. We bounced these songs back and forth until everyone was happy with the results. The only parts of "Ancients" that now remains is some of the original Taiko drumming and a few 'flavor' sounds. The rest of the song is new and is called "Of Ancient Reprise". I don't have to explain the title to you, eh? The other song is called "ASA" and will be released by TMO later. They are putting a short version of "ASA" on this year's Maschinenfest compilation.
The vocal work with Caustic, God Module and I:Scintilla came about simply by talking with them. The songs they appear on come alive and take on an entirely new context. It was great to see these awesome artists being so willing to step up to the plate and do something completely out of the ordinary. While on tour with Iszoloscope I had encountered a one-man act called Servitor Sanctum in Detroit. He had a crazy live show with tons of tribal drums. Naturally, this caught my attention and later I asked if he wanted to do some drummy drummy for me. His contribution became part of the big tribal breakdown in "Nazca". Hanging out on the bus with Z-Marr on the Combichrist brought forth a crazy electro-house-industrial rework of "Here Lies Lily Brant" by his project, Pull Out Kings. The vocals for "Chasing the Dragon" are performed by my wife. Call me lucky! Each of these artists come from different branches of the genre but having them all be so willing to work on this really made the scene seem a lot tighter. I salute them all!
ID:UD: What's in store for listeners on APOK? Do you have anything else on deck in terms of remixes or collaborations?
Scott: What's in store for the listener? A case of mental whiplash, ha-ha! Seriously, the listener will hear a wide variety of sound, styles and themes and will hopefully have a good experience. As for future collaborations and remixes, well, I'm always working. Since handing in APOK I've finished remixes for Caustic, Aesthetic Perfection, God Module, Komor Kommando, ESA, HexRX, Unit 187, SKOLD, Alter der Ruine and I still have FGFC820 in the queue. I'm currently working on setting up another big tour as well as finishing the studio construction I started way too long ago.
Aside from iVardensphere, I'm also ramping up on production of my Bristol style trip-hop project. In the new year I'll be starting up a collaborative project with ESA that will be pretty sick. After I get through all that it'll be time to start working on some fresh iVs material. Rest is for the weak! All this work is being wrapped around the birth of my new son, Bjorn. Pulling loud all-nighters is starting to get a little harder.
APOK will be released on November 8 on Metropolis. Pre-order it here.