Observer is an outlet for short, capsule style reviews of the type you might see in your town's free weekly: basically a place for us to quickly throw some light on some things we don't have the time or inclination to review fully, but still feel like we would be remiss in ignoring. Check it out, and feel free to leave suggestions of recent releases to cover in the comments section.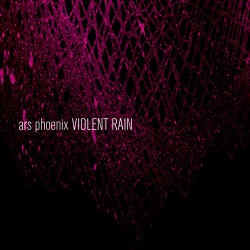 Ars Phoenix
Violent Rain
Etxe Records
As much as I'm a big supporter of the ongoing revival of traditional schools of coldwave and post-punk, it's always welcome to hear a range of eras and influences coming together in goth-friendly rock. Florida's Ars Phoenix serve up a soupy blend of darker, fuzzier subgenres on their second full-length, Violent Rain. The record has a solid darkwave foundation, but between contrasting vocal styles from Jon Glover and Caitlin Ollinger and a near-constant shifting of the interplay between guitars and keyboards, it packs a colourbox of shades into its forty minutes. There are plenty of ponderous, gothic unveilings like the procession of "Amethyst", and the cosmic dread of "Violent Rain", but shoegazey, post-rock vibes come through on "January 1st" and "Shudder At The Sound". There's the occasional drag (the sleepy "Who Is Watching The Neighborhood Watchmen?" feels underdeveloped to me), but on the whole the mix between stricter new wave beats ("Elegant Vapor", "WHTY") and a more catholic utilization of guitar pedals than one often encounters in current dark rock creates an engaging frisson.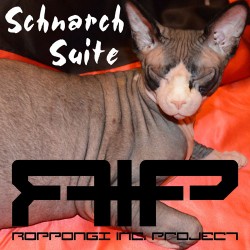 R.I.P. (Roppongi Inc. Project)
Schnarch Suite
Roaring Disc
The last single from Moscow's R.I.P., "Temporary Evacuation", became a club stable pretty much overnight in our sets, specifically one of Kant Kino's reworkings of it. While the core material of their new EP follows up on that track quite well, the fact that none of its mixes leap out in such a pronounced way is a bit disappointing. The original tracks, "Moskau Leipzig", "Schnarch Suite", and "Metall Balls" (don't ask me, I just work here) are all brazen floor bids, but each have their own styles. The latter is all cyber leads at 140 BPM, but the other two, especially the title track, change things up a bit by putting odd vocal samples square in the middle. The title track feels especially odd for its choice of a snoring sample (perhaps offered by the cat in the cover art?), which casts a somewhat comic but refreshing light on its builds and falls. Sadly, the majority of the nine mixes which follow don't take a cue from that fun originality, instead taking the tracks' hardstyle motifs as the pretense for lowest common denominator oontz. Detuned Destruction strips "Temporary Evacuation" of any of the frantic danger earlier versions had by flattening its builds and adding a sub-par Mortal Kombat-esque lead, and their similar rework of "Moskau Leipzig" sits in that painful overlap between hardstyle and cybergoth. Reliable hands Noisuf-X and Komor Kommando do a solid job of colouring in the corners of their mixes and Nightmare of Cain do a passable melodic tune-up of "Schnarch Suite", but those three mixes are about the only ones I can endorse. Strip this EP to six tracks instead of twelve and it'd be a front-to-back monster; as is DJs are going to have to chew around the edges to find their floor fodder of choice.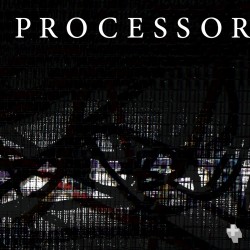 Processor
Processor
self-released
I can't tell if it's just the circles I run in or whether krautrock/kosmische is experiencing a broader renaissance, but it certainly does feel as though long, looping tracks threaded with warm Moog tones and chiming sequencers are floating through the ether more frequently over the past couple of years. Of course, that Germanic tradition has always been held in reverence by those of a more experimental ilk, and Processor, a Toronto duo made up of a record store owner and lighting designer (!), carry that on ably. Stretched and spacey keyboards shift in and out of the spolight alongside heavily distorted bass over six tracks, sometimes lulling, sometimes discordant. "Sombre Beach" does justice to its name, all watery, ambling bass and lightly gorgeous keys, while "Ghost Factory" quickly establishes an insistent Suicide "Girl" type groove. Closer "Sex Tape" has the psychedelic orange noise scramble of Skullflower, albeit slowed and drugged out somewhat. Recommended for fans of
S U R V I V E's rougher material or Mild Peril, Processor points to how early kosmische experimentation continues, whether violent or sedate.