Despite what The KLF would have you believe, achieving success in music of any sort is hard. Like, really hard. Talent, determination, and popularity don't always come in equal measure, and in addition to there being countless acts which never went anywhere for each one that did, plenty of household names spent good time in bands that never achieved the fame they'd later go on to. Industrial and the other genres we deal with here at ID:UD are no exception to this law, so in that spirit we offer these glimpses into the pasts of some of Our Thing's biggest names.
A caveat: our criterion for this feature was recognition, pure and simple: did the members of a band go on to achieve a wider degree of it after their time in their earlier bands? While plenty of these earnest beginnings do exhibit some artistic value apart from their historical significance as starting points, others…don't. We'll let you be the judge of which is which.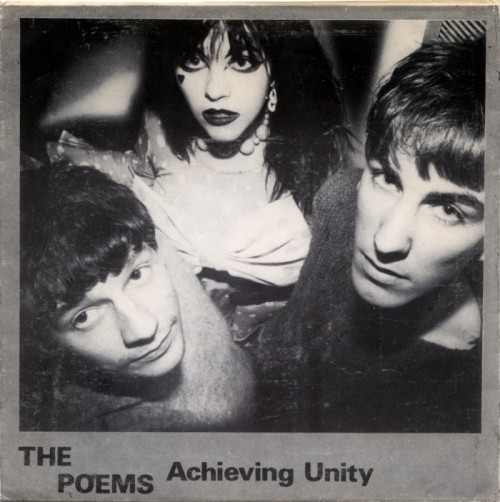 Before Strawberry Switchblade: The Poems
Well before she was the utility player for basically every top-tier neo-folk project in the late eighties and early nineties but not long before she was in Strawberry Switchblade, Rose McDowall was in a punk act called The Poems with her then husband Drew, who you may remember from his involvement in a little band called Coil. The post-punk trio (rounded out by a third member who's name even our extensive Googling can't uncover) only released a single 7″, and were apparently no longer a going concern by the time SS were formed. Their notability really only extends as far as their membership, although they do occasionally turn up on various obscurities blogs, usually with a rip of their sole single "Achieving Unity". A quick search should reveal it, along with this cut from a Glaswegian punk compilation.

Before Skinny Puppy: Images In Vogue
A familiar name to new wave die hards or Vancouverites over a certain age, Images In Vogue released a swath of singles and three LPs over the 1980s. Behind delightfully named vocalist Dale Martindale on the drums was none other than a young Kevin Crompton, AKA cEvin Key (with Don Gordon – later of Numb – on guitar, no less!). Key ditched IIV to go full time with Skinny Puppy in 1986, but not before helping record their signature single, "Call It Love". Sadly, cEvin was nowhere to be seen at the (otherwise fun) Images In Vogue reunion gig at the Commodore about ten years back.

Before Ministry & Thrill Kill Kult: Special Affect
The story, which Al Jourgenson will tell to anyone with a pulse and auditory organs, is that Ministry's early synthpop direction was purely the result of being strong-armed by major label goons who figured a cod English accent and some mopey leads would be easy money. It'd be easier to accept Al's version of events if this (admittedly solid) art rock band with Al's guitar bolstering similarly affected vocals from TKK's Groovie Man (and one of the guys from Concrete Blonde) never existed.

Before Nine Inch Nails: Option 30
The best thing about the existence of Option 30 is that every couple of hours somebody somewhere on the internet discovers that Trent Reznor was in a marginal new wave cover band and completely loses their mind. To be accurate Trent was in a couple marginal new wave bands (Exotic Birds being the most notable one, although Slam Bamboo opened for Glass Tiger!) before becoming the defacto ambassador to industrial for a generation of music fans, but unless you're a mean-spirited dick you'll have a hard time holding it against him. We were all young once, with weird haircuts and tacky shirts, and most of us don't have to deal with half the internet pointing it out on a regular basis.

Before Ministry (the other half): Blackouts
Now this is some great stuff. Hailing from Seattle, the Blackouts counted amongst their numbers both Paul and Roland Barker, as well as Bill Rieflin. Sitting somewhere between Bauhaus and The Gun Club, their collected EPs and singles from 1979-1985 were reissued a few years ago along with plenty of bonus stuff on a highly recommended comp from Washington institution K Records.

Before Rotersand: The Fair Sex
At least by the standards of Our Thing The Fair Sex are actually kind of notable on their own terms; the late eighties/early 90s EBM and darkwave act released a string of albums and by all accounts still a going concern some 25 years after the release of their debut The House of Unkinds was released. What you may not know is that Rascal Nikov, the imposing front man for futurepop warriors Rotersand cut his teeth programming and playing keyboards for them. Per Wikipedia Rotersand's Gun was also involved in The Fair Sex in some sort of a production capacity, although their Discogs entry doesn't give any indication whether he was credited on record or not. Enjoy the club hit "Not Here, Not Now" embedded below.

Before The Cure: Lockjaw
You could always tell that Simon Gallup was the tough in The Cure, whether you looked at his leather jacket, his hair, or the way he wore eyeliner more to menace than to beguile. Dude still looks like a stone rockabilly killer even after all these years. Anyway, not to be confused with Fools Dance, the short lived, dreamier project Gallup was involved with in the early 80s while he was on the outs with Smithy, Lockjaw was his first crack at the can, and was a much more raucous bit of business. Bonus points for tossing a Spiderman joke onto your 7″ sleeve.

Before Leaether Strip: Decode
Okay, this one is a bit dubious, as we can't find a single source for it other than a passing mention of Claus Larsen of Leaether Strip being involved with Danish synthpop band Decode, who released one 7″ "Planet of Youth/Amazing Waves", in '86. We'll still include it in this article because the a-Side of the single is actually pretty damn good, and the orchestral touches seem in line with something Uncle Claus might have had a hand in. Also someone named "Paw Larsen" is specifically credited with arrangements on the b-side, which is either confirmation or the source of the confusion depending on how it pans out. Anyone in a position to confirm or deny should drop us a line in the comment section!

Before KMFDM: Kingpin/Shotgun Messiah
Tim Skold's career stretches well out both before and after his tenure in KMFDM, but his first breakthrough came with an 80s Swedish rock band indebted to glam metal (which switched names midstream). It's interesting to think about how the use of guitar in KMFDM has changed over the years and the question of whether or not this early devotion to a very American style of metal could have oh fuck it we just included this one so we could post this infamous photo.

Before Malaria!: Mania D
Formed in 1979, by the time Mania D's debut cassettes were hitting the market the various members of the all-girl trio had already individually been in and out of early incarnations of Einsturzende Neubauten, Liaisons Dangereuses and Die Krupps, not to mention founding side-project Malaria! in their spare time. While their associations with various early industrial and EBM acts are notable, the music Gudrun Gut, Beate Bartel and Bettina Köster made together wasn't half-shabby, between sax led punky workouts like "Track 4" and Malaria!'s all time classic NDW jam "Kaltes Klares Wasser", their accomplishments extend well beyond being footnotes in the history of other long-running acts from Our Thing.

Before Dead Can Dance: The Scavengers
Good gravy, Mr. Perry! The polar opposition between this and, well, just about everything Dead Can Dance represents suggests that Pete Shelley's lawyers might have got in touch with this precocious New Zealand band, prompting a young Brendan Perry to run headlong into any genre which would keep him from being accused of being a Buzzcocks soundalike ever again. While this is a fun bit of fluff, that's probably for the world's greater benefit.

Before Icon Of Coil: Hellheim
Not to be confused with the viking black metal band also from Norway, the Hellheim we're talking about (also sometimes known as The Helheim Society) here was a metal project featuring contributions from Sebastian Komor of Komor Kommando and Icon of Coil fame. Seb, then credited as "Zeb", provided the drums programming and synthwork for the act, fusing black metal with industrial sounds, a mixture that presaged his guitar oriented Melt project. Helheim's '96 MCD release Fenris was reissued in 2012 along with a bunch of tracks by guitarist Zorn's side-project Vendetta Blitz.

Got another "before they were big" name from our end of the pool? Post it in the comments!