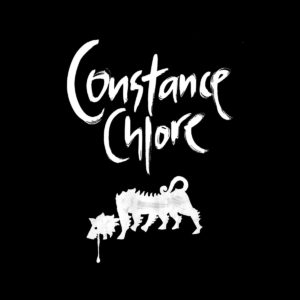 Constance Chlore
self-titled
Kess Kill
The line between an amorphous and intermittent genre like synthpunk and the plethora of later genres which follow a similar path can be difficult to draw. One-man French act Constance Chlore adds a healthy heaping of EBM-inspired programming and bass to frantic percussion and off-kilter intensity on their debut tape. The overall result is a tight set of pieces which splice synthpunk and EBM to nerve-wracking effect.
Théo Delaunay's previous work as Violent Quand On Aime showcased an experimental and deconstructive approach to minimal synth. And while plenty of the quirkiness of that project migrates over to his new project, Delaunay's strong focus on percussion, plus a denser approach to programming, makes Constance Chlore a far more intense listening experience (live video finds him making lightning fast breaks from the drums to pound out a synth line or two). The propulsive drums of a characteristic track like "Toi" are immediately swarmed by sirens and descending carnival piano but somehow everything holds together.
Parallels can be drawn between Constance Chlore and any number of previous acts, from millennium-era genre-crosses Add N to (X) to The Screamers to any number of EBM revivalists, but Delaunay clearly has a vision of his own for the project. The rolling toms and warm, textured bass of "Une réception interminable" might recall vintage DAF, but the ghostly tone Delaunay adds (possibly inspired by his previous work) puts each of those familiar elements in a new light.
The sheer anxiousness of the tape isn't always a plus, though. Though just barely crossing the thirty minute mark, its sheer clatter and tension can become something of an endurance test. The simple EBM bassline of a deep cut like "Dignité" might fare better presented as a standalone track (or as part of a Container 90 tune), but buried so deep amidst noisier material its subtle execution gets a bit lost in the shuffle.
Delaunay's background and range of influences might prompt some to approach Constance Chlore as a throwback project, but the specific pastiche of sounds, not to mention the drive and energy, called to bear here feels very fresh. Even when it buckles under the weight of its own vigor, Constance Chlore's debut makes an impact.