"We want to show people how much work we do to put on a show by not just pressing play…"
Toronto's Michael Morton has been putting out music as Displacer for a decade now, each of his seven LPs a gradually evolving map of the fertile grey area between IDM, technoid, and industrial sounds. His 2012 album Foundation was one of this site's favourites of 2012 and found him in a particularly thoughtful mood, featuring warm textures spikes with skittering drums and organic pads, all tied together with the overriding concern for atmosphere that has become his trademark. Not one to rest on his laurels, Morton recently chatted with ID:UD correspondent Kathleen Chausse about his upcoming collaborations, social networking and the interplay between visuals and music.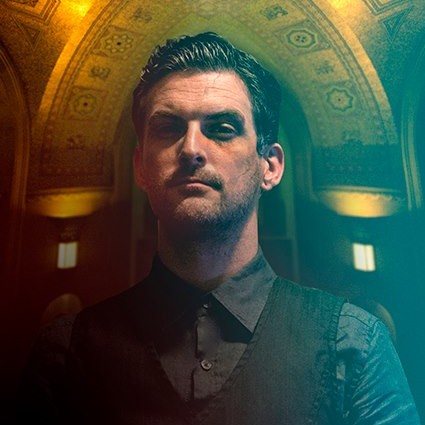 ID:UD: What's the motivation behind your Ad·ver·sary collaboration United Electronic Workers of Toronto?
Michael Morton: Well, without Jairus' input I'll summarize how we got there for me… Basically both of us are sick of the state of most electronic live shows. We'd perform together a lot of the time here at festivals and it slowly took shape into us joining together to try and promote ourselves and other like-minded electronic performers in our own city. We want to show people how much work we do to put on a show… by not pressing 'play' like some people in the spotlight like to say we all do. There are so many talented and overlooked artists in Toronto and the surrounding area, it only made sense to try a new outlet. Most of our venues are shut down or only focus on the trendier side of things.
ID:UD: Who are the artists working on this project?
Michael Morton: Displacer, Ad·ver·sary and Hugh Elliott doing live visuals. Then we plan each event and see who we want to invite to perform.
ID:UD: Having been to one of your performances, what made it interesting was that at times the visuals were interactive. How did this idea start and are you working towards other interactive concepts?
Michael Morton: I've known Hugh since our college days together so we've both been in touch working on different things over the years. He's been doing interactive development and I asked him one day if he could help me out. It didn't work out the first time, but later on and a couple of albums later I tried again. He was at a place to help with a project he was currently developing and we started to talk. The project has been through a few phases already adding more and more to it as we go along and do more performances together. He's quite industrious! We're already talking about how we can get the audience involved more in upcoming versions. Right now there's an ipad we can pass around to concert-goers and they can change how the art evolves and grows as I'm performing. You can save your art as you go so each song has a new piece each time you can save for posterity.
ID:UD: On the track "Leviathan" from Foundation you collaborated with Mark Spybey; how did that come together and what was the experience like?
Michael Morton: I was lucky to have jumped on to a couple of the Download Sub:con tour shows in Toronto and Montreal a while back. I got to meet him then, opening for them all. It was a great experience for me and a few months later I just asked him if he'd have the time to work on a track with me. Sent me parts over the internet and it was done pretty fast actually. Sometimes it's tough to get it right the first time.
Displacer – Leviathan from Crime League on Vimeo.
ID:UD: Displacer has a presence across several social networking sites, which one have you found has the best results?
Michael Morton: I guess they all kind of work together in some way or another. More exposure all around helps. I find like most probably Facebook is best for getting info out there. Combined with Twitter and Soundcloud for all the music hosting and streaming.
"I think I might have a song dedicated to favourite comic heroes on every album."
ID:UD: Speaking of social networks, you make references to games and comics so the real question here is King's Quest or Space Quest?
Michael Morton: Ha! King's Quest
ID:UD: With your label Crime League you've explored video production and design, What's in sight for Crime League?
Michael Morton: I have a few ideas lined up for this year if I can get everything together. I wanted to release a couple of live sets from l'Ombre and Synkro if they can get approvals from a few others. Possibly release a couple of digital EP's for Displacer collaborations, and even thought about pressing a vinyl. We'll see what actually happens.
ID:UD: Have you thought of doing another concept album, like you've done in the past with The Witching Hour?
Michael Morton: All the time. I always have two at least in the back of my head… I think I might have a song dedicated to favourite comic heroes on every album. So one day I need to write an album for comic books. Also a western themed electronic album. I think the cover of Ghost Riders in the Sky with Jamie from ESA got me thinking more about that one again.
ID:UD: Broken Sword is a new upcoming side project, where are you planning to go with that and how does it differ from Displacer?
Michael Morton: Broken Sword was supposed to be an ambient side project from Displacer. It started out wonderfully until I had a HD crash and lost most of it last year. Fortunately, I had enough rough stems for a couple of songs backed up. I actually carried these forward to Foundation, one of them being the track with Keef (Baker) and Mark. So I'm really back to square one with it, we'll see what happens this year
ID:UD: Having worked with labels such as Mute and Hymen,what do you look for in a label?
Michael Morton: I know Displacer is a strange entity at times so finding a label isn't always easy. Mute was a one-off lucky experience, but great and professional to deal with at that time. I guess that's what I personally look for, a label that's always pushing itself to explore new music. They also need to be able to take on chance on me which I really appreciate, but like I said they need to have their act together too and all of the labels I've been on have been amazing support for me.
Displacer's Foundation is available now from Hymen records, the project will be performing at this year's Festival Kinetik.