"…when we combine our forces, we do our best work."


To say that Daniel Myer and Dejan Samardzic's collaborative work as Haujobb has been missed since the release of their last album in 2003 is an understatement. The duo responsible for some of the most intelligent, focused and beloved EBM of all time are set to return in 2011 with their highly anticipated new record New World March in November, and with appetites already whetted by the fantastic Dead Market EP, anticipation amongst fans (amongst whom the senior staff of ID:UD count themselves) is running high. Shortly after the publication of our own Rough Guide to Haujobb, I Die: You Die sent off some questions to Daniel and Dejan regarding their activities during the hiatus, the process of making the new album and the state of industrial music. As expected, they had a lot to say.
On a personal note, interviews like this are exactly the reason I Die: You Die exists, and we're incredibly pleased to be able to present it to our readers.
ID:UD: We suppose the first question we have to ask is about the hiatus Haujobb has been on, both live and in the studio. Was there a particular reason behind it, or was it just a case of the two of you having to find the time to work on the project again?
Dejan: Yes, we had to find time and space (we're now living in the same city again), but also motivation.
Daniel: That's true. Motivation wasn't hard to find though. I love to work with Dejan and for me it's a fact that when we combine our forces, we do our best work.
ID:UD: Does New World March have a projected release date as of yet?
Dejan: Yes: remember, remember the 11th of November.
"We always have 'our' way of working together."
ID:UD: Daniel – Has your work with your various other projects during Haujobb's hiatus affected New World March, or do you find while working with Dejan that things pick up more or less where you left off?
Daniel: Yeah, we always have "our" way of working together. And I am always working on music, so of course everything has an effect on my and our music.
ID:UD: Dejan – How have you been keeping yourself busy during the hiatus? We noticed (and enjoyed) your recent Liquid Divine mix, but has there been anything else that we should check out?
Dejan: There's not much. I restarted doing music seriously when I moved to Leipzig. The time before I did some experiments, but nothing too serious. Some of it you can hear on my soundcloud. Since I restarted there were a few remixes I did for the German synthpop band Minerve and one for the band Slave Republic. You can listen to and download the SL remix for free on their soundcloud.
Daniel: Both remixes are the best I heard in years.
ID:UD: Each of your albums has an unmistakable mood and feel entirely distinct from your others. Do you go into creating each record with a particular mode or sound in mind ahead of time, or is it something that emerges organically?
Dejan: I really can't remember it exactly for the old albums, but New World March really had that "sound in mind" before even starting. In fact it is the album we discussed the most before writing it.
Daniel: Agreed. ; )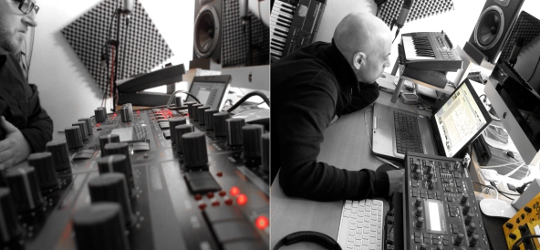 ID:UD: We think it's safe to say that Haujobb records have a degree of meticulousness and depth of precision that's pretty much unparalleled in the genres you work in. Is crafting the "finer touches" a part of your immediate creative process, or is that something that's applied later? Do your tracks come together fully formed, or do you go through a demo creating process first?
Dejan: That's an interesting question, because NWM is the first album on which we had a "classical" approach of producing. Which means: songwriting-demo-arrangement-production-mixing (more or less). On the previous records we did those things all at the same time.
Daniel: That's true. It was also the first time that we included other musicians in the process of the recording.
ID:UD: Speaking of the creative process, how does the division of labour work between the two of you? Do you each take on different portions of a song, or do you work side-by-side throughout the process? Do you each bring in rough demos or fragments that you've worked on on your own?
Dejan: Both of us bring ideas to the table, then the other picks up on them. But sometimes, if time allows, we work together on "idea-finding". At the end of the production of New World March we went to another little studio together with fresh ears and a mind to put this finally together.
ID:UD: You've switched over to Tympanik (one of our favourite newer labels) for the North American releases of "Dead Market" and "New World March". What was the reason for that?
Dejan: It's simple. We were looking for a label, but didn't want to give up digital rights anymore in this day and age. None of the bigger labels would sign us without digital. So this situation narrowed it all down to partners who still are willing to release a CD only. We found friends in Tympanik for North America and Zweieck-Recordings for the rest to do this job. We would have released CD on our own, but we just don't have the budget and the experience to do it yet. We will release the digital versions as "Basic Unit Productions".
"I always thought Homes & Gardens came too early."
ID:UD: We know that you guys read our own take on Haujobb's discography, but we're curious to know how you understand and conceive of the band's development and progression across its history, and how you see New World March fitting into that.
Dejan: I think New World March is another "pissed-off" record, a reaction on what is usually delivered in the underground electronic scene. And it is also pissed off at current situations in society. And when I think of this, our records were always like this, except for the first one maybe, there we were too young to produce a unique sound. I always thought Homes & Gardens came too early.
Daniel: I have to disagree on this one. It came at the right time. We were a young band who took the chance to release an album. The label should have invested maybe a little more time and money in the production, but we did the best we could at the time.
ID:UD: The industrial scene seems to be experiencing something of a creative lull here in North America, with not a lot of innovation in the past five or so years. Do you think that's the case in Europe as well? (While we know what bands and records are coming out of Europe here in Canada we don't necessarily have a grasp on what's popular there)
Dejan: Yes, it's the same here. The problem is that everybody tries more than ever to produce a successful sound, which often leads to predictable music. I'm biased here, but the industrial scene should fucking listen to what The Horrorist does! I recently "learned" to love his music. Why is he so little known in this scene? Sometimes I wish it were 1987, so musicians would have to put in some real work in order to produce something. Hmm, what's popular in Europe? I think Daniel is able to tell more about this topic, because he also DJs a lot…
Daniel: I don't want to get started and promote the shit that is out there by giving you names. I hate the current popular stuff, for example Nachtmahr. I really, really hate this shit.
ID:UD: Going back to Liquid Divine (whose recent work we've been absolutely loving), they'll be appearing with you at Planet Myer Day in January. Can you tell us a bit about the bands you've chosen to play there with you, what you find appealing about them, and maybe any other recent acts you've been enjoying?
Daniel: I usually pick bands that I like and that I am friends with. And that are affordable, of course, ha-ha-ha. In this case (Liquid Divine) Dejan is friends with them and did a great remix. So I invited them to open up the next edition of PMD.
Dejan: Wrong! My girlfriend is friends with them, I have nothing to do with those guys, ha-ha-ha!
You can preorder New World March on CD via Tympanik, and online via Bandcamp.