And so, after countless hours spent sitting in front of the computer bathed in the harsh glow of the liquid crystal display, we arrive at the end of our Top 25 of 2012 coverage, and more broadly the end of our year here at the blog. As is tradition (a new tradition, just one year old, but a tradition nonetheless) we're taking the time between X-Mas and New Year's off, a period where we plan to catch up on all of the rap albums, video games, folk metal, comic books, and hot stove baseball analysis we've forgone to write about the music we love. Thanks so much for reading, and we hope that you'll take some time this holiday to check out some new tunes from an artist you may not be familiar with, and then spread the love via whatever means you have available to you.
Without wanting to spend too much more time here (we have a Soft Moon show to get to), we'd just like to remind you that we've been doing Year End coverage all week, and our full top albums list and links to the articles will appear at the bottom of the post. We hope you enjoyed your time with us this year, and hope to see you again in the next. Onwards to glory!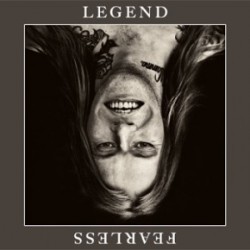 5. Legend
Fearless
[Artoffact]
The overarching aesthetic of the debut from Iceland's Legend isn't easy to immediately pigeonhole, but that's only because the duo crafted a batch of songs so well-developed and distinct that each feels like its own pocket universe. There's the plaintive but distinctly slinky "Sister", the Underworld meets ZZ Top slow-burn of "The City", the soulful night moves of "Devil In Me", but "Runaway Train" remains the lynchpin: engine stroke drums kick and stutter densely before a sustained piano line which sounds like it's being hammered out by the Phantom of the Opera himself heralds a slowly building passion play that'd make the hairs on Jim Steinman's neck stand on end. Bolstered with bombastic percussion and sonic chasms of atmosphere, Fearless is dark electronic pop writ wide and large with a drama we perhaps haven't heard since (yes, we're going to say it) Violator. In addition to the material itself, we have to single out the absolutely masterful production Legend have lent to their big coming out. We've noticed that while it took some friends a couple of listens to really sink into Fearless, once they did there was no getting out of it. Our suggestion: skip the intermediary stage and make sure that your first exposure to any or all of Fearless' tracks happens via excellent headphones or the best and loudest PA you can lay your hands on.
Read our full review and our interview with Legend.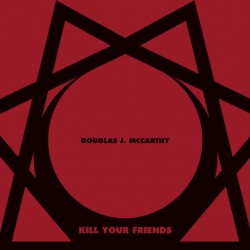 4. Douglas J. McCarthy
Kill Your Friends
[Pylon Records]
Whether consciously or not, in 2012 even casual fans of electronic music are likely to have been exposed to Douglas McCarthy in some capacity, be it in a remix of a classic Nitzer Ebb track dropped into a techno or electro DJ set, or hearing him guest on a number from Motor or Recoil. Whole schools of EBM basically revolve around paying tribute to his vocal style on classic Ebb material. The dude's influence on modern electronic music is palpable in and outside the borders of Our Thing. It's fitting then that his first solo LP touches on so many of the sounds he influenced; from the dusty shuffling electro-blues of "Hey" to the modern synthpop of "The Last Time" and the tweaky ballad "Nothing After This", each seems as natural a fit as any other. And at the center of each song stands Doug, dignified, soulful, and charismatic as ever, crooning along with so much presence and personality that he himself becomes the context that unites Kill Your Friends. It's more than just the voice, it's the sensation that someone we know intimately from all the years we've spent with them is visiting, and by god, it's good to see them. When McCarthy whispers "From London to LA/New York another day/Berlin and Mexico City/Come down if you want to meet me", it's hard not to take it as a literal invitation. Thanks Douglas, hoping to see you sooner rather than later.
Read our full review.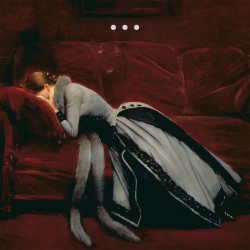 3. Continues
self-titled
[Mattress]
Outside of the "Love On The Run" single, our first proper exposure to Continues came at Kinetik a year and a half ago. As die-hard Babyland fans we were excited, skittish even, about hearing Dan Gatto's new project, but had no real idea of what to expect. I Die: You Die was still in the planning stages at that point, but half an hour after Gatto took the stage in Montreal, we knew that Continues was precisely the sort of thing we wanted to write about, precisely the sort of thing we wanted to champion from whatever pulpit we could carve out for ourselves. By seizing latter-era Babyland's increased interest in pop melody and exploding it to fill its entire canvas, Continues doesn't just instantly consolidate itself as a distinctly new project. It also underlines the album's emotional frailty by invoking the near-Jungian associations with romance, nostalgia, and innocence which classic synthpop holds. In Babyland, Gatto's lyrics of strength in the face of adversity and self-betterment were honest and impassioned enough to fuel a dozen youth crews – that credibility and humanity transposes perfectly here, with naked, heart-on-sleeve confessionals of first love, insecurity, and romantic confusion ringing all the more true for Gatto's desperate rasp. It's the kind of record that only gets made at the cliff-face of a new beginning, and every single moment glistens with the sweat of victory, of defying the odds, of not going away. Continues by name, continues by nature.
Read our full review and our interview with Continues.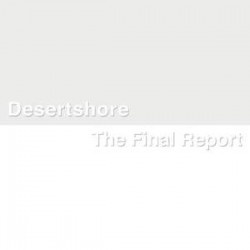 2. X-TG
Desertshore / The Final Report
[Industrial Records]
We've already written more about Desertshore/The Final Report than any other album in the history of this site, and at first it seemed like it would be a difficult task to come up with anything else to say about it, much less to come up with a short form summary of everything it means to us personally and to the industrial music as a whole. Like the best of Throbbing Gristle's material though, its layers are so multitudinous and deep that even a week or so away from it has brought a whole new raft of thoughts and feelings about the last of Peter Christopherson's work with Cosey Fanni Tutti and Chris Carter to the fore. Pairing a track by track cover of Nico's most doleful album of Teutonic sorrow-bait (complete with guest vocals from Blixa Bargeld, Antony Hegarty and Marc Almond amongst others) with the remains of an intended X-TG album is such a perfectly pitched idea on so many levels; undercutting elegia with a difficult and rewarding collection of sounds that push and prod at the boundaries of our expectations. Do our heroes still have the capacity to surprise us, and can they deliver on the unspoken promise that it's not over, that nothing is ever really over? Yes and yes. The opened and closed, alpha-omega circle of the double release is perfect: X-TG was ostensibly a new group, but also the literal end of Throbbing Gristle, Desertshore/Final Report is their first album but also their last. As finales go, it's proven to be anything but final, a passion that dies and is reborn with imperfect symmetry again and again.
Read our full review.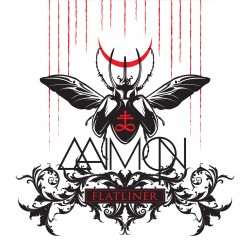 1. ∆AIMON
Flatliner
[Tundra Dubs / Artoffact]
We'll be straight-up: the question of which of our top two records of the year would get the final nod was a contentious one between the two of us this year (much like the three-way dance for the top spot last year). We'd like to think that came across in the writing on this site: we invested an unparalleled amount of time, sweat and tears into our X-TG review, and we've been writing about ∆AIMON pretty much non-stop since April. So, why did FLATLINER get the nod this year? The short answer is "it was the best thing we heard all year." The long answer? Well…
The reason we run I Die: You Die is twofold: firstly, to do our bit to help artists we like and who have been established in Our Thing for years get some of the due they deserve. Secondly – and this is the most important thing to us when compiling these lists – to make a point of championing the new, the interesting, the right now. Nothing else we heard this year made us as excited about the latter concern like ∆AIMON did. Everything about it then, starting with their oblique, mystical public image, continuing through their complete subversion of the snake-eating-its-own-tail fate that witch house was looking to be consigned to at the beginning of the year, and especially the absolute strength of their material. At seven songs in length (before the Artoffact rerelease anyway), it's still stronger than whole catalogues of music by comparable artists, if there can even be said to be any. If our end of the pool (mired in what is perceived as a backwater of alternative culture) has a bleeding edge, this is it.
The two traditions from which FLATLINER could perhaps be said to draw from, witch house and the strain of martial-cum-neoclassical industrial in which Cold Meat Industry used to trade, have rarely been known for their warmth, compassion, or proximity to human relationships. Yet for all of its occult symbolism and dark blasts of buzzing noise, FLATLINER finds Brant Showers and Nancy Lutz squarely in the middle of the storm they've gathered: hope, love, failure, intimacy, all parts of the greater human drama are found in the lavishly ornate frieze ∆AIMON present to the listener (an aspect the band acknowledged bringing to the fore on their sophomore release). Some of the subtler nuances of FLATLINER's references to the Great Work may fly over the heads of a couple of secular socialist milquetoasts from the godless Northwest, but even we know that if "love is the law", there's lots of it here under FLATLINER's foreboding waves.
In our original review of FLATLINER we likened it to Ulver's Blood Inside, a comparison that becomes more and more appropriate with each passing week. Like that record by the mighty Norwegian wolves, it defies easy categorization and pigeon-holing, a genus of one, and is unlike anything else we've heard or expect to hear again, possibly even from ∆AIMON. For where it lands historically, for its charms both subtle and apparent, and for the innumerable number of times it compelled us to put it on from the beginning immediately after listening to it, it's I Die: You Die's album of the year.
Read our full review and our interview with ∆AIMON.

That's it! Here's the full list of our Top 25, plus links to the rest of our Year End coverage. Good night, St. Louis!
25. DSX, Anonymous
24. Displacer, Foundation
23. Spectres, Nothing To Nowhere
22. Alter Der Ruine, There's Always One More Son of a Bitch
21. Carter Tutti Void, Transverse
20. Fostercare, Altered Creature
19. Caustic, The Man Who Couldn't Stop
18. Assemblage 23, Bruise
17. V▲LH▲LL + M‡яc▲ll▲, Għøsŧs of Λnŧįquįŧұ
16. Killing Joke, MMXII
15. Rome, Hell Money
14. Distorted Memory, Temple Of The Black Star
13. The Pain Machinery, Restart
12. Nothing But Noise, Not Bleeding Red
11. Grendel, Timewave Zero
10. mind.in.a.box, Revelations
9. Dead When I Found Her, Rag Doll Blues
8. Spark!, Hela Din Värld
7. Agent Side Grinder, Hardware
6. S U R V I V E, self-titled
5. Legend, Fearless
4. Douglas J. McCarthy, Kill Your Friends
3. Continues, self-titled
2. X-TG, Desertshore / The Final Report
1. ∆AIMON, FLATLINER
–I Die: You Die's 10 Favourite Videos of 2012
–The Friends of I Die: You Die 2012 Year End Round Up
–I Die: You Die's Honourable Mentions 2012
–I Die: You Die's Top 25 of 2012: 25-16
–I Die: You Die's Top 25 of 2012: 15-6