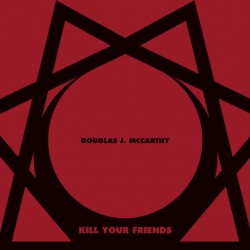 Douglas J. McCarthy
Kill Your Friends
Pylon Records
Douglas McCarthy needs no introduction, but perhaps the lead-up to this record does. McCarthy has kept himself busy both before and after Nitzer Ebb's fantastic return LP, 2010's Industrial Complex: in addition to his well-received, collaborative records with Terrence Fixmer, Between The Devil… and Into The Night, McCarthy's lent his distinctive vocals – forever flipping between a seething, Vega-like croon and brassy, commanding barks – to a wide array of records, cropping up on tunes from Kloq, Yasmin Gate, Motor, and most recently the excellent And One/Daniel Myer club joint "Get It." All of this is to say that it feels somewhat surprising to realise that someone so hungry and active in the game is only now making his solo debut proper.
Blessed with one of the most distinctive voices (and arguably the strongest) in EBM, one can't help but think of classic Ebb cuts of all stripes whenever McCarthy's voice is heard. And while Kill Your Friends holds a fair bit in common with Industrial Complex (which did the near impossible in giving old-school fans plenty of juice while not pandering or sounding out of step with modern sounds), it's the more surprising moves to upbeat, even sunny melodies and 90s dance passages which make Kill Your Friends both a complete surprise and one of the strongest records I've heard this year.
The album art and title suggest a dark and aggressive ride, and smooth but menacing pre-release "Hey" did nothing to dissuade that: all dusty drums, woozy synths and hissed vocals, it primed me for a noir-ish listen upon first cuing Kill Your Friends. Opening cut "Death Is King"'s name and initially stark drumbeat seemed to suggest I was right, but then something remarkable happened. A bouncy synth bass line appeared, fun and spritely and instantly calling to mind innumerable Eurodance faves from way back when. Some characteristically strong vocals rolled through, building to a swaggering chorus with some backing soul and that melodic bass line absorbing more and more of the space around it, becoming a punching refrain. "Death Is King" had all of the cocksure swagger and relentless beat that I want from McCarthy's projects, but also a new warmth and swing that paired wonderfully with those earlier elements.
In retrospect, some of the brighter synths on the last Fixmer/McCarthy record, like "Love The Night", could perhaps be pointed to as a sign of things to come, but it's not just "Death Is King"'s almost Balearic warmth that makes Kill Your Friends such a sunny listen in the midst of December. The Beatles-esque, psychedelically smearing vocal harmonies on "Find You" recalls YMO's love for the Fab Four set atop a simple, splashy drumbeat, and "The Last Time" directly brings the Japanese synth pioneers' "1000 Knives" to mind. The bobbing "Move On" more sits nicely between McCarthy's turns with Kloq and classic Ebb, and things close with a wistfully affecting yet still infectiously peppy ride into the sunset on "Lovers Arms". It's a wide and bright palette of colours McCarthy is working with here.
"Hey" felt like a bit of a puzzling choice for a lead single upon revisiting it after listening to Kill Your Friends in its entirety: its mystery and restraint aren't really present even on the darker tracks the record's backloaded with (the classic Mute records pastiche of "Love In The Back Room", the house pressure cooker of "All Kinds Of Wrong"). But after a few listens, it's clear that what it shares with its neighbours is an unassuming yet relentless groove which you can't help but ride and nod to. "Nothing After This" combines all the elements: the twangy, dusty guitar of "Hey", minimal, well-clipped beats and the upbeat, heaty synths. The underlying grooves of Kill Your Friends' tracks are the backbone of the record, proving a strong thread which carries the listener through a wide range of territory at a fast clip, causing its fifty-five minutes to feel much shorter.
While touching upon nearly all of the modes McCarthy's explored in the past decade, Kill Your Friends also adds a swath of new ones, all while maintaining an insistent rhythmic presence; a testimony to McCarthy's legacy in electronic music and his continuing exploration of it. Kill Your Friends delivers 2012's last great surprise: a summery blast of energy from one of EBM's greatest. Highly recommended.