Things'll be a tad slower around here for the next couple weeks: Alex is heading off to Italy to guzzle wine, gawk at architecture and crate-dig for old Kano 12″s for a bit. What this means for you, dear reader, is that we won't be posting on the next two Fridays, but besides that the good ship ID:UD will sail on unfettered. Now, onto some new cuts to help get you through Monday!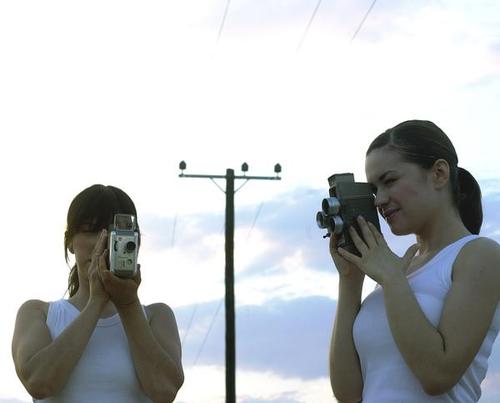 Marsheaux, "Thirteen/True Demo"
The Greek synthpop duo we can't help but swoon for have been teasing us with morsels from their forthcoming LP for almost a year now, and it sounds as though that'll continue for the time being. The latest is that they'll drop the album in April, and lead up to it by releasing a dozen songs that didn't make the cut, one at a time. First up is this little gem, which reminds us of both their Lightning Seeds cover and smooth and cooing b-side "How Does It Feel?". We've said it before and it bears repeating: THIS is how you pay tribute to classic synthpop while pushing the form forward.
Marsheaux-Thirteen/True (Rejected Demo 1) by undorecords
Diskonnekted, "Yesteryears (Septic Version)"
This thing of ours has long been awash with sub-par compilations, but Dependent's flagship Septic discs have always maintained a solid batting average (or OPS for the more sabermetrically inclined). The tenth entry in the series looks to carry on that tradition from the clips posted on YouTube with new stuff from Ghost & Writer (yay!), Angels On Acid, and lots more (plus a minimal synth classic from Crash Course In Science as part of their reissue campaign). Ten compilations of this strength over the course of 13 years? Think of the lifetime WAR! (Okay, I'll stop with the baseball nerdery.) Here's (most of) a characteristically florid cut from Belgium's long-running Diskonnekted, making full use of Jan Dewulf's "everything and the kitchen sink" approach to EBM.

Eisbrecher, "Verrückt"
We're not massive Neue Deutsche Harte fans, but we have a soft spot for Eisbrecher. Their 2010 LP Eiszeit earned a lot of club and home play from us thanks to a tasteful blend of crunch and harmonies, and never tried to sound heavier or more serious than it actually was. Anyway, the riff from their new single "Verrückt" (from the forthcoming Die Hölle muss warten LP) bears a striking resemblance to "Temple Of Love", but we'll let it slide. Bonus points for a cool video dealing with the economic meltdown.
http://www.youtube.com/watch?v=XhGP-oRK5UI
mind.in.a.box, "Sanctuary (Interface mix)"
The new mind.in.a.box album drops tomorrow, and if you couldn't read between the lines in our interview with Stefan Poiss, our anticipation of this release has been simmering for quite some time. Stay tuned for a full review! In the meantime, here's a no-frills futurepop mix from Interface which thuds along nicely before a classic m.i.a.b melody kicks in at the mid-point. This track'll be available as a bonus download for those who buy a hard copy of Revelations.
mind.in.a.box – Sanctuary (Interface Remix) by InterfaceEric
//TENSE//, "Static Grey"
Site faves //TENSE// have recently moved out of their hometown of Houston, though we'll be buggered if we can figure out where they've moved to. Inside the TV? Twenty minutes into the future? Anyway, here's a brand spankin' new demo/live jam that gets into some super spacey territory. We're not gearheads, so we're not sure how crazy the setup is, but it's our fallback excuse if anyone asks why we haven't blinked in ten minutes and there's a puddle of drool on our keyboards.
STATIC GREY by //TENSE//