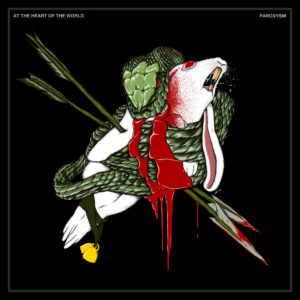 At The Heart Of The World
Paroxysm
Glory Kid Records
Coming just a few months after preceding EP Inosculate, At The Heart Of The World's Paroxysm finds the Portland duo gaining momentum. While they've been on the go for a few years now, their releases are coming more and more frequently and are gathering the audience of electro-industrial aficionados for which they're tailor-made. Tack on a substantial US tour and Paroxysm is as good an introduction to the band's grimy take on classic industrial programming.
Tunes like "Rend Your Heart, Wreck Your Flesh" show off the menacing aesthetic Daniel Porter and Joshua Greene have zeroed in upon. While the pulsing keyboards and stuttering kicks of the track aren't the flashiest, its groove is immediate and itch-scratching for those raised on a steady diet of Skinny Puppy. ATHOTW bring aggression from well beyond the industrial world, too: "All Torments Are Just" weds some simple but harmonic programming to floor-punching percussion and vocals to good effect.
Paroxysm doesn't veer radically in the above from its predecessor, Inosculate, but one subtle difference can perhaps be found in the minutiae of the arrangements. Porter's background in hardcore gives him a slightly different perspective on things than most electro-industrial producers, and that pays off both in the pacing of tracks and the placing of vocals. Closer "Cut In, Burn Deep", while never being literally anthemic, has a catchy swing aided by effecting emphasis placed on the chorus, and in knowing when to have the programming drop out and yield the floor to the vocals a good amount of drama and variety is wrought from the band's no-frills toolkit.
The EP format seems to suit At The Heart Of The World well. Paroxysm gets the band's aesthetic across in a tight twenty-five minutes and shows off their compositional flexibility without running out of ideas. Whether or not it serves as your first point of contact with the band, it's an efficient and pleasantly caustic experience.