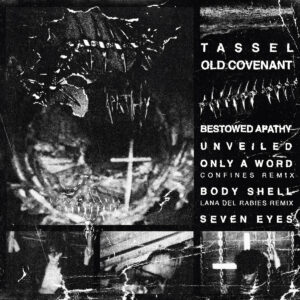 Tassel
Old Covenant
self-released
Part of the appeal of this year's New Covenant from Arizona's Tassel was the stripped down, DIY nature of their industrialized body tracks. There was a roughness to cuts like "Death Machine" and "Deepest Pit", born from clattering metallic percussion, plainly recorded vocals that felt like they were right in your face and the rubbery bass synth programming that created a distinct and desperate vibe all its own. Surprisingly, the just released companion EP Old Covenant takes that sound and renders it in even more raw form, like hearing the trio play a show down a drainage pipe. That's actually a good thing; the layers of saturation present of all of "Bestowed Apathy" take the simple bass-vocal-drum arrangement of the song and give it traction, each element bestowed enough texture to grasp onto individually. Follow-up "Unveiled" renders the rhythmic elements in higher definition, but uses looping samples and whispered vocals to create mood around them, suggesting some unholy union of The Klinik and the Gessafelstein's techno-body slow roll. Remixes from Confines and Lana Del Rabies each highlight the faces of Tassel; the former a jacked up club banger, the latter a wallow in fields of distortion and crushingly heavy atmospherics. Closer "Seven Eyes" ties it all in, a rhythmic noise cut that never deviates from its path over nearly 22 minutes, even as it self-destructs in a peels of feedback and bitcrushed sonics.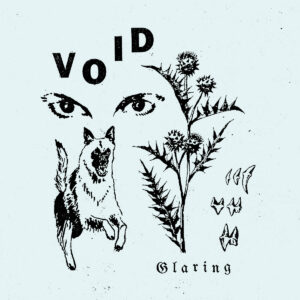 Glaring
Void
Young & Cold Records
The deluge of LPs and EPs released by Anna Nin as the Glaring project over the last five years is staggering (some of us were more productive during lockdown than others), but has certainly given ample proof of her knack for blending post-punk and synthpop with just about any subgenre to which one might care to append the "wave" suffix. New LP Void manages to communicate the whole breadth of that aesthetic in a compact package; the thirteen pieces which comprise Void's half hour run time function more as tone poems or mood pieces than stand alone compositions. That's not to say that there's no value or purpose to their brevity; indeed, in moving from the more dour A-side of the record to its more nostalgic and warm flip side, Void acts as a charming sketch pad of all the motifs Nin can work with. The former is defined by the murky kicks and echoing marble chimes of "Dull Day" and the soaked, wintry jangle of "Favourite Grey", while latter has the slowly tumbling, wistful melody and toms of "The End Of The Day", which recall bedroom synthpop from the turn of the millennium, or equally domestic minimal wave from two decades previous. A pleasantly gloomy set of picturecards from some familiar locales.